Glasgow based crime writer, Alan Parks, is handling the seemingly never-ending pandemic shutdown a little differently than most. Rather than nesting with a loop of streaming movies and television, like the rest of us, he's gearing up for the U.S. trade paperback release of his third book, Bobby March Will Live Forever, on April 6,2021, and the March 25th hardcover release of his fourth book, The April Dead, which will also be released by Europa Editions as a trade paperback on August 3, 2021. That's a lot to look forward to.
Having worked in the music industry for well over twenty years, Parks transitioned over to a whole new creative field, banging out his debut, Bloody January (2017), then spring-boarding off the critical success of that into February's Son (2019), and Bobby March Will Live Forever (2020). On April 6, 2021 Europa Editions will release Bobby March Will Live Forever as a Trade Paperback in the United States, which will certainly further his success as an international top seller in the genre of crime fiction. On March 25th a new book, The April Dead, will be released as a hardcover, which Europa Editions will release again to the U.S. as a trade paperback on August 3, 2021. Having the ability to write engaging stories that appeal to readers all over the world is something that Parks has definitely made a name for himself doing.
We spent some time talking to Parks about the inspiration for Detective Harry McCoy, the main protagonist in his four book series, and how he made the leap from a previous career working in the music industry, to that of an award winning crime author.
Related: Scotland's Finest: Explore the Thrilling World of Tartan Noir
MM: When your first book, Bloody January, was met with such praise, did that make it easier, or harder, to sit down and write the next one?
AP: I can barely remember now, because I've got the worst memory in the world. I think what actually happened was, because of the amount of time it takes for books to come out, I think I probably started the second one before anyone could write about the first one.
When people say things, you tend to remember the good bits and forget about the horrible things. So it's nice when people say good things. When I wrote the first book, I just sort of wrote it and put it away in a drawer. I wasn't thinking it was going to be part of a series. I think it's always difficult to write a second book. But it's definitely easier if people actually liked the first one.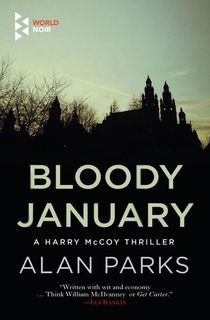 Bloody January
A Glasgow detective goes up against a wealthy family whose corruption runs deep in this gritty noir series debut set in 1970s Scotland.
Glasgow, 1973. As poverty and crime drag the city deeper into a heroin epidemic, fighting in the streets has become depressingly mundane. But when an eighteen-year-old boy shoots a young woman dead in broad daylight and then commits suicide, Det. Harry McCoy knows it can't be a simple act of random violence. With a newbie partner in tow, McCoy hunts down leads through the underworld, all of which lead to a secret society run by Glasgow's wealthiest family, the Dunlops.
Among their inner circle, every nefarious predilection is catered to at the expense of society's most vulnerable—including McCoy's best friend from reformatory school, drug-tsar Stevie Cooper, and his on-off girlfriend, a prostitute named Janey. But with McCoy's boss calling off the hounds, and his boss' boss unleashing their own, the Dunlops seem to be untouchable. McCoy has other ideas.
"Parks' debut novel has an in-your-face immediacy that matches its protagonist. Compelling portraits of minor characters tucked into several scenes add texture and interest." —Kirkus Reviews
What was your initial inspiration for Bloody January, and when did Harry McCoy first pop in your mind?
I was interested in writing about Glasgow, but I wasn't quite sure how to do it. There was a picture in a book of Glasgow photographs, and it was a picture of a place called Springburn, which isn't exactly the nicest part of Glasgow. It was taken at dusk, and Springburn is on a hill, so the lights of Glasgow are below, and it was that sort of twilight magic hour, when everything looks great. And there was a guy shown there in the shadows, smoking a cigarette, and it looked like a Hollywood still. And I thought "well why not think of Glasgow as though it were someplace sort of exotic and interesting?" I was trying to imagine the city as an exciting place, which I always thought it was. So that picture sort of put me in a mindset for the book in terms of the characters, and the feel of it.
Like always, the interesting thing about a city is the very poor people, and the very rich people, and how they interact. And the way they interact usually tends to be through sex, or drugs, or crime. A detective travels all over different parts of the city, and interacts with all different sorts of people, so that gave me the perfect opportunity to explore the city via a character going to all these different places for his job. So the detective came from there, really. In that time, the 70s (the era these books take place), Glasgow police were very Protestant, so I thought if McCoy came from the counterculture, like if he was a drug taker, and liked music, that might be interesting as a policeman to see how he dealt with those two different strands of his life.
How does someone with a degree in moral philosophy end up in the music industry, and then the publishing industry?
Again, because I'm so old, when I went to University, the government paid for it. So effectively, you were paid for four years to do whatever you want. So I thought I might as well do something for four years that I actually wanna do, rather than something I though would directly lead to a job. At that time, things weren't quite so hard. Moral philosophy is just one question, "what is the correct action?" And that's it. That's the whole thing you do for four years. I've always been kind of interested in what people will do in extreme circumstances. Most people never really encounter that kind of situation in their life, where they're asked to make big moral choices. But I think, sometimes, policemen, and criminals do. So moral questions serve a detective book because you get to explore those big questions.
Do you think having a background in the music industry helps you write in that you can tune in on the beat of a particular scene in terms of dialogue and flow?
When I started in the music industry and worked on music videos, there were no computers, so I sat in an edit suite with a guy with two big reels and they would cut it the old fashioned way. And it took forever. And what I learned, working on those videos, is to be quick getting in, and quick getting out. And that sort of applies to the writing in a strange kind of way. So yeah, all those years spent in an editing suite helped me with the rhythm of a book because I can always sense "okay, I'm writing a bit too much rubbish here, time to get out."
Bobby March Will Live Forever will hit a note with U.S. audiences as it deals a lot with police criminality, and that's been a huge problem here over the last handful of years. How do you think Harry McCoy would handle some of the insanity happening over here? Like how would he have dealt with the Capitol Hill riot, for example?
In the early 70s, everything was politicized. Even in the art world. Art was about politics. And that's kind of similar to now. So I think Harry would be how he always is, which is just slightly detached. I don't think he's a man who thinks in black and white. I don't think he'd be prone to support any one side and say "I think that's completely wrong, or that's completely right." I think he'd try to find the way through to what, to him, would be the right behavior.
The April Dead, your upcoming book, seems to shift themes a bit, centering on an American sailor. How did you arrive at the first rumblings for this new story?
There used to be a place about 30-miles away from here called The Holy Loch that was used as an American Navy base. So these sailors came and because they arrived on these enormous warships, they could bring their cars with them. So you have this little town and then all of a sudden you turn around and there's these guys driving these enormous American Cadillacs. And they built their own little town with bowling alleys, and supermarkets, and it was just this sort of strange juxtaposition. So the book is kind of about that.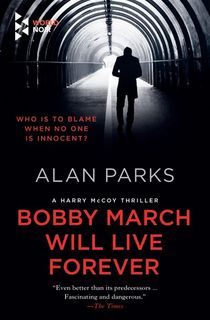 Bobby March Will Live Forever
In this "fascinating and dangerous" Scottish noir, a detective scours Glasgow's gritty streets for two missing teens in the wake of a rock star's death (The Times, Book of the Month, UK).
July 1973. The Glasgow drug trade is booming and Bobby March, the city's own rock star hero, has just overdosed in a central hotel. But even that tragedy competes for headlines with the story of a thirteen-year-old girl who's gone missing. As Det. Harry McCoy knows only too well, every hour that goes by makes the Alice Kelly case more of a lost cause.
Meanwhile, the niece of McCoy's boss has fallen in with a bad crowd and when she goes missing, McCoy is asked—off the books—to find her. McCoy has a hunch that there's a connection between these events. But time to prove it is running out, the papers are out for blood, and the department wants results fast. Justice must be served.
The third novel in the acclaimed Harry McCoy series combines a "breathless and tense retro crime caper" with a pitch-perfect depiction of 1970s Glasgow—its music, hard men, political infighting, class divisions, and the moral questions at its heart (The Sun, UK).
The April Dead
NO ONE WILL FORGET . . .
In a grimy flat in Glasgow, a homemade bomb explodes, leaving few remains to identify its maker.
Detective Harry McCoy knows in his gut that there'll be more to follow. The hunt for a missing sailor from the local US naval base leads him to the secretive group behind the bomb, and their disturbing, dominating leader.
On top of that, McCoy thinks he's doing an old friend a favour when he passes on a warning, but instead he's pulled into a vicious gang feud. And in the meantime, there's word another bigger explosion is coming Glasgow's way – so if the city is to survive, it'll take everything McCoy's got . . .