No one's a stranger to turkey day squabbles, but these Thanksgiving gatherings take 'dysfunctional' to a whole new level. Solve a grisly family murder, investigate a case the police have overlooked, and unravel a fowl farm conspiracy, all before it's time to cut the turkey. These lovable small-town sleuths are sure to give you a good laugh while they investigate some quirky characters, meet some justice-seeking animal pals, and share their tastiest thanksgiving recipes along the way. After all, what's more enjoyable than escaping in a light mystery before a heavy thanksgiving feast?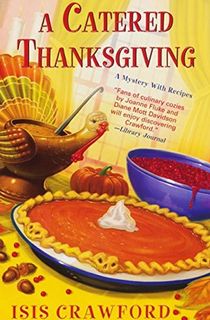 A Catered Thanksgiving
In this culinary cozy mystery, a dysfunctional family holiday turns deadly when the turkey kills the Field family patriarch, Monty. Every member of the Field family wanted a good cut of Monty's lucrative will, but everyone was equally tired of trying to appease the grumpy old man. Who can you pick as the main suspect in a case where everyone has a possible motive? Sisters Bernie and Libby don't have long to apprehend the killer before the leftovers run out, and the snowstorm lets up, allowing the culprit to escape.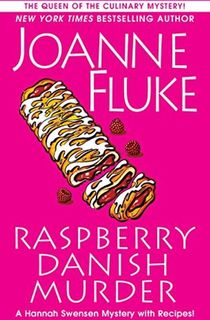 Raspberry Danish Murder
With a missing husband and a murder to solve, Hannah isn't feeling very thankful. Ross vanished, leaving their marriage in limbo, and her catering company is piling up with Thanksgiving-themed sweet treat orders. She doesn't mind the distraction of work though, and eventually introduces a new raspberry pastry to the menu. Her husband's assistant will be the first to sample the dessert, but before even taking a bite, he's murdered. Is someone plotting against her husband? Hannah will have to quickly sift through a mountain of clues to stop a killer from bringing another murder to the table.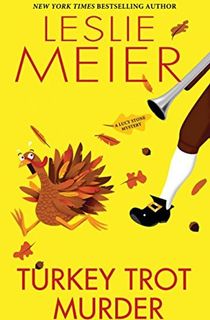 Turkey Trot Murder
The beautiful Alison Franklin, daughter of ultra-wealthy investor Ed Franklin, was found dead in a frozen-over pond. The police attribute the death to an accidental overdose, increasingly common in the heroin-plagued town. But Lucy Stone can't understand what terrible forces could lead such a privileged woman to ruin. Ed's new wife, who's about half his age, doesn't seem too shaken up either. As a state of unrest descends on Tinker's Cove, Lucy must look beyond vague accusations rooted in racism and prejudice to unroot a dangerous killer living among her neighbors.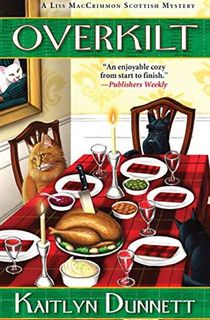 Overkilt
In an effort to survive the difficult part of the year between autumn's peak and ski season, Mr. Ruskin attempts a new marketing technique - appealing to childless couples who want a holiday away from their family. Unfortunately, some internet trolls start a scathing social media campaign aimed at persuading tourists to boycott the hotel for affronting family values. Liss, Mr. Ruskin's daughter, dismisses the bad publicity as being totally "overkilt"—until angry mobs fill the streets, the troublemaker who started it all turns up dead, and her loved ones are suspected of murder. Now Liss, partly helped, partly hindered by her meddlesome mother, must follow the unsettling clues and catch the real killer before everything she's ever been thankful for vanishes before her eyes.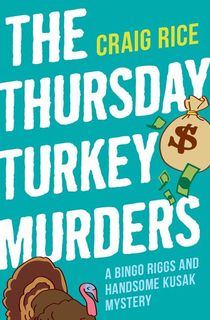 The Thursday Turkey Murders
A tragic roadside accident with a mischievous turkey strands former con-artists Bingo Riggs and Handsome Kusak in the secluded community of Thursday County, Iowa. A promising mark soon appears in the form of a blushing farmer's daughter with a sob story. Her family is selling their turkey farm to help her ailing grandma, and the boys plan to make a bundle off the gobbling herd. But small towns hide big secrets. Soon, Bingo and Handsome are wrangled into a fowl conspiracy, face off with an escaped convict, and become prime suspects in a murder. As turkey day nears, it could very well be their heads on the chopping block.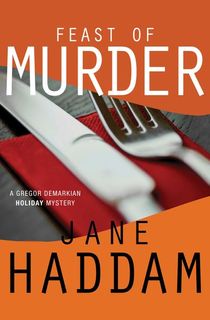 Feast of Murder
Donald McAdams was a hotshot of Wall Street until he found himself in a tight spot with the SEC. He could either rat out his crooked businessman friends, or give up his entire life. Never one for loyalty, McAdams agrees to be wired, and sends half the stockbrokers in New York to prison. Now he's filthy rich, isolated, and so paranoid that he buys his cocaine laced with strychnine, in hopes of building up a tolerance for the poison. His caution doesn't help him, however, when he tumbles off his high-rise balcony and falls headfirst on the very street that made him rich, Wall Street. Now it's up to ex–FBI investigator Gregor Demarkian to solve this peculiar New World case of murder.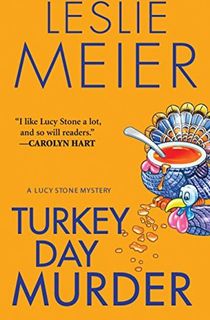 Turkey Day Murder
Curt Nolan had a habit of picking fights, but it was still a shock when he turned up dead amidst Tinker Cove's Thanksgiving festivities. An interesting detail intrigues Lucy Stone, and now she'd added murder investigation to her to-do list. So now, between fixing dinner for twelve and keeping her four kids from tearing each other limb from limb, Lucy's set on finding out who left an ancient war club next to Nolan's head, and why.
The Wolfe Widow
As Thanksgiving approaches, Jordan Bingham is grateful for her job researching rare books for Vera Van Alst, the infamous curmudgeon of Harrison Falls, New York. But when a surprise visit from the imperious Muriel Delgado runs Jordan out of a job, she's determined to find out what hold Muriel has over her erstwhile employer. What Jordan uncovers is a connection between Muriel and the Van Alst family that's far more deadly than she could have imagined.
At Death's Door
Nora Baberton's Thanksgiving ends in tragedy when one of her dinner guests is murdered and she's robbed. Detective Rachel is on the case but soon discovers that a web of deception has been woven by the ones who Nora trusts the most. Racing against the clock, Rachel must solve the mystery, deal with her relationship to police chief, James Gilroy, and apprehend the killer before they strike again.
Thanksgiving in Cherry Hills
Just as Kat Harper was planning her delicious vegan pumpkin pie recipe, Sylvia Cargia is mugged outside her apartment building. Sylvia had just bought food for her local homeless shelter, but the thief made off with everything. This wasn't the first time this has happened either. Can an amateur detective and her two justice-seeking felines give the less fortunate residents of Cherry Hills something to be thankful for this holiday season?
The Thanksgiving Trip
The entire Thomas family takes a Thanksgiving trip to a mountain cabin in the hopes of finding answers to her father's mysterious and fiery death. While Tess and Tony talk to people who knew their father, Mike is adopted by an energetic and mischievous stray puppy. As Tess widens her search, she realizes something truly startling about the suspicious death that turns the tables over on the whole situation in an entirely unsuspected way.
This post is sponsored by Open Road Media. Thank you for supporting our partners, who make it possible for Murder & Mayhem to continue publishing the mystery stories you love.
Featured photo: Timothy Eberly / Unsplash