The Midnight Hour holds special significance in literature. Edgar Allen Poe famously started off The Raven: "Once upon a midnight dreary." People stay up until midnight on New Year's Eve to welcome the new year in (or make sure the old one ends, to borrow a phrase from columnist Bill Vaughn). So it seems natural there is a forthcoming crime anthology called Midnight Hour: A Chilling Anthology Of Crime Fiction From 20 Authors Of Color (publish date 11/9/21) that takes place at the infamous hour.
The anthology got its start through discussions on Crime Writers of Color forums. Editor Abby Vandiver—also writing under Abby Collette, author of the Ice Cream Parlor Mysteries and more—had conceived of the book as a way to deepen the writing community as well as promote new and established authors together. Vandiver spent many years self-publishing books before her books began to be traditionally published in the past few years. "When you're a self-published author, you have to do a lot of marketing. I always say getting your book out is 10% of writing and it's 90% marketing."
Midnight Hour: A Chilling Anthology of Crime Fiction from 20 Authors of Color
This riveting collection showcases 20 incredible crime stories—each set at midnight—from both emerging and established writers of color.
To help with the marketing of her self-published books, she'd get other self-published authors together to do a boxed set. The idea was that popular self-published authors would bring in readers who might discover other authors in the set. That was the impetus behind this anthology, thought this project is not a boxed set. In the group, there were authors who had not been traditionally published and wanted to get their work out there, so Vandiver thought an anthology could be the way to do it. "I hear it said often that it's a solitary profession, but it's not. You may dive into your writing caves to get something done. But without the help of other authors and a writing community, it's nearly impossible to get a book out," Vandiver said. Imposter syndrome is a real thing. The collection includes traditionally published authors like Tracy Clark and Jennifer J. Chow as well as the fictional debut of H.C. Chan.
Jennifer J. Chow, Lefty-nominated author behind the Sassy Cat mysteries, participated in the anthology and said, "part of [the appeal was that] there haven't been many anthologies like this. It's been awhile." She also noted that short story anthologies in general can be a hard sell to publishers.
Plus, even if a writer has been published, it might be hard to get your name out there without the right marketing. Raquel V. Reyes, writer of recently published Mango, Mambo and Murder and anthology participant, further explained, "That's one of the barriers, if you're not on a book list, if you're not in the library, if you're not at the Barnes and Noble or on the splash page of Amazon, or your local independent bookstore, readers think that [your book] doesn't exist."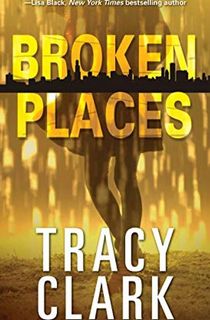 Broken Places
This heart-pounding novel follows African American PI Cass Raines, who is still deeply traumatized from a gunshot wound she obtained two years ago. When Father Ray Heaton asks her to investigate a recent string of church vandalism, she isn't prepared to discover his murdered body in a confessional. Determined to see justice for Father Heaton, Cass will stop at nothing to solve this crime.
While the book is not officially from the Crime Writers of Color group, Vandiver drew from the group with a call for writers. When it was all said and done, she ended up with twenty writers, including herself. She knew they needed a theme to center the book around. The participating authors voted on the theme in a Facebook poll and that's how they settled on the theme of 'midnight.'
But the sense of community Vandiver and other writers in the group envisioned creating didn't stop there. While Vandiver acted as the agent to find a traditional publisher—finding a home with Crooked Lane Books, distributed by Penguin Random House—as well as doing the administrative work behind the scenes, the authors of the group helped each other out with proofreading and more. They also came up with ideas for the cover designs, Chow said, though the publisher ultimately created the final cover.
While the stories all center around midnight, the short pieces vary widely. Reyes pointed out the sheer number of subgenres of crime within the book, whether it's cozy, traditional, or hard-boiled detective. People who may be less familiar with a subgenre can take a "taste" in this anthology. Stories range from art fraud to seances to love triangles to a cooking competition.
Reyes went with the comedy/cozy in her short story "Mata Hambre." She got really excited about the coincidence in the theme and the Cuban sandwich called a "medianoche," which means midnight in Spanish. "I've got the premise for my story. Boom! [It] was instantly in my head and I'm like, 'I've got it. I know what I'm gonna write.' So that was exciting for me...cuz not often do stories kind of appear fully formed in your head." She also was really excited to represent Miami and her Cuban American culture.
Secrets, Lies, & Crawfish Pies
Romaine Wilder is a medical examiner in the big city. When she gets evicted, she is forced to return to her small hometown. Little does she know once she gets there, she'll need to solve a murder. This cozy mystery is full of Southern charm and humor sprinkled throughout.
The anthology also gave authors an opportunity to try new types of writing. Chow made her story a bit "darker and a little bit grittier than my usual cozy." In "Midnight Escapade," Chow got her idea from experiences going to escape rooms. She explained that the idea of being in an escape room is already nerve wracking to begin with but she wanted to tweak it for her crime story, centered around two former high school friends reconnecting through Facebook and doing an escape room at midnight.
Reyes noted that writing a short story is very different from novels. "I still think that I am learning it. But I love short stories, I read short stories. I have read short stories since I was in high school," she said. She had to figure out how to write her story under 5,000 words and decided to cut out time down from over a week to a single night. "I really like the immediacy of it. I love that it is a full and satisfying meal in snack form," she ended.
Plus, it might be a good option for folks who have had issues concentrating when reading longer form books/stories during the Pandemic, Chow also noted. Short stories might make a good alternative.
Both Reyes and Chow hope this anthology will increase representation within the mystery genre. Reyes noted that growing up as a reader of mysteries she didn't find many characters, primary or secondary, who were like her. "[The authors in the anthology] may not be from the same cultural background, but we have that shared [feeling] that we haven't seen ourselves in the genre that we love." Chow said that she would like to see the anthology inspire the next generation of writers. "Yes, your voice can be heard and people are interested in hearing your voice as well," she said.
Ultimately, the writers hope that the anthology will bring in readers to find new authors and enjoy their favorites. Vandiver summed it up best: "You've got 20 people to pick from, so everyone can expand their TBR (To Be Read)."
And if you are extra audacious, consider reading the stories at the midnight hour.
Mango, Mambo, and Murder
Cuban-America cooking show star becomes an amateur sleuth in this delightful cozy mystery.