Editor's note: This giveaway is now closed.
There's nothing like summer for diving into a new thriller—especially one that comes from the misty shores of Scotland. And if you get to celebrate Pride Month on top of it? Even better!
Luckily for Murder & Mayhem readers, this Pride Month we're teaming up with Grove Atlantic to give away FIVE Val McDermid books! Included in this package is her latest thriller, 1979, as well as Still Life, How the Dead Speak, Northanger Abbey, and Blue Genes & Star Struck (which is really two books in one!)
Read and support LGBTQ+ authors like Val McDermid this Pride Month—and every day of the year.
Enter your email address below for your chance to win these five thrilling books by Val McDermid! Happy Pride!
1979
The first novel in a brand-new series for McDermid, 1979 is redolent of the thundering presses, hammering typewriters, and wreaths of smoke of the Clarion newsroom. An atmospheric journey into the past with much to say about the present, it is the latest suspenseful, pitch-perfect addition to Val McDermid's crime pantheon.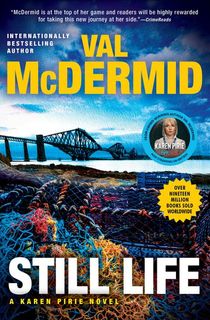 Still Life
When a lobster fisherman discovers a dead body in Scotland's Firth of Forth, DCI Karen Pirie is called into investigate. She quickly discovers that the case will require untangling a complicated web—involving a long-ago disappearance, art forgery, and secret identities—that seems to surround a painter who can mimic anyone from Holbein to Hockney. Meanwhile, a traffic accident leads to the discovery of a skeleton in a suburban garage. Karen has a full plate, and it only gets more stressful as the man responsible for the death of the love of her life is scheduled for release from prison, reopening old wounds just as she was getting back on her feet.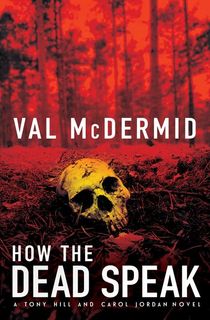 How the Dead Speak
With profiler Tony Hill behind bars and Carol Jordan no longer with the police, he's finding unexpected outlets for his talents in jail and she's joined forces with a group of lawyers and forensics experts looking into suspected miscarriages of justice. But they're doing it without each other; being in the same room at visiting hour is too painful to contemplate.

Meanwhile, construction is suddenly halted on the redevelopment of an orphanage after dozens of skeletons are found buried at the site. Forensic examination reveals they date from between twenty and forty years ago, when the nuns were running their repressive regime. But then a different set of skeletons is discovered in a far corner—young men from as recent as ten years ago. When newly-promoted DI Paula McIntyre discovers that one of the male skeletons is that of a killer who is supposedly alive and behind bars—and the subject of one of Carol's miscarriage investigations—it brings Tony and Carol irresistibly into each other's orbit once again in this masterfully plotted novel by "the queen of psychological thrillers" (Irish Independent).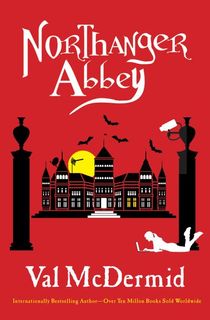 Northanger Abbey
A homeschooled minister's daughter in the quaint, sheltered Piddle Valley in Dorset, Cat Morland loses herself in novels and is sure there is a glamorous adventure awaiting her beyond the valley's narrow horizon. So, imagine her delight when the Allens, neighbors, and friends of her parents, invite her to attend the Fringe Festival in Edinburgh as their guest. With a sunny personality, tickets every night, and a few key wardrobe additions courtesy of Susie Allen, Cat quickly begins to take Edinburgh by storm and is taken into the bosom of the Thorpe family, particularly by eldest daughter Bella. And then there's the handsome Henry Tilney, an up-and-coming lawyer whose family home is the beautiful and forbidding Northanger Abbey. Cat is entranced by Henry and his charming sister, Eleanor, but she can't help wondering if everything about them is as perfect as it seems. Or has she just been reading too many novels? A delectable, note-perfect modern update of the Jane Austen classic, Northanger Abbey tells a timeless story of innocence amid cynicism, the exquisite angst of young love, and the value of friendship.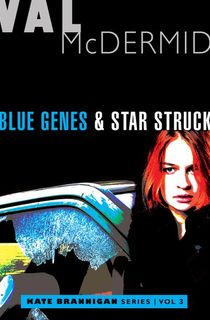 Blue Genes & Star Struck
In Blue Genes, Kate Brannigan's not just having a bad day, she's having a bad week. The worst week of her life, if you really want to know. Her boyfriend's death notice is in the paper, her plan to catch a team of fraudsters is in disarray and a neo-punk band wants her to find out who's sabotaging their publicity. And her business partner wants her to buy him out. If only she had the cash.

Kate can't even cry on her best friend's shoulder, for Alexis has worries of her own. Her girlfriend's pregnant, and when the doctor responsible for the fertility treatment is murdered, Alexis needs Kate like never before.

So what's a girl to do? Delving into the alien world of medical experimentation and the underbelly of the rock-music business, Kate confronts betrayal and cold-blooded greed as she fights to save not only her livelihood, but her life as well…

Bodyguarding never made it to Manchester PI Kate Brannigan's wish list. But in Star Struck, Kate's still broke, and the only earner on offer is playing nursemaid to a paranoid soap star. So this time Kate has to swallow her pride and slip into something more glam than her Thai boxing kit.

But when offstage dramas threaten to overshadow the fictional storylines, and the unscripted murder of the self-styled "Seer to the Stars" stops the show, it leaves Kate with more questions than answers…
For full details, see official rules.
Note: The sweepstakes is open to all legal residents of the 50 United States and Washington, D.C. who are 18 years of age and older by June 24, 2022.