Edgar Award-winning author Mo Hayder's books are not for the faint of heart. Hailed by the New York Daily News as the "maestro of the sinister," the bestselling British crime novelist crafts dark and visceral thrillers drawn from hours of research with UK police forces and her own face-to-face encounters with sex workers and criminals.
Hayder's debut novel, Birdman, was published in 2000 to wide acclaim—earning comparisons to Thomas Harris' Red Dragon for its page-turning momentum and unflinching depictions of human depravity. The novel also introduced readers to haunted lead detective Jack Caffery. Since Birdman's release, Hayder has penned a number of successful psychological thrillers—winning a CWA Dagger in the Library award and an Edgar along the way.
Ready to enter the author's dark and twisted world? The Mo Hayder books below are sure to keep you reading long into the night.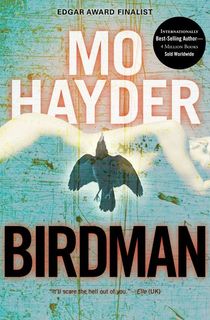 Birdman
This is the acclaimed first novel that introduced us to Hayder's vision. Detective Inspector Jack Caffery, a man haunted by past traumas, is now a lead investigator of London's murder squad. His first assignment? Investigate the slaying of a woman whose body is found near London's Millennium Dome. Caffery quickly realizes this is no ordinary case. Soon, additional bodies surface, each baring the killer's grisly mark. Now Caffery is in a race to stop the culprit before he strikes again.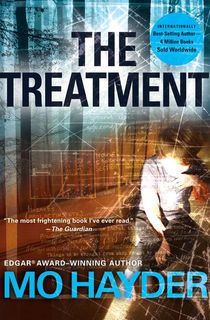 The Treatment
Described as "the most frightening book I've ever read" by The Guardian, Hayder's second Jack Caffery thriller begins on a pleasant residential street in London. There, a couple is discovered bound and battered in their own home—clinging to life. Worse still: the couple's young son is nowhere to be found. With scant clues left at the scene of the crime, Caffery must use every forensic tool at his disposal if he hopes to catch the culprit. But as Caffery digs deeper, disturbing similarities between the present-day case and his own troubled past begin to emerge.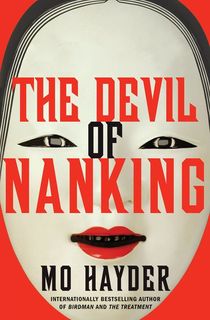 The Devil of Nanking
Following the success of Birdman and The Treatment, Hayder produced this unnerving literary mystery set in modern-day Tokyo. Englishwoman Grey Hutchins is in pursuit of a disturbing artifact: footage taken during the infamous Nanking massacre of 1937. Some say the footage is a myth. Grey is convinced it's out there, hidden somewhere in the city. Her search leads her into the shadowy world of Tokyo's nightlife, crossing paths with yakuza kingpins and a feared elderly gangster rumored to rely on a mysterious concoction for his seeming immortality. Released in 2004, The Devil of Nanking (published internationally as Tokyo) was shortlisted for the CWA Gold Dagger award.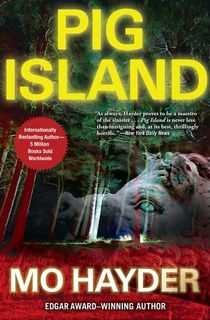 Pig Island
Published in 2006, Pig Island continues Hayder's standalone thriller streak. Joe Oakes makes a living out of debunking alleged paranormal events. So when he gets wind of a deformed creature caught on film, the journalist hits the trail. His investigation leads to a remote Scottish island, past arranged pig skulls and toxic oil drums, and into the arms of a secretive religious community—and their dangerous leader, Malachi Dove. A chilling exploration of fanaticism and the dark side of belief, Pig Island proved Hayder's imagination knew no limit.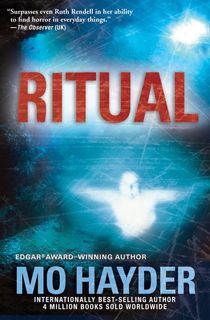 Ritual
Published in 2008, Hayder reached nightmarish new heights in Ritual, reviving DI Jack Caffery and combining eerie atmospherics with true-to-life brutality. The novel begins nine feet below, where police diver Flea Marley grasps a severed human hand in the depths of a Bristol harbor. A day later, the matching appendage is found. Together, they reveal grisly truths: Both hands were freshly severed, and the victim may have been alive when they were chopped off. Marley joins forces with Caffery to find the victim—journeying deep into Bristol's underbelly, rife with hard living, drug addiction, and clandestine occult practices. The first entry in Hayder's Walking Man series, Ritual was shortlisted for a CWA Ian Fleming Steel Dagger award.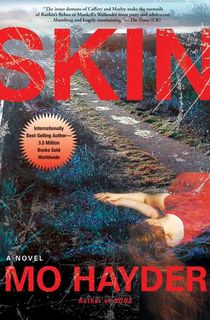 Skin
Marley and Caffery return for another skin-crawling investigation, this time set in the rain-soaked Mendip Hills of Somerset. The decomposed body of a woman is discovered, and all evidence points to suicide. Soon however, more apparent suicides materialize, and they all lead back to a maze of flooded quarries outside the city known as Elf's Grotto. It's clear that a dangerous force prowls the area, entering the homes of its victims and vanishing into the night. As Caffery pieces together the puzzle, Marley encounters something that cuts straight to the bone, placing both investigators in peril.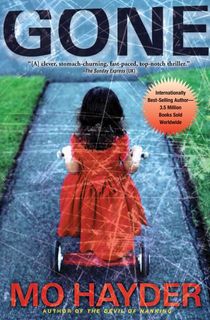 Gone
Published in 2010, Gone is the riveting thriller that earned Hayder her Edgar. Caffery investigates what appears to be a routine carjacking. Soon, however, the truth reveals itself: the target wasn't the vehicle, but the little girl in the backseat. When the culprit tauntingly contacts authorities, it becomes clear that his grim kidnapping spree has only just begun. Hayder ratchets up the tension to tremendous effect in her third entry in the Walking Man series.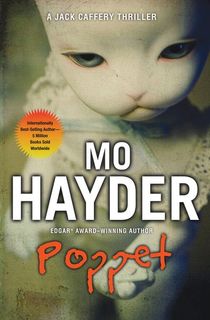 Poppet
In Poppet, Hayder once again blends the supernatural into her brutal palate. The dark past of Bristol's psychiatric hospital leads many to believe the institution is haunted. And when violent episodes spread through the ward, believers are convinced it's the work of a sadistic ghost named Maude. Nursing coordinator AJ LeGrande, however, is convinced the attacks are the work of human hands—those belonging to a violent patient accidentally released into the public. Caffery is tasked with finding the patient and stopping him before he strikes again.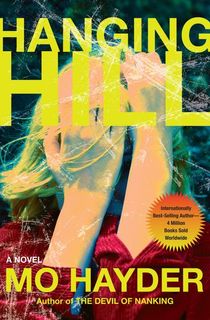 Hanging Hill
This taut thriller set in Bath, England introduces readers to detective Zoe Benedict and her sister Sally. The brutalized body of a local girl is found along the canal. Zoe believes there's more to the slaying, but the department dismisses her theories. Meanwhile, Zoe's estranged sibling begins working for a wealthy entrepreneur who lives in an exclusive area of Bath. Soon, Zoe's path interweaves with her sister's in unexpected ways, leading the siblings into a dangerous world of sex and violence.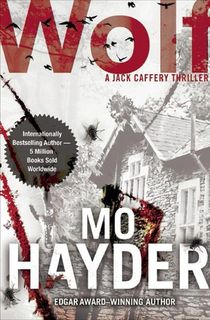 Wolf
Published in 2014, Hayder's fifth entry in her Walking Man series takes Caffery back to the case that most haunts him: the childhood disappearance of his brother. A wandering dog with a HELP US note attached to its collar leads to the promise of new information about Caffery's long-lost sibling. Meanwhile, ten miles away, a wealthy couple is held captive in their isolated country home. Is this a random break-in, or did the intruders target their house? Lock your doors before reading this nerve-rattling "home invasion novel to end all home invasion novels" (Bookpage).