The worst thing about the wildly popular Hulu television show Only Murders in the Building Season three is that it ended. Now we have to wait for season four. It's amazing how quickly this show has worked its way into our murder-mystery-loving hearts. Watching Steve Martin, Martin Short, and Selena Gomez learn to work together and solve crime has been one of the best TV experiences in the past three years.
So in honor of this wonderful show, Murder & Mayhem has put together a list of pairings of favorite Only Murders characters and a mystery book you should read next. (Note - there may be some spoilers for seasons 1 and 2).
Mabel Mora (Selena Gomez)
The Agathas
Mabel, the youngest of the murder podcast trio, is the one who keeps it real and keeps moving forward to solve the crime. Nothing will get in her way of finding the truth. She perseveres even if she is uncertain of herself and where she is going. Plus, she drew upon her love of the Hardy Boy series, especially in the first season.
While The Agathas is not about a true crime podcast, it shares certain characteristics. Alice Ogilvie disappeared for five days when her boyfriend Steve ended their relationship. So when she returned, she came back a pariah. She finds herself drawn to Agatha Christie as a refuge. But when her ex-best friend Brooke Donovan disappears, everyone just assumes she pulled an Alice, except Alice. No one will listen except Iris Adams, the classmate who is tutoring Alice for money and has problems of her own. This unlikely pairing decides to find out what happened to Brooke, no matter the cost. Book 2 The Night in Question came out earlier this year.
Oliver Putnam (Martin Short)
The Broadway Murders: A Dorothy Parker Mystery
Oliver Putnam worships the Theatre and wishes for it to worship him too. He's over the top with his life, his food, his productions. So naturally, fans of Oliver would find a welcome friend with Dorothy Parker, sharp-tongued writer of 1920s NY. Parker as the detective? Yes, sign me up.
In the first book of this series, Parker has to figure out why someone would kill a Broadway producer, helped and/or hindered along the way by other denizens of NY at the time. Maybe Oliver can come up with some really over-the-top staging for a mystery like this?
Charles-Haden Savage (Steve Martin)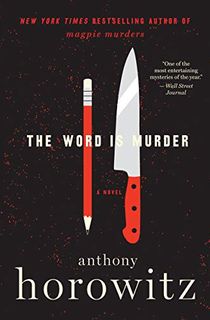 The Word Is Murder
Charles-Haden Savage has done pretty well for himself, professionally. He played '90s TV Detective Brazzos, which set him up for life at the Arconia. But at what cost? He's a bit of a loner but wants to bring people into his life. He just isn't sure how to go about it. When he meets Oliver and Mabel, he finds himself in strange adventures, sometimes good and bad. He's also good at getting himself into pickles without much help.
He reminded me a little bit of the leading characters of Anthony Horowitz, writer, and Daniel Hawthorne, private investigator, and former cop. The tone is a bit heavier than Savage, but the parallels are there. Horowitz is a successful novelist and TV writer who is used to things being so. Hawthorne shows up to his door one day with an offer: Horowitz would write his life story and they'd share the proceeds 50/50. Horowitz is put off by Hawthorne and doesn't want to do it but he finds himself drawn into a case of a wealthy mother planning her own funeral, dying hours later. Horowitz finds himself in awkward situations, thanks to his antics and Hawthorne's. Hawthorne has his secrets; he never talks about his personal life or past history. He's a bit of a loner. Book five, Close to Death is due out next year.
Bunny Folger (Jayne Houdyshell)
Vera Wong's Unsolicited Advice for Murderers
Bunny may have been full of vinegar but in time, you could grow to appreciate her. She was a stickler for the rules, a tendency to be in people's businesses (I mean she was the head of the HOA). But there was more to Bunny than that.
Fans of Bunny might enjoy Vera Wong, a sixty-year-old tea shop owner who is a bit of a meddler. When she finds the dead body of a stranger in her tea shop, she takes it upon herself to find the killer, inserting herself into the lives of the people who show up at the tea shop that day, each with their own reasons to kill the victim. Can she solve it with the help of her newfound community (where one of them is a killer!)? I think there is a sequel coming out in the next year or so.
Jan Bellows (Amy Ryans)
An Elderly Lady is Up to No Good
Jan seemed so unassuming and nice. But we soon learn that Jan is committed to getting what she wants. At any cost.
I feel that she would find great kinship with Maud, the titular elderly lady up to no good. In these short stories, we see Maud living in her apartment, the only holdover from her family's wealth. She travels the world. What else can she want? But occasionally, obstacles turn up and Maud has to take care of them. The second book, An Elderly Lady Must Not Be Crossed, came out in English in 2020.
Cinda Canning (Tina Fey)
True Crime Story
Like Jan, Cinda Canning seems sweet but she's full of vinegar. She is relentless and her methods are questionable but she will finish the story. She reminded me a bit of Joseph Knox in his fiction book True Crime Story, based around a writer's investigation into a missing college student.
In 2011, Zoe Nolan left a college party and vanished in thin air. Seven years later, a writer Evelyn Mitchell decides to investigate this missing person case for a book, interviewing classmates, family members, and more. She soon learns that there is more to Zoe than meets the eye. She's helped by a writer named Joseph Knox, who has his own hand in the story in an unexpected way. It mixes true crime, secret lives, and ethical questions of journalism.