On Thursday, November 23, 2017, mystery author Joan Hess passed away at the age of 68. The winner of the American Mystery Award and Agatha Award, Hess was a respected figure in the mystery community. During her career, she was also a member of Sisters in Crime—an organization that supports female mystery writers—and served as the president of the American Crime Writers League. Her 39th and final book, The Painted Queen, was a collaborative effort with longtime friend Elizabeth Peters, and was published earlier this year.
Hess made her authorial debut in 1986 with Strangled Prose, the world's first introduction to bookselling sleuth, Claire Malloy. Malloy would become the star of a 20-book series, which only recently concluded in 2015 with Pride v. Prejudice. Throughout the series' decades-long run, Hess received praise for her "wickedly funny sense of humor" (Mystery Scene).
In 1987, Hess repeated her success with the first Arly Hanks mystery, Malice in Maggody. Once again, Hess packs in her signature wit, as a female police chief investigates the bewildering antics of Maggody, Arkansas. With a population of only 755 people, you'd think Hess' Maggodians would lead quiet, uneventful lives—but that isn't the case. Rather, Hess' detective heroine faces extraterrestrials, kooky cult members, and deranged Elvis fanatics. The Agatha Award-nominated second book, Mischief in Maggody, even finds Hanks at the center of a whodunit involving vengeful weed harvesters and a local psychic.
In honor of Joan Hess and her contribution to the mystery community, download and read some of her books today!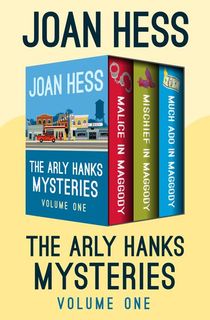 The Arly Hanks Mysteries Volume One
Police chief Arly Hanks investigates murder in her Ozark hometown in the first three books of Joan Hess' beloved series, which includes the Agatha Award-nominated Mischief in Maggody.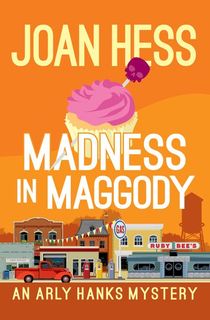 Madness in Maggody
When a supermarket threatens to run local restaurants out of business, a rogue Maggodian slips something into the store owner's tamale sauce—and leaves someone dead.
"This may be one of the funniest mysteries written in a long time." —Ocala Star-Banner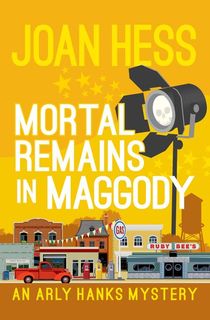 Mortal Remains in Maggody
A crew of washed-up actors and ruthless producers come to Maggody to shoot a movie—and Arly Hanks must deal with the deadly consequences.
"Hilarious...A meticulously crafted who-done-what." —New York Times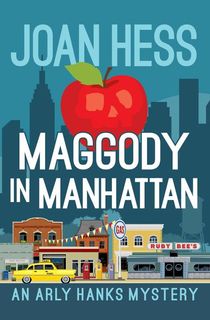 Maggody in Manhattan
Arly Hanks takes on the Big Apple and the NYPD to save her mother from a murder rap...
"[A] rousing success." —Publishers Weekly
Strangled Prose
Bookselling sleuth Claire Malloy must find Azaea Twilight's killer after the romance novelist is murdered at her launch party.
"Joan...is the patron saint of comic mystery." —Sharyn McCrumb, New York Times-bestselling author
Looking for more mystery novels? Sign up for Murder & Mayhem's newsletter and get thrilling stories delivered straight to your inbox.
Featured photo courtesy of MysteryPeople