Some of literature's greatest mystery writers remain shrouded in mystery, their lives as mysterious as the stories they produced. Yet many of these scribed lived lives that were just as thrilling. Allow us to shine a light on the matter. Here are nine of our favorite biographies about mystery writers.
Agatha Christie's Secret Notebooks
Over the span of her career, Agatha Christie wrote over 100 plays, short story collections, and novels that have been translated into 103 languages. Her work has only been outsold by the Bible and Shakespeare. To this day, Christie remains one of the best selling and most renowned modern writers in the world. In Agatha Christie's Secret Notebooks, author John Curran examines a series of recently discovered notebooks which belonged to the queen of the genre. They detail her thought process behind some of her greatest novels. A notoriously private woman, Christie's notebooks offer many new insights into her life and work.
Related: 11 Authors Like Agatha Christie
The Letters of Dorothy L. Sayers: 1937-1943, From Novelist to Playwright
Anyone who knew Dorothy L. Sayers would have called her loud, outspoken, frumpy, feminist, and utterly brilliant. At the height of her fame, critics tried to discredit her, but she far surpassed any of their claims. What may come as a shock to some readers is that she didn't only write mystery, she also translated a near-perfect copy of Dante's The Divine Comedy, as well as penning a number of religious texts. The beloved creator of Lord Peter Wimsey has stolen the hearts of lovers of the detective mystery novel for years and will continue to do so far into the future. This collection of letters show Sayers' transition from mystery writing to playwriting. If you're still craving more on Sayers' life, check out Such a Strange Lady: A Biography of Dorothy Sayers. Although unfortunately out of print, it is still possible to find used copies.
Related: 10 Modern and Classic Mysteries for Dorothy L. Sayers Fans
Dashiell Hammett: Man of Mystery
With the five books he published between 1929 and 1934, Dashiell Hammett reinvented the mystery novel. As a former Pinkerton detective himself, the suspense he captures in his novels shouldn't come as a surprise. Sally Cline presents never before seen interviews with Hammett's family and new research to look closer at the life of the brilliant Hammett. Beginning in his rural Maryland youth, through his Pinkerton years in San Francisco, Cline traces his fame as a novelist and Hollywood screenwriter, his imprisonment as an uncooperative McCarthy committee witness, and concludes with his never fully explained death in 1961.
A Mysterious Something in the Light
Until recently, the life of Raymond Chandler largely remained a mystery despite his status as one of mystery's greatest writers. In A Mysterious Something in the Light, Tom Williams takes a new approach toward this mysterious writer known for his moodiness, overly complex plots, and for the immense amount of time he spent alone. Chandler's misanthropy and surprising distaste for the detective genre couldn't stop him from achieving greatness.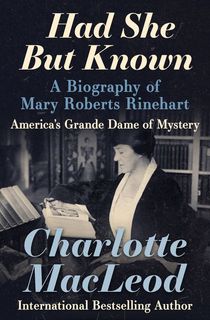 Had She But Known
Mary Roberts Rinehart was once considered on par with Agatha Christie but has sadly been largely forgotten today. Her work, which helped her family become wealthy beyond their dreams, included the most influential early mystery stories, plays, and books. In this biography, fellow mystery writer Charlotte MacLeod interrogates exactly what made Rinehart so iconic.
The Man Who Created Sherlock Holmes
Of the names on this list, the average reader is most likely recognize that of Sir Arthur Conan Doyle or perhaps his better known creation: the legendary Sherlock Holmes. Andrew Lycett weaves together the many complex facets of Conan Doyle's life. He was equally romantic and selfish. You'll learn about the lasting impact of his domineering mother, his alcoholic father, his affairs with younger women while his wife lay dying, and his scientific pursuit to prove the validity of supernatural phenomena. Lycett reveals to readers the complexity of Conan Doyle's progression of ideas against the backdrop of his tumultuous past. He rejected traditional faith in favor of psychics and seances and pushed for the advance of science and decline of religion. All while creating the most beloved detective of all time.
Related: 10 Books for Sherlock Holmes Fans
The Life of Ian Fleming
Ian Fleming's life was plenty dramatic before he even sat down to write the first of the Bond novels. Bond, a legend in the spy genre, would ultimately become the archetype for fictional secret agents. Before beginning Casino Royale, Fleming had a treacherous life of his own. He was highly regarded by the British naval intelligence for his international contacts, had been the mastermind behind several top secret operations, and was a key player in shaping the Office of Strategic Services, the predecessor of the CIA. Just before the first Bond novel was published, he finally married Ann Charteris, with whom he had been having an affair through two husbands and 15 years. Although many claim that Bond is simply a magnified version of Fleming (in some ways true), Fleming's life and existence is far deeper than his fictional counterpart.
Beautiful Shadow: A Life of Patricia Highsmith
Beautiful Shadow was the first biography of Patricia Highsmith—a woman as secretive and mysterious in life as after death. Author Andrew Wilson was able to access a massive cache of her personal notes and letters that contained revelations unanticipated by readers. Wilson was also able to interview a number of close friends, colleagues, and former romantic partners. While relaying the story of Highsmith's life, Wilson grapples with what made her writing so different from her peers.
Ngaio Marsh: Her Life in Crime
Ngaio Marsh is known as New Zealand's crime writing queen. Like Sayers and Christie, Marsh wrote detective fiction during the mystery novel's golden age. Between 1934 and 1982, she wrote more than thirty polished detective novels. But this isn't where Marsh's creative abilities ends. Not only was she a brilliant crime writer, she was a gifted artist, a dramatist, actress and producer. Her fiction embodies her many-faceted talents.