There's nothing quite like finding a new murder mystery series. Secure in the knowledge that you know what books you'll be reading in the near future, you get to watch your favorite characters encounter new people and places and solve dastardly crimes. Plus, you see the main character grow and evolve as they move through space and time.
Enjoy this list featuring some of the very best mystery series, including a great mix of private investigators, police detectives, and amateur sleuths. No matter your reading tastes, you're sure to find something here to suit you!
Dublin Murder Squad by Tana French
In the Woods
In this six-book series, each book focuses on different members of the Dublin Murder Squad. These are taut psychological thrillers and are not for the faint of heart—the first book involves murders and missing children. But French's plots draw you in and her beautiful language keeps you reading until the early hours of the morning.
A Noodle Shop Mystery by Vivien Chien
Death by Dumpling
In this cozy mystery series, Lana Lee has returned to her family's restaurant, Ho-Lee Noodle House, a place she had tried to put in her past. But after she impulsively quits her job and ends a relationship, she needs a place to work until she figures her next steps out. But murder seems to keep popping up, and Lee finds herself investigating the crimes, usually to get beloved family members, friends, or members of the community out from under suspicion. Lee is a great character who will have you laughing and rooting for her. Plus, Book 9 Misfortune Cookie comes out in June.
Commissario Brunetti by Donna Leon
Death at La Fenice
Set in contemporary Venice, Italy, Commissario Guido Brunetti is one of my personal favorite detectives. He's thoughtful about the nature of crime and justice and shows a lot of compassion for his fellow man and ires for the greedy and the spiteful. Each book focuses on a crime showcasing different parts of Venetian society from the renowned Opera house to the glassmakers and beyond. And wonderfully, you get to see the other side of Brunetti's life when he goes home to his family for meals and conversations as he works through issues of good and evil, and everything in between. There are 32 books so far in this series.
A Hawthorne and Horowitz Mystery by Anthony Horowitz
The World is Murder
British Anthony Horowitz, a fictionalized version of the author, is approached by former police detective Daniel Hawthorne to write books about Hawthorne's life-solving crimes. But Hawthorne is a gruff secretive man who drives Horowitz up the wall. Plus he has a past since he was thrown out of the police force. Yet, it's too hard to resist and Horowitz finds himself drawn into present-day cases where Hawthorne brings Horowitz along to solve the crime. Book four The Twist of the Knife came out last year.
Vera Stanhope by Ann Cleeves
The Crow Trap
On top of ten books out, this series has a widely loved and award-winning television show named Vera. Detective Inspector Vera Stanhope may not seem like she has her act together but she can solve the dark crimes in the Northumberland region like no other. Plus author Cleeves was given the Diamond Dagger of the Crime Writers' Association in 2017 among many honors including Officer of the Most Excellent Order of the British Empire.
A Tita Rosie's Kitchen Mystery by Mia P. Manansala
Arsenic and Adobo
This four-book cozy mystery series features Lila Macapagal, a talented baker bringing Filipino flavors into her baked treats. She returned to Shady Pines, her hometown just outside of Chicago, after a bad breakup in Chicago. Unsure of her next steps, she decides to help out in Tita's Rosie's Filipino restaurant. However, she soon finds herself stumbling into murders that put her, her family, and her friends under police suspicion. Macapagal is a delight as she investigates and deals with two very handsome men who seem keen on her garnering her favor. You'll love her aunties who have their pulse on the best gossip in town, as well as her BFF Adeena and two handsome men who seem keen on Macapagal's attentions. Also, there are recipes!
The Lady Sherlock by Sherry Thomas
A Study in Scarlet Women
In this seven-book, (and one novella) series, Charlotte Holmes is not what Victorian society wants her to be. She'd rather read and investigate than be someone's wife and mother. While she gets shunned by society, she finds out who her true friends are, namely Mrs. Watson. She sets up shop under the name Sherlock Holmes, consulting detective, and provides help to people in need in London. It's a fun series as the books model various Sherlock Holmes stories but with their own twist.
Ruth Galloway by Elly Griffiths
The Crossing Places
This fifteen-book series features Ruth Galloway, a forensic archaeologist, whose expertise proves useful to the police when mysterious bones turn up in unexpected places. She's drawn into elaborate cases with literal skeletons in the closet in and around Norfolk, England. For folks interested in forensics and dark histories, this is the series for you. Book fifteen The Last Remains came out earlier this year.
A Perveen Mistry Novel by Sujata Massey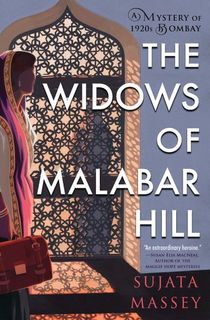 The Widows of Malabar Hill
In this award-winning historical murder mysteries series, Perveen Mistry has just become one of the first female lawyers in India in the 1920s. She has joined her father's law firm and has taken on challenging cases, often with clients who will only speak to women. Using her knowledge of the law as well as her investigating skills, she tries to solve these cases while also dealing with her own tragic history before she became a lawyer. You'll love Mistry and her determination in 1920s Bombay. Book 4, The Mistress of Bhatia House, is due out in July.
Harry McCoy by Alan Parks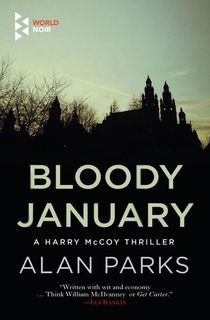 Bloody January
This series takes place in 1970s Glasgow featuring Detective Harry McCoy. He's brought into challenging cases with seemingly untouchable suspects amidst social and political turmoil. It's a snapshot of 1970s Scotland and a detective procedural that will have you on your toes. Book 6 To Die in June is due out later this May. The fifth book of the series called May God Forgive won the 2022 McIlvanney Prize.