Thanksgiving is nearly upon us, and that means most of us have food on the brain. A tried and true way to alleviate the holiday stress is to settle in with a good book, so you may be in the mood to read something extra tasty. While we've shared a list of culinary cozies in the past, there are just too many good ones. So, we've whipped up a second helping of the best culinary cozy mysteries out there!
From catered catastrophes to killers in the kitchen, here are 17 more culinary cozy mystery books for people with a taste for sleuthing. And if you're still looking to add to your holiday menu, you're in luck! Almost every book on this list features one or more delicious recipes.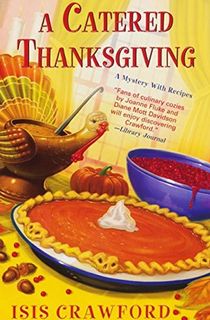 A Catered Thanksgiving
The Field family is gearing up for a high-stakes Thanksgiving this year. The aging Monty Field wants the perfect dinner, and if even a single potato isn't mashed to his liking, anyone could get written out of his will. Luckily, sisters and caterers, Bernie and Libby, are here to save the day with an impeccable Turkey Day spread. But this dream holiday quickly becomes a nightmare when the turkey explodes in Monty's face, killing him.
One of the dinner guests is a killer, and with a snowstorm stranding everyone in the Field mansion, anyone could be the next victim. Now it's up to Bernie and Libby to go from cooks to sleuths and figure out which family member was willing to make this Thanksgiving Monty's last—before their own chances of survival are cooked.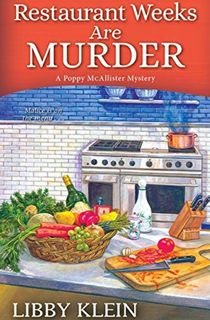 Restaurant Weeks Are Murder
For Poppy McAllister, the best part about operating a B&B in Cape May, New Jersey, is how much cooking she gets to do. Now, she gets the chance to up the ante with the Restaurant Week challenge coming up. It's got her in such a good mood that she doesn't even mind pairing up with her ex-fiancé Tim and his annoying girlfriend Gigi. She knows her gluten-free pastries will be the main attraction no matter what.
The challenge proves to be more than just fun and games when some ingredients get swapped and accusations of sabotage start flying. But things quickly progress beyond friendly competition when a judge drops dead...after eating one of Poppy's cannolis. If Poppy can't track down the real killer, the challenge—and her whole future—may just go up in flames.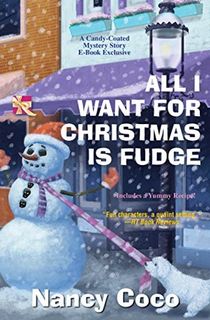 All I Want for Christmas Is Fudge
Event planner Jenn Christensen has big plans for this Christmas season. She's headed home to Mackinac Island, Michigan to meet up with her best friend Allie McMurphy and sample some of her famous fudge, to raise money for charity in the Santa Fun Run, and maybe to restart things with Shane Carpenter. But this Christmas goes from nice to naughty when Jenn discovers a Santa dead in a snowbank and winds up at the top of the suspect list.
Luckily, she's got Allie on her side. With the help of a golden retriever named Marley, they'll have to clear Jenn's name and unmask the real killer before they get hit with another holiday homicide.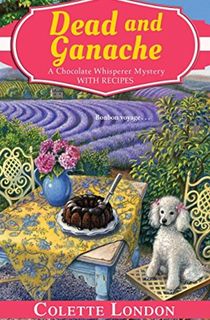 Dead and Ganache
Hayden Mundy Moore has been looking forward to reuniting with the man who taught her everything she knows about chocolate-making. She's heading to Brittany, France to help him celebrate a combination wedding and business merger with his old rivals. But things take a turn for the worse when the old man is found dead in the middle of a festival.
The rural police are slow to act, so Hayden takes matters into her own hands. With a film crew bustling around and old business rivals everywhere, the list of suspects is long. Not to mention Travis, her financial advisor, suddenly arriving on the scene. Will Hayden be able to get to the bottom of this coco-covered caper?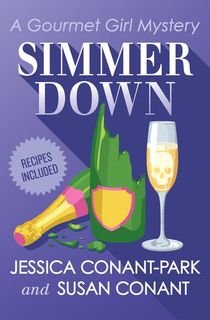 Simmer Down
Things are going great for grad student Chloe Carter and her boyfriend Josh Driscoll. Josh has just landed a job as the executive chef at Simmer, an anticipated new restaurant in Boston, and Chloe has just connected him with a charity fundraiser to do some good in the world while also building up hype for Simmer's New Year's Eve opening night. But this perfect night quickly turns sour when a wealthy club owner is found bludgeoned to death.
To make matters even worse, the murder weapon, a food processor, turns out to be Josh's. With New Year's Eve quickly approaching, it's up to Chloe to clear her boyfriend's name, find the real killer, and save Simmer's reputation. As long as the killer doesn't get to her first.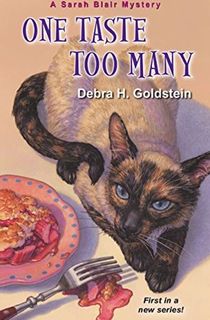 One Taste Too Many
When her decade-long marriage comes to an end, Sarah Blair is forced to move into a tiny studio apartment and take up a receptionist job. All she still has from her old life of luxury is her beloved cat RahRah. At least she has her twin sister, Emily, who is determined to make a name for herself as a chef at their town's local gourmet restaurant. But things get complicated when a bite of Emily's famous rhubarb crisp sends her ex-husband to an early grave.
Now with Emily standing accused of murder and the woman who split Sarah and her husband up trying to take RahRah away, her new life might be over before it could even get started. In order to catch the real killer, Sarah will have to enter the kitchen herself. Only one problem: she can't cook!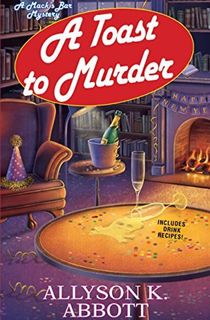 A Toast to Murder
As New Year's Eve comes closer, bar owner Mackenzie Dalton has more on her plate to worry about than making a list of resolutions. There's a killer on the loose in Milwaukee who's been taunting her ever since they murdered her bouncer Gary Gunderson. Luckily, Mack has a plan. She's invited her number one suspect to an invite-only party at the bar with her trusted regulars so they can finally put an end to the twisted game.
But when the new year starts with the suspect dead at the bottom of her basement stairs, Mack has an even bigger problem. Someone at her New Year's party is the real killer, but who? She'll have to weed out the killer quickly...or this New Year's celebration might be her last.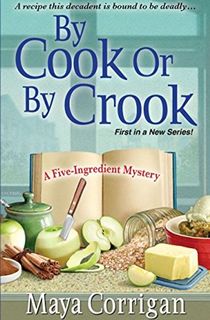 By Cook or by Crook
After a car accident upended her publishing career and forced her to move away from New York City, Val Deniston is finally settling into her new life in the Chesapeake Bay town of Bayport. She lives with her grumpy grandfather and works at the local gym by day, and spends her evenings working on her dream cookbook. But her new life is quickly thrown into chaos when a fitness club member is found dead. Now, it's up to Val to track down the killer, but with a list of suspects as long as her most complicated recipes, she'll have to race against time before this case boils over.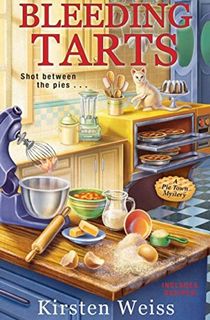 Bleeding Tarts
Situated just on the edge of Silicon Valley, Bar X is a fake Old West ghost town available for any tech bigwigs who want to indulge their inner outlaw for an evening. Now, it's the setting for a pie-eating contest, with Valentine Harris supplying the all-important pies. Val hopes this will be the beginning of a lucrative business relationship with Bar X and good advertising for her shop, Pie Town. What she doesn't expect is for one of her own pastries to get caught in the crossfire.
After a bullet whizzes through her cherry pie, Val finds the Bar X bartender shot in an alleyway. With the help of her friend Charlene, Val goes on the search for a shooter. In a town where everything is fake, she'll have to find a killer with a real hunger for murder. If they don't get her first.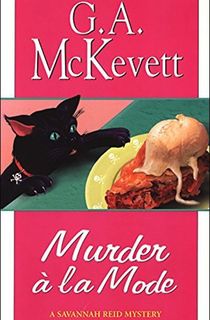 Murder a la Mode
Savannah Reid thinks she's going to have her best birthday yet when her friends sign her up to compete on a reality TV dating show to win the heart of Lance Roman, the hunk who features on the covers of her favorite romance novels. The TV show, Man of My Dreams, follows Savannah and four other women as they vie for Lance's affection. But the dream becomes a nightmare when one of the show's producers is found dead, seemingly poisoned by a batch of ice cream. Savannah will have to rely on her skills as a private investigator to get to the bottom of this one.
It turns out the producer, Tess Jarvis, had more than her fair share of enemies. Could the murderer be her disgruntled husband, a wronged employee, or a contestant trying to better her own chances? While navigating the wild world of reality TV, it's up to Savannah to scoop out the truth.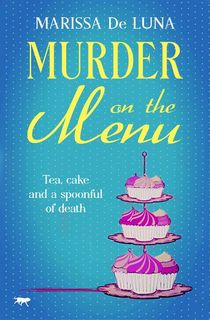 Murder on the Menu
After quitting her job with the police and moving back to her small hometown in Cornwall, Jodie "Nosey" Parker is ready to start her new, safer life as a caterer and mom. Of course, nothing is ever that easy, which Jodie realizes when her first gig ends up being catering her ex-boyfriend's wedding. But when the bride goes missing, any lingering awkwardness with her ex becomes the least of her worries. Jodie thought she'd left her crime-solving days behind her, but she'll have to put her old skills to use if she hopes to make the village as safe for her and her daughter as she hoped it would be.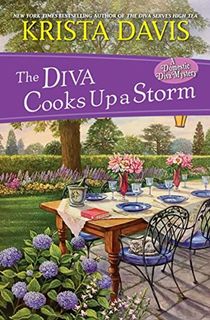 The Diva Cooks Up a Storm
Entertainment pro-Sophie Winston is excited to be a guest at an event instead of the planner for a change. Old Town Alexandria is finally getting in on the newest trend: pop-up gourmet dinner parties. The whole event also features the element of surprise, as the guests don't know what will be on the menu or who the other invitees are.
The dinner goes from trendy to tension-filled when Sophie is seated with the wealthy Hollis Haberman and his new wife. The only problem is that also attending the dinner are Hollis' ex-wife and his son. When Sophie finds Hollis on death's door the next morning, she has to find out if this hostile family has turned homicidal before anyone else can get their just desserts.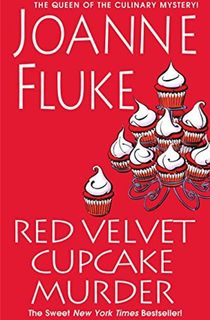 Red Velvet Cupcake Murder
For a baker like Hannah Swensen, an especially hot summer is never an easy time. But the monotonous hours in her bakery's kitchen are interrupted when murder returns to town. The opening of Lake Eden, Minnesota's newest hotel goes horribly wrong when a woman is found dead. To make matters worse, the victim wasn't exactly Hannah's best friend, and now she's at the top of the suspect list.
To prove her innocence, Hannah sets out to find the real killer...before she starts feeling the heat.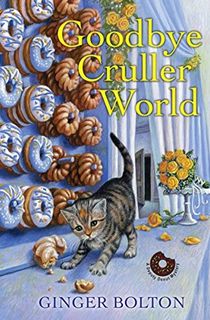 Goodbye Cruller World
When the owner of Fallingbrook, Wisconsin's clothing shop asks donut shop owner Emily Westhill to create a donut wall for her wedding reception, she jumps at the chance. The wedding guests seem to be enjoying sampling Emily's sweet treats until the groom collapses, a victim of poisoning. Emily knows someone messed with her donuts, but who?
With suspicion turning towards the bride, she'll have to act fast. Luckily, her business partner and father-in-law also used to be Fallingbrook's police chief, so she's got some sleuthing skills under her belt. But if she can't find the killer, Emily, the bride, and her business will all be out of the frying pan and into the fryer.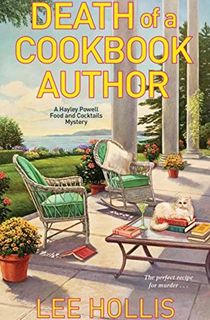 Death of a Cookbook Author
It's the chance of a lifetime for food journalist Hayley Powell when her hero, TV chef Penelope Janice, invites her to be a part of her Fourth of July cook-off. When she arrives at Penelope's beautiful mansion in Seal Harbor, Maine, she's excited to cook alongside some of the most famous chefs in the world. Hayley's first night ends earlier than she'd hoped when she's knocked out by food poisoning, but she certainly doesn't expect to overhear people plotting a murder while she's resting in bed. She assumes she misheard until a body is discovered the next morning.
Did someone tragically fall off the cliffside? Or is one of the chefs cooking up murder? It's up to Hayley to find out.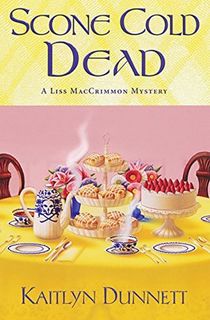 Scone Cold Dead
For Natalie Barnes, life on Cranberry Island in Maine is idyllic. She spends her days taking care of her guests at the Gray Whale Inn and experimenting with new ingredients for her beloved scones. But when she discovers a dead body shoved under her own blueberry bushes, she finds herself in a sticky situation. There's a murderer on the loose, and they may just be somewhere within the walls of the inn...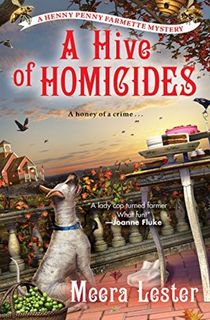 A Hive of Homicides
When her friend Paola invites police officer-turned-beekeeper and farmer Abigail Mackenzie to attend and make lavender honey for her and her husband Jake's renewal of their vows, she jumps at the chance. After the ceremony ends, Paola and Jake disappear, only for a gunshot to ring out. When Abby follows the sound, she finds the couple in Jake's car with Jake dead and Paola injured. Who could've wanted Jake dead?
From his former flings to workplace rivalries at his winery, it seems that a few people had their issues with Jake. Now it's up to Abby to protect Paola and track down the killer. But when another person winds up dead, she realizes this case could end up as more than just sour grapes.