The top-rated TV show Luther based on the novels by Neil Cross aired on BBC One between 2010-2019, with the fifth and final season amassing an astounding average of 9.45 million viewers per episode in the UK alone. And earlier this year, the show continued as a major motion picture, Luther: The Fallen Sun, on Netflix.
Can't get enough of the gritty London setting, the morally-grey detective, or the bone-chilling murder cases? Then you've come to the right place: the 10 books below contain various elements from Luther—including Neil Cross' prequel to the Netflix adaptation.
Continue to the list below to discover what to read if you loved Luther.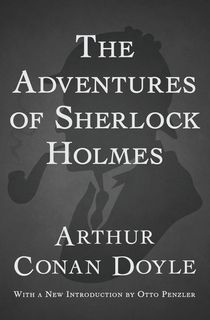 The Adventures of Sherlock Holmes
In an interview with the BBC, Luther creator Neil Cross explains that DCI John Luther "has some Sherlock Holmes about him—some of that disinterested analytical genius." It makes sense, then, that to understand Luther on a deeper level, you should read The Adventures of Sherlock Holmes. Detective Holmes is also known to have a unique sense of justice, although it might be a touch less violent than Luther's.
Luther: The Calling
Written as a standalone prequel to the television show Luther, the novel Luther: The Calling by Neil Cross gives readers a look at the backstory of their favorite emotionally tormented detective, John Luther. After a baby is brutally stolen from a pregnant woman's womb, London is in a chaotic state of fear. When the baby turns up dead, and the killer commits another heinous crime, DCI John Luther is left in a race against time to catch the killer before he has the life of another innocent on his hands.
The Black Echo
Meet your new favorite morally-grey detective, maverick LAPD homicide detective Harry Bosch. The body of one of his partners in the Vietnam War has been found in a drainpipe at Mulholland Dam. To find the killer, Bosch goes on an unpredictable investigation that will lead him into the city's criminal underbelly. And when the killer is finally found, Bosch must make the "agonizing" and Luther-esque "choice between vengeance and justice."
Now You See Me
Detective Constable Lacey Flint is leaving a witness interview at a London apartment complex when she discovers a woman who had been viciously stabbed in the parking lot moments before. Twenty-four hours later, a reporter receives a letter that calls out Lacey by name, which points out shocking similarities to Jack the Ripper's first crime.
Now, Lacey must catch the killer—who, if recreating the crimes of Jack the Ripper, will strike again in five days—while avoiding the parts of the investigation that remind her of a dark part of her past that she would like to keep hidden…
Flood
Burke is an ex-con and an unlicensed investigator, but that doesn't make him any less good at what he does. When his newest client, a beautiful woman named Flood, approaches him to find a child murderer so that she can kill him, Burke is happy to help. As the investigation takes them from the seedy underground of New York City to the glittering penthouses, Flood is "Burke at his deadliest—and Vachss at the peak of his form."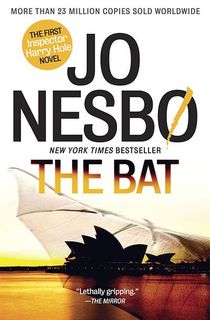 The Bat
Sent to Australia to investigate the murder of a 23-year-old Norwegian girl with the instructions to stay out of trouble, detective Harry Hole starts strong before his bad boy side eventually wins out. After befriending one of the lead detectives and one of the witnesses, Harry gets pulled deeper into the investigation, which points to a truly psychopathic murderer working his way across the country.
Heartsick
Portland detective Archie Sheridan is, admittedly, a little damaged. He spent 10 years hunting down a beautiful serial killer named Gretchen Lowell, but she was the one who found him…and spent ten days torturing him before letting him go and turning herself into the authorities. Consumed by those horrible 10 days, Archie goes down the path of addiction.
When another serial killer strikes Portland, he must pull himself up with everything he's got to lead the new task force investigating the murders. But an overly-eager news reporter begins profiling Archie and the investigation, leading to a deadly game between Archie, the reporter, the killer, and even Gretchen.
The Murder Man
When a group of privileged, rich English guys who met at boarding school begin dying in "the most violent ways imaginable," Detective Max Wolfe is called to investigate. Max follows the killer's trail from the city's bright lights to the darkest corners of the web and even up to the highest levels of power.
Dedicated to finding the evil killer behind this case, Max is "every murderer's worst nightmare." But as the killer gets closer and closer, Max soon learns that he is not only fighting for justice—but for his life.
Memory Man
After suffering a sports-related TBI, police detective Amos Decker now has a brain condition that gives him the ability to remember everything. But this "ability" proves to be more like a curse when Amos walks in to find his wife, young daughter, and brother-in-law murdered; over a year later, he can still picture the gruesome details as clearly as if they were yesterday.
But when a man turns himself in and confesses, Amos can finally get the answers he seeks about his family's murder. He may have to use his gift and one of its side effects—a lack of empathy—to get there…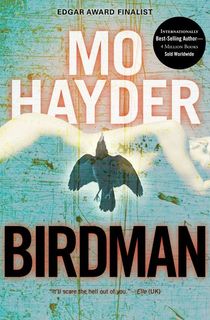 Birdman
It's Detective Inspector Jack Caffery's first case as lead investigator on London's crack murder squad. The mutilated body of a young woman is found in southeast London, and not long after, four others are discovered in the same place. When the post-mortem examinations of the five victims reveal a gruesome signature that connects them, Caffery realizes he's on the hunt for a sinister, terrifying serial killer.