Carol Dean Jones laughs easy, and has fantastic energy in her voice. When I reached her via telephone one crisp winter afternoon, she'd just returned from a COVID-19 testing site where, after a two-hour wait in a long line of smelly cars, she was turned away once she got to the front.
"All that wait for nothing!" I remarked after hearing about her day.
"Yeah! All that for nothing!" She laughed.
Related: 9 Delightful Cozy Mysteries for the Aspiring Poirot or Miss Marple
Although that particular chore didn't yield any success, that's a rarity for Jones. With an impressive educational background, a former career as a geriatric social worker, and twelve books to her name, she seems to have the golden touch, and tackles projects with an ease that few share.
Jones sat down to write the first book of her Quilting Cozy series when she was seventy-five-years-old. Once she finished the first title, Tie Died, which she says just came right out of her, the others in the series came just as fast. Having no prior experience in writing, other than the writing she did during her school years, this is beyond impressive. On June 25, 2021 Jones will end the series with the twelfth installment, Frayed Edges, leaving main character Sarah Miller, and all her cohorts - perfectly situated. Just like an expertly crafted quilt.
Here's more from Jones about how she gets so much done in a day, the importance of hobbies, and her upcoming book.
I learned in an episode of the podcast Behind the Seams that you wrote your first book at seventy-five. Do you think that being a skilled quilter helped you have the patience to sit down and craft that first story? 
Yes, I think the quilting certainly helped. Of course my thirty-years of geriatric social work also helped with the issues of aging, which I work into my books. But yes, I think the quilting certainly helped. Or maybe I'm just a patient person. Who knows? I was enthusiastic about writing it. I'd retired not long before, and I really had things I wanted to say to elderly people about living in their old age, and enjoying their old age. So in my stories I have elderly people who are having fun. That's why I chose the cozy format. They all have a mystery in them, but my characters are having a good time. 
Did you have prior experience in writing, or did you essentially teach yourself how to do it when you first sat down to write? 
Well I do have a Master's Degree, so I'd done a lot of writing for school, and writing reports for work, but no writing as far as novels. But the twelve books I wrote came very easily. But I don't feel like I have another one in me.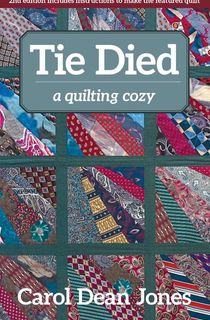 Tie Died
First in the mystery series starring a senior sleuth with a passion for quilting—and quizzing suspects…Includes a bonus pattern!
Sarah Miller's forty-year-old daughter, Martha, has been relentlessly encouraging her to leave her longtime home and settle into a retirement community—and now sixtysomething widow Sarah has reluctantly given in. It's a tough adjustment, but she's a tough lady—and she's going to get her bearings and build a new life for herself.
She's happy when she starts meeting some of her fellow residents and making friends. But then, one of them is murdered—and Sarah and her feisty friend Sophie are determined to find the killer…
Sarah Miller, the main character in your Quilting Cozy series, lives in a retirement community. Has she been coming to mind during the COVID-19 pandemic, and do you have any plans for a pandemic themed story involving Sarah? 
I don't think so, because of the light feel of my books. I think it would be a mistake to bring that in. 
I was excited to see that you have a new book coming out this summer, Frayed Edges. Can you talk a bit about the inspiration for the new book?
I found an old, old quilt at a flea market. I bought it, and brought it home, and it was very tattered and torn. It just kinda led from there. While looking at it I thought "what would Sarah say?" So I started writing the book, and a lot of people in the book mention that they also have old quilts, so the idea for them to have an antique quilt show came up. And that's essentially what's in that book. 
And you'd mentioned previously that this will probably be the last book in the series? 
Yes. This is the last one. It just feels right that it's finished. I kinda wrote that into the book. I didn't say it in the book, but I tied up all the ends. Everybody is in a good place. 
Frayed Edges
Cozy up with Sarah and her friends for more murder, quilting, and community
When sixty-eight-year-old Sarah Miller moves into the Cunningham Village retirement community, she is mourning the loss of her husband and the place that has been home for forty-two years. But Sarah is a survivor. As she reaches out into the retirement community that is to become home, she finds friends, activities, new hobbies, and a love interest.
In the twelfth installment, excitement grows as the Tuesday Night Quilters plan an antique quilt show. But things go terribly wrong. Sarah and Sophie again throw themselves into the middle of the investigation, but this time Sarah finds herself in real danger. As always, Sarah and her retirement village cohorts offer fun, mystery, and lots of quilting.
On your website you talk about the value of staying as active as possible. In a time when it's hard to be active outside of the house, what's some advice you can give to anyone finding themselves feeling down in the dumps these days?
Well for myself, I decided to make baby quilts. I was gonna sell them online but I decided to take them to craft shows, once the world opens back up again. What I'm aware of is the importance of a hobby. If you don't have one, go get one. Having something to think about, and be creative about, it just seems so important right now. I've been busy every day during the pandemic. It hasn't been that hard for me because I'm a little bit reclusive myself. And I'm very good at entertaining myself. When I was writing I was writing all day, every day. And now I'm making baby quilts all day, every day. But that would be my advice. Find a hobby. Find something you enjoy. 
Fantastic advice from a fantastic writer. Make sure to get your hands on a copy of Frayed Edges, and check out a few other titles from the Quilting Cozy series below.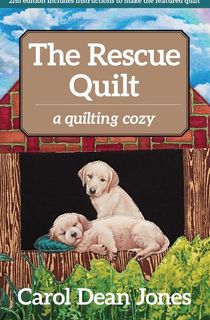 The Rescue Quilt
A tale of mystery, family, and furry friends in a busy retirement community—includes instructions for the featured quilt!
Sarah Miller, dedicated quilter and resident of the Cunningham Village retirement community, may be a senior but she's still full of energy—which she puts into her beloved crafts and, sometimes, into solving crimes. Now she's about to embark on some amateur detection as her dear friend Sophie encounters several major life changes—including two new family members and a job working with abandoned animals…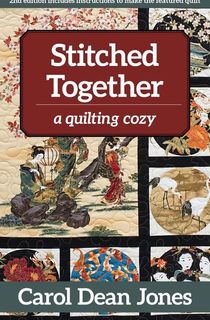 Stitched Together
In this mystery featuring a bonus quilting pattern, a retiree moves her romance to the next level—while at the same time trying to untangle a murder…
Years ago, a policeman named Charles came to Sarah Miller's door to break the sad news to her that her husband had died. Little did Sarah know that one day, she would move into the Cunningham Village retirement community—and run into Charles again.
Their friendship has grown into something more, and they're currently dealing with the joys—and challenges—of combining households. But amid this activity, they and their friends have to pull together to defend one of their own accused of murder…
Includes a bonus quilting pattern!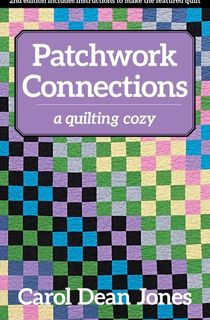 Patchwork Connections
A retired widow is taking on new challenges—like managing a quilt shop, and solving a dangerous mystery…Pattern included!
Sarah Miller is a survivor, and she's intent on making the most of her new life in the Cunningham Village retirement community, after coping with widowhood and other losses in the past. She's involved in a budding romance and has made new friends, like Ruth, who wants Sarah to manage her quilt shop while she's away caring for her ailing mother in her Amish community—not something newbie quilter Sarah feels fully prepared for. At least she can bring her dog, Barney, for company.
Sarah's daughter, Martha, has also begun to play a larger role in her life—but unfortunately, she brings an impending danger along with her…