Throughout the collection, Jane and her resort guests encounter mysterious murders and must find the killer before more guests meet their untimely end. In her fourth book, Murder in the Locked Library, Jane plans to build a luxurious spa at the resort, but the discovery of unusual bones and an antique book buried in the dirt kickstart an exploration into the past all the while a killer begins to runs loose in the present.
Adams's latest book in the cozy series, Murder in the Cookbook Nook, was released on April 27, 2021. For the seventh installment, Storyton Hall is the host of a cooking competition between six impressive chefs. However, when one chef is found dead in the pantry among a pile of century-old cookbooks and other treasures, foul play is suspected.
Meanwhile, odd occurrences begin to happen in town, including tampering with the costume of the town's mascot. In order to save the competition, and her resort, Jane must get to the bottom of this mystery.
Be sure to download Adams's latest release today!
Murder in the Cookbook Nook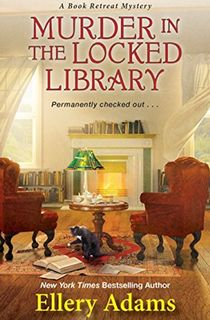 Murder in the Locked Library