Looking to add some extra intrigue to your TBR? Look no further than this collection of exhilarating fantasy mystery books.
Books set in the everyday world can only do so much, but when you open the door to possibilities outside of this reality, you're exposing yourself to a whole new host of plot points. For example, any detective can investigate your run-of-the-mill murder mystery, but when the crime involves paranormal creatures and alternate realities? You get the picture.
If you're interested in discovering the engrossing world of fantasy mysteries, we've selected a sampling of books to get you started.
Storm Front
Harry Dresden is a professional wizard who knows the world is full of more magical things than meets the eye. He also recognizes that most strange creatures don't play nicely with the human population.
When the Chicago P.D. brings him in to work with them on a double homicide involving black magic, he jumps at the opportunity to make some much-needed cash. But can he solve the case before the black mage behind it gets to him first?
First Grave on the Right
Charley Davidson—part-time investigator and full-time grim reaper—connects with spirits to solve the injustices that led to their deaths, so they can go to the other side. She often investigates unsolved murder cases to bring the criminals to light and seek justice for her paranormal friends.
But Charley gets distracted by the steamy dreams she's been having about a certain Entity—the one following her her whole life. Things get even weirder when Charley learns that the Entity might not even be dead after all, but something entirely different…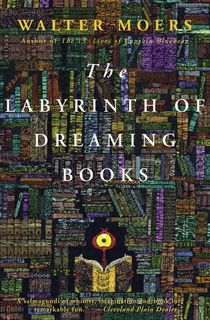 The Labyrinth of Dreaming Books
Two hundred years ago, Bookhol was destroyed by a devastating fire—but the magnificent city has since been rebuilt and is once again a metropolis of storytelling and book trade. Hildegunst von Mythenmetz, known as the best writer on the continent of Zamonia, is on vacation when a message informs him that he must return to Bookholm to investigate a mystery.
Once he arrives, Mythenmetz encounters old friends and new inhabitants of the shadowy "Invisible Theater." Follow along as Mythenmetz gets to the bottom of the mystery in this "yarn of drollery, deeper meaning, and sheer lunacy" (Rolling Stones).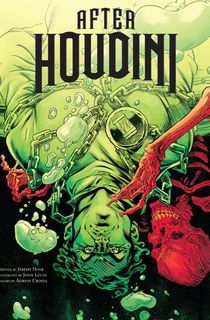 After Houdini
Josef Houdini, son of the master magician Harry Houdini, is a gifted escape artist who can get himself out of any situation. But the position he was not expecting? Filling in for his father—a secretary operative stuck on a top-secret mission for the U. S. Government during WW I.
Does Josef have what it takes to save his father and make it back alive?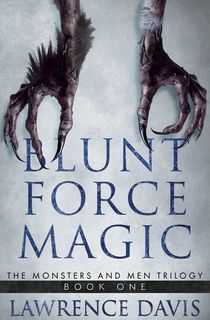 Blunt Force Magic
Five years after giving up his dream of fighting supernatural evils, Janzen Robinson lives a normal life as a package courier in Cleveland, Ohio. But when a dark creature is unleashed from the Abyss, Janzen is suddenly thrust back into his position as a protector—also known as an "Artificer."
Blunt Force Magic explores the magical underbelly of Cleveland as Robinson tries to uncover why the creature was unleashed and, more importantly, how to stop it.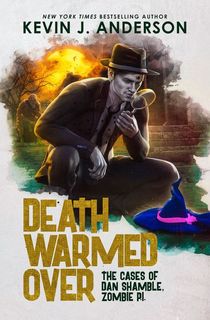 Death Warmed Over
Vampires, werewolves, and other undead creatures have been released into the world by the Big Uneasy—and they are wreaking havoc. Zombie P. I. Dan Chambeaux and his human lawyer partner certainly have their work cut out for them!
Just because he was murdered doesn't mean Chambeaux would leave his clients high and dry. Back from the dead and now busier than ever, Chambeaux's caseload includes a mummy suing the museum that put him on display, two witches seeking restitution for a curse gone wrong, and of course, his personal case…finding his own murderer.
Magic for Liars
Born powerless into a world of magic, Ivy Gamble always told herself she was perfectly happy with her magic-less life. She didn't wish at all to be more like her estranged twin sister, Tabitha, who was born with the gift. But Ivy Gamble is a liar.
When a brutal murder is discovered at the magical institute where her sister teaches, detective Ivy Gamble reluctantly agrees to help. As she works through the case, Ivy gets pulled deeper and deeper into a world of dark magic and hidden secrets. Can Ivy find the murderer and reclaim her sister—without losing herself in the process?
The Eyre Affair
In this New York Times–bestselling novel, readers discover a version of Great Britain in the 1980s, in which time travel is standard, cloning extinct animals is a regular practice, and literature is taken very seriously.
Thursday Next is a renowned Special Operative in literary detection who regulates citizens committing literary crimes, such as forgetting Byronic verse. When someone decides to kidnap Jane Eyre from the pages of Brontë's novel, Thursday soon realizes she is in for the challenge of her career.
A Potion to Die For
Carly Bell Hartwell is the owner of the Little Shop of Potions, and her product is in more demand than ever. After a loyal seer predicted a particular couple would soon divorce, husbands and wives have been flocking to her tiny store in Hitching Post, Alabama, for a potion that will ensure they stay, well, hitched.
However, Carly quickly goes from beloved shopkeeper to number one suspect when a man drops dead in her store while clutching a potion bottle. Follow along as Carly works against the mob to clear her name—and find the real killer—before the townspeople decide her punishment should fit the crime.
The Ninth House
Galaxy "Alex" Stern was raised in L.A. by her hippie mom and ultimately dropped out of school to chase drug dealer boyfriends and dead-end jobs. She suddenly gets a second chance in life while in the hospital after surviving a multiple homicide. Alex is offered a chance to attend the prestigious Yale university on a full scholarship. Even though she knows there must be a catch, how could she pass up the opportunity?
But when Alex arrives in New Haven, she soon realizes the charming university is more sinister than it seems. The eight secret societies she's tasked with monitoring are practicing forbidden magic, raising the dead…and sometimes even preying on the living.