As much as I love mysteries, they sometimes make me jumpy. I suppose that's the testament of a good suspense novel—it has me looking over my own shoulder. But sometimes I'm in the mood for something a little less spine-tingling. In those instances, I tend to seek out a mystery that's a little more on the humorous side—whether it be cozy or paranormal (or cozily paranormal).

If you're looking for a mystery that'll make you giggle as much as it'll make you gasp, you've come to the right place. These stories feature amateur sleuths in small towns that often have murder thrown in their paths. In order to survive, they'll need to work fast, relying on their own wit and cunning (and in one case, the help of a psychic cat).
Dial A for Aunties
Meddy Chan can't seem to escape her meddling mother and aunties. But, when she accidentally murders her date, she needs their overbearing presence more than ever. Lucky for her, the family wedding business proves to be the ultimate escape to dispose of the body and clear Meddy's name. But will a chance reunion with her ex-boyfriend, "the one who got away," ruin everything?
Finlay Donovan Is Killing It
Struggling mom and mystery writer Finlay Donovan is at her wit's end when a compelling job proposal drops in her lap. She's to get rid of someone's husband, and although she never saw herself as a cold-blooded killer, she's desperate to make ends meet. But when someone else finishes the job for her, she's thrust into a real-life murder mystery. Will she end up with a new mystery novel in the works? Or will she end up as the killer's next target?
One for the Money
New Jersey local Stephanie Plum is jobless, carless, and soon-to-be homeless. So she does what she thinks will make her the most money and becomes a high-class bounty hunter. This means she goes after the big targets, and her first case is her ex-boyfriend and corrupt cop, Joe Morelli. Stephanie is one tough cookie, but she'll have to face enemies who'd rather die, or kill than cough up the truth.
Plotting for Murder
Sawyer Davis is your average master chef and whodunnit-themed bookshop owner. She enjoys long walks on the beach, her new puppy, and her amateur sleuths book club. However, when one of the members mysteriously dies after eating her truffle mac and cheese, Sawyer is planted in a real-life whodunnit. And all evidence points to her guiltiness. Will she be able to solve the case and uphold her master chef reputation?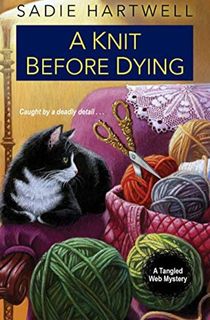 A Knit before Dying
Now in charge of Miss Marple Knits, Josie Blair is settling into the snug community of Dorset Falls, Connecticut. Her time is split between the shop, the blog that she's trying to start, and handknitting new crafts. Before Josie can get to know the new antique shop owners next door, one is found dead on the floor of his shop. The police suspect his partner, but Josie doesn't believe that the case to be so cut-and-dry.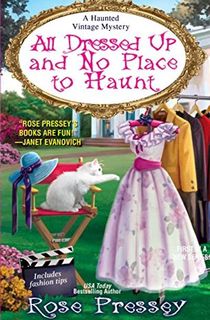 All Dressed Up and No Place to Haunt
This paranormal mystery has it all—film stars, ghosts, vintage clothing, and a psychic cat. There's a movie being shot in the historic town of Sugar Creek. Vintage clothing store owner Cookie Chanel finds herself right in the middle of the action, providing authentic period clothing for the cast. The production come to an abrupt halt, however, when the leading lady is found drowned in a pond—wearing one of the dresses that Cookie provided. When a ghost tells Cookie that the dress belongs to her, Cookie realizes that she'll need to find the killer—and fast.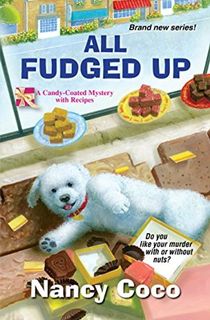 All Fudged Up
Allie McMurphy has been occupied with renovations of her family's hotel. The hotel has been in the family for generations, and is known for its world-renowned fudge shop and classic Victorian charm. That history comes back to haunt Allie when the body of her grandfather's former rival is found. With her grandfather having passed on, Allie is the primary suspect. It's up to Allie to find the real murderer before they strike again.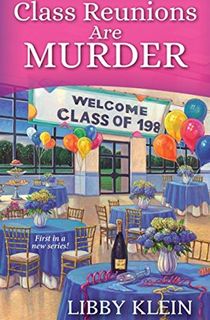 Class Reunions Are Murder
Recent widow Poppy McAllister is stuck in a middle-aged rut. She's planning on skipping her twenty-five-year class reunion—and that plan is only reinforced when receives an odd letter from Barbie, the popular cheerleader that used to bully her. When Poppy is dragged to the event nonetheless, she finds herself pinned for a murder. Not only is Barbie as rude to her as she always was, but her dead body is later found in front of Poppy's old locker. Can Poppy work out who really killed Barbie—and is she next on the list?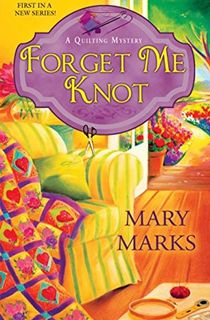 Forget Me Knot
Best friends Birdie, Lucy, and Martha are avid quilters. They're set to expand group on their Quilty Tuesdays with Claire Terry, a newcomer to their area. Claire has a well-known crafting reputation, and makes for an excellent addition to their group ahead of the fancy quilt show coming to town. But when the trio arrives at Claire's home, finding her dead and her quilts missing, Martha is determined to find the perpetrator—even if it means weaving into the killer's path.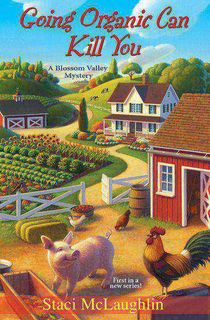 Going Organic Can Kill You
Dana Lewis has just returned to her hometown to begin her new career as the marketing manager for the O'Connell Organic Farm and Spa. Opening weekend is tough enough—and it becomes even more difficult when a famous guest is found dead. Now Dana's attention is split between aiding the police in their investigation, keeping the press at bay, updating the spa's blog, and catching a killer.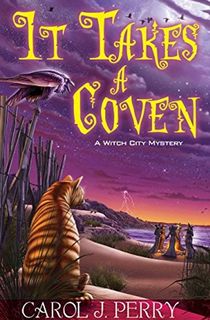 It Takes a Coven
When Lee Barrett agrees to be a friend's maid of honor, she expects her duties to be run-of-the-mill. But Lee soon finds that this bridal party is more than this with could ever have anticipated. Not only is there a talking raven for a ring bearer, but the witches are them dropping like flies. A number of unexplained deaths leads Lee's best friend, River, to fear that she's released a curse over their community. Will Lee make it down the aisle before she winds up in her grave?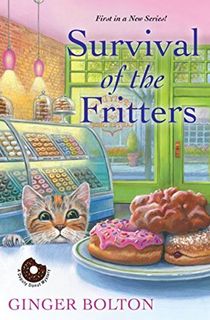 Survival of the Fritters
Between her work as a 911 operator, her police chief father-in-law, and her late detective husband, Emily Westhill is well acquainted with crime and loss. Emily's life is quieter these days, however. She runs a donut shop in Fallingbrook, Wisconsin. Her hackles are raised when one of her regulars, Georgia, goes missing, and is found murdered in her own home.
Not only does Georgia's murder fall on the five-year-anniversary of her son's, but it's the last case that Emily's late husband investigated—and failed to solve before his own untimely death. Now, left with more questions than answers, Emily will have to retread painful, familiar ground to learn the truth.
Eat, Pray, Die
Isobel Avery is an undercover poison taster for the rich and famous. While it may sound like an exciting job, it's something that Izzy can hardly stomach sometimes—between the food and her clients' attitudes. Her newest client is an absolute menace: as attractive as he is arrogant. Can Izzy and her irritatingly attractive client make it through this ordeal together?
Louisiana Longshot
With a leak at the agency and a price on her head, CIA assassin Fortune Redding has to go off the grid in Sinful, Louisiana. It's a temporary fix, until the source of the leak is located and the threat to her safety is eliminated. Posing as a librarian, Fortune is resolved to stay out of trouble until her boss finds the leak.
But it isn't long before a dog digs up a human bone in her new backyard. Suddenly caught in the middle of an investigation, Fortune finds her new cover under threat. Fortune joins up with two "kind" old ladies—who know the town like the backs of their hands.
Rest Ye Merry
Professor Peter Shandy is Balaclava Agricultural College's Scrooge when it comes to decorating for Christmas. This year, Peter goes all out, installing a display sure to drive the neighborhood crazy. Then he leaves town, leaving his neighbors to deal with his forced cheer. His guilt soon chases him back home, but when he arrives, he finds his lights shut off.
Not only that, but there's a librarian dead in his living room. Known for his occasional bent toward sleuthing, the school asks Shandy to look into the matter quietly. Should the matter come to light, it could ruin the influx of tourism that typically comes to town during Christmas.