Beverly Barton passed away not all that long ago, in 2011, but left behind a treasure trove of novels to enjoy in her memory. Having moved on at the way-too-young age of 64, the southern born and bred writer made the absolute most of her time on earth, raising a family, being a light to her friends and community, and churning out truly impressive works of fiction.
Beginning in 1990, with breaks here and there to focus on her family, Barton published dozens of novels, and lended work to two anthologies. One of which, Most Likely to Die (2007), featured fellow mystery and thriller powerhouse Lisa Jackson.
Related: Celebrating the Female Mystery Writers Who Craft Our Favorite Thrilling Reads
Among all of Barton's fantastic titles, After Dark stands apart from the rest as a truly innovative and exciting read. Originally published in 2000, the book sets readers down in Noble's Crossing, Alabama, and leaves them to work their way out of an artfully crafted web of intrigue with each flip of the page.
"A sizzling, sexy tale that grabs the reader by the throat and doesn't let go," says Lisa Jackson, singing praises for her peer's release of After Dark.
During Barton's inspiring run she proved to fans and critics alike that she could write skillfully, and entertainingly, about almost anything. Romances, mysteries, thrillers, even TV scripts and poetry. Barton had a way with words, that's for sure.
In the Times Daily's obituary for Barton they highlighted After Dark as being the author's first big mainstream success. They went on to include a quote from Barton herself, pulled from her website, which bring's the author's spirited ways, and authentic charisma to the the front of readers' minds:
"People who know me well will tell you that my family is more important to me than anything in the world," says Barton. "I'm fortunate to have a cousin who is like a sister to me and am blessed with a handful of close friends whom I refer to as my bosom buddies. I wouldn't know what to do without these great gals who give me encouragement, support, advice, love and lots of laughs."
She was loved by all who knew her, and her work lives on to be loved by new fans every day.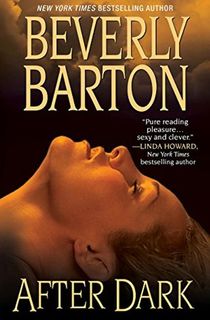 After Dark
As the blazing heat of summer gives way to sultry September, a shroud of suspicion settles over the sleepy Alabama town of Noble's Crossing. Lane Noble Graham stands accused of murdering her ex-husband. And the one man who can help, Johnny Mack Cahill, vowed never to return to the town that scorned him—or the woman whose love he knew he didn't deserve.
From the rusted-out trailers on the wrong side of the river to the stately pillared mansions along Magnolia Avenue, everybody has something to hide. But one secret could make Lane and Johnny Mack the next targets of a twisted killer who's determined to striking again . . .