Carol Dean Jones has lived a long, and very busy life, with no signs of slowing down any time soon. Having retired from a career as a geriatric social worker, she sat down and wrote her first book, Tie Died, at the age of 75, and says that the story just flew right out of her. Although she had no prior experience with writing, aside from the writing she did in school, and on the job, she went on to write eleven more books within her beloved "a quilting cozy" series. The last book of the series, Frayed Edges, is set to be released on June 25, 2021 and while we're sad to see the series come to an end, we're left with a lovely collection of stories that we can revisit over and over.
Related: An Interview with A Quilting Cozy Series Author Carol Dean Jones
One of the coziest titles within the series, Moon Over the Mountain, follows the series' main character, Sarah Miller, as she embarks on a retreat to the Great Smoky Mountains. As is so often the case with Miller, who is the heart of the Cunningham Village retirement community after losing her husband, mystery seems to follow her everywhere she goes. Even on an otherwise peaceful getaway in nature.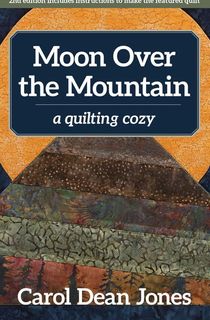 Moon Over the Mountain
A quilting getaway in the Appalachians is overshadowed by danger in this mystery featuring bonus quilt instructions!
After losing her husband, Sarah Miller has been trying to move on into a fulfilling new life, and the friends she's found at the Cunningham Village retirement community are a big help. And a tranquil quilting retreat in the Great Smoky Mountains will be a lovely getaway.
But there's something alarming in the surrounding forest—and Sarah will soon have to turn her attention from threads to threats…
Related: Take a Bite Out of Crime: 11 Culinary Cozy Mysteries Bursting with Recipes for You to Try Out While Under Quarantine
In a review of Moon Over the Mountain, the sixth title within Carol Dean Jones' "a quilting cozy" series, a writer for Search Press says "Moon Over the Mountain is probably the most descriptive of all the books so far. It is filled with the culture of the people, the customs, the mountain walks are just divine to read about and of course the quilting is a major factor." Over on Amazon, one reviewer sang the book's praises saying "Book 6 of the quilting cozy series is wonderful. Nice story of sadness and joy in a mountain setting. I'm so glad Sarah is going on these quilting retreats as I am living my fantasy through her."
You can live your fantasy right along with them. It's only a turn of the page away.
Featured photo: Bryce Frimming / Unsplash