Patricia Wentworth (born Dora Amy Elles) is a heralded mystery writer who spent her earliest years in the northern part of India, and her academic years in London. For a young girl on her way to becoming one of the sharpest and most widely celebrated mystery writers of her time, that worldly experience must have done a lot to ignite her imagination, and further open her senses to the wonders of the world. Wonders that she'd later weave into best-selling novels.
Related: Patricia Wentworth: An Introduction and Mystery Series Guide
Born in the fall of 1877, Wentworth received a private education before finishing off her studies at Blackheath High School for Girls in London. Her first book, A Marriage Under Terror, was considered by all to be an impressive debut, earning her a Melrose prize, but it wasn't until she departed from romance and general fiction to firmly plant roots in the mystery genre that she fully came into focus.
In 1928 Wentworth published Grey Mask, which kicked off her popular Miss Silver mysteries, a series that spanned 32 extremely well-received books. If her first toe dip into the genre grabbed attention, The Case Is Closed, her second Miss Silver installment, proved, beyond a shadow of a doubt, that Wentworth was a name forever tied to mystery.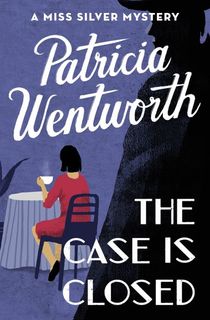 The Case Is Closed
In this classic British mystery, a revised will, a troubled upper-class marriage, and a crazed witness shake up a seemingly solved murder case.
Marion Grey is growing used to the idea that her husband will never leave prison. After the horrors of a very public trial she's almost able to find relief in her resignation. But when new evidence suggests her husband may be innocent after all, she hires a professional—Miss Maud Silver—to clear his name.
It begins with a chance encounter on a busy train, when a friend of Marion's meets a half-mad woman who claims to know something of the Grey case. With her is a man who disappeared during the trial—and may have information that could set Marion's husband free. But who is he, and where has he gone? To find out, demure governess-turned-detective Miss Silver must track him down before becoming a victim herself.
Related: 9 Mystery Books with Surprise Plot Twists
The mystery blog Dead Yesterday sang the book's praises saying "The Case Is Closed is a sprightly adventure with a rambunctious heroine and plenty of 1930s atmosphere." The Manchester Evening News, equally enthusiastic, reviewed the book saying retired schoolteacher and sleuth Miss Silver "has her place in detective fiction as surely as Lord Peter Wimsey or Hercule Poirot."
When so much of life consists of work and pressing responsibilities, there's no greater comfort than stealing away to a quiet book nook with a mystery that will pull you along on a fantastic adventure from the first page to the last. And, hey, Women's History Month, or any other month, following the pursuits of strong female characters is always a great way to pass the time. Dive in to The Case Is Closed if you haven't experienced it yet, and if you have, give it another visit. Good mysteries age even finer than that wine you've been holding on to since New Year's Eve.