Erle Stanley Gardner knew his stuff when it came to crafting gripping detective stories. With a background in law, his ability to work in on-the-job lingo and scenarios gave a heartbeat to the Perry Mason book series he became famous for. By the end of the 1960s, Gardner had a body of work that consisted of 140 novels, 80 of which were Perry Mason books.
"I have become chained to my fiction factory because my audience can't get enough of my stories, no matter how fast I write them," The New York Times quotes Gardner as saying in an article honoring his life and work that was published on March 12, 1970, one day after his passing.
Related: A Perry Mason Mystery: How Erle Stanley Gardner Created a Mystery Classic
Choosing a favorite from his many time honored titles isn't an easy endeavor, but his 1958 classic, The Case of the Terrified Typist, certainly rises to the top of the pulpy heap.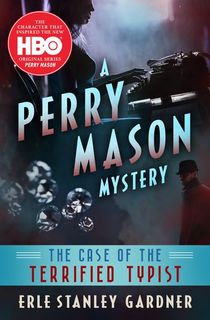 The Case of the Terrified Typist
The Edgar Award–winning author's tale of a missing woman and a crime ring, featuring the lawyer and detective who inspired the HBO limited series.
Defense lawyer Perry Mason needs a temporary typist, but the one he hires turns out to be more temporary than expected. When she disappears, leaving a couple of diamonds behind in her haste, Mason winds up taking on a new client: a gem importer in his office building who's been charged with smuggling and murder. But if Mason's going to untangle this case, finding the typist is key . . .
This mystery is part of Edgar Award–winning author Erle Stanley Gardner's classic, long-running Perry Mason series, which has sold three hundred million copies and serves as the inspiration for the HBO show starring Matthew Rhys and Tatiana Maslany.
"Millions of Americans never seem to tire of Gardner's thrillers." —The New York Times
"Reading a Perry Mason mystery is like taking a step into a "twilight zone" of time that you can't believe actually existed - it did; I lived through it," says a reviewer of The Case of the Terrified Typist on Goodreads. "We are treated in this book to the time of typewriters. I'm old enough to have used typewriters (still have my Smith Corona from college) so I can appreciate how the woman's typing skills who starts the mystery rolling is so valued by Perry and Della."
Related: 10 Classic Whodunits Every Mystery Fan Needs to Read
When Gardner began his legal career in the early 1900s, he started out as a typist for a law firm in California. One can imagine him, seated behind a creaky wooden desk, developing the muscle memory of transcribing cases, and then launching his imagination into the development of his own. His first story was published in a pulp magazine in 1923 and from there, there was no turning back. In 1933 Gardner published his first Perry Mason novel, The Case of the Velvet Claws, and readers were introduced to beloved characters Perry, Della Street and detective Paul Drake for the very first time.
When William Hopper, the actor who played detective Paul Drake in the Perry Mason TV series passed away on March 6, 1970, Gardner followed just five days later. The author's cause of death was cancer but, if this were one of his stories, one could find a good jumping off point for a plot line there.