HBO has brought back one of television's most famous fictional attorneys. Brilliant Los Angeles criminal defense lawyer Perry Mason has returned in a series reboot, and it's about time.
From 1957 to 1966, the original CBS series Perry Mason ran for nine seasons and an incredible 271 episodes. Thanks to the character's popularity (and despite a failed 1973 revival), Mason returned in a series of 30 made-for-TV films on NBC in the 80s and 90s. We haven't seen Mason on the small screen since the last of those NBC films wrapped up in 1995, but that's all changed thanks to this gritty reboot. Viewers went wild for the HBO iteration in 2020, and now, three years later, we're being treated to a second season.
True mystery buffs know that Perry Mason isn't a TV native: the successful CBS and NBC runs were both based on Mason's literary roots. The dashing attorney was brought into this world as the protagonist of a series of detective novels by the inimitable Erle Stanley Gardner, whose sharp plots were often lifted in their entirety for use in the on-screen adaptations of Mason's exploits.
Mason made his 1933 debut in an era of hard-boiled detective fiction, but Gardner's creation would never be mistaken for the raggedy, hard-drinking detectives that dominated that period. Mason is a flashy and brilliant attorney, and his crucial insights consistently crack open cases that complacent prosecutors believe they've already solved.
Gardner's background surely helped him craft his clever plots. He was a lawyer himself, and he got his start as a trial lawyer in criminal defense. Gardner specialized in helping clients in need, particularly immigrants and the indigent. Like Perry Mason, Gardner plied his trade in California; also like Perry Mason, Gardner focused on helping the unjustly accused. Gardner later founded The Court of Last Resort, an organization that came to the aid of wrongfully convicted individuals, similar to what the Innocence Project does today.
Gardner did a lot of important work in his lifetime, but his best-known contribution to history will always be his writing. The sheer volume and consistency of Gardner's output was stunning: Time and time again, Gardner wrote tales of Perry Mason's brilliant deductive skills and expert defense, both of which managed to save his clients from unjust imprisonment.
The formula worked, and Gardner's prolific writing supplied fans with a seemingly endless supply of brilliant Mason cases. Gardner worked right up to his death in 1970 and polished off so many books that the series didn't wrap up until three years after the death of its legendary creator. It's impossible to overstate the importance of the series that Gardner left behind. Only two other book series have sold more copies than Perry Mason: Goosebumps and Harry Potter. And few books series have had as grand and as lasting an impact on the world of television, either. The latest HBO series will be but the latest addition to Perry Mason's small-screen legacy.
HBO will have lots of plots to choose from. There are more than 80 Perry Mason novels and short stories. If you're looking to start reading the books yourself, you'll have a similarly overwhelming selection. To help you get started, we've selected a few favorites. If you like these, good: you've got dozens more more waiting for you!
The Case of the Velvet Claws
What's the best book in any series? For readers, it's often the first. As a series goes on, a creator has to start running out of ideas—right?
Well, that's probably not as safe of a bet to make when the series in question is so prolific. Clearly, consistency was key to the Perry Mason brand. Still, it's hard to go wrong with starting at the beginning of any series, so we won't steer you past Perry Mason's first appearance. The Case of the Velvet Claws introduces essential Perry Mason characters like secretary Della Street, detective Paul Drake, District Attorney Hamilton Burger, and, of course, Perry Mason himself.
The Case of the Haunted Husband
If you skip our recommendations and instead start reading the series in order, then you might take a while to get to The Case of the Haunted Husband. Coming less than ten years into the series, The Case of the Haunted Husband finds us already on book number 18! This one is a classic, though, so feel free to skip right to it. It's the story of a cigarette girl (yes, that used to be a real job: "cigarette girls" would walk around with a box full of cigarettes supported by a strap, kind like the hot dog vendor at the ballpark). The cigarette girl in question gets into a car accident and wakes up to find herself accused of murdering the man she was driving with. Happily, she has good legal representation: One Mr. Perry Mason, Esquire.
The Case of the Drowning Duck
Perry Mason is on vacation when The Case of the Drowning Duck opens, but duty soon calls: a local businessman has an issue with his daughter's boyfriend, who has been drowning ducks—and is now suspected of doing in a member of his own species. Set in Palm Springs, California, rather than Mason's usual Los Angeles-area stomping ground, The Case of the Drowning Duck is an unusual story that still has all the hallmarks of a Perry Mason classic.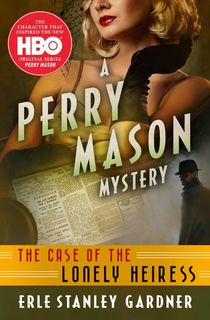 The Case of the Lonely Heiress
Nothing says classic mystery like an heiress. They're always popping into the offices of hard-boiled detectives, asking for help with something that isn't quite what it seems. The Perry Mason series gets in on this trope in The Case of the Lonely Heiress, but the twist here is that no stereotypical mystery-novel heiress comes walking into Perry Mason's office. Instead, it's Mason who is out to track one down. The anonymous heiress has been running ads in a "lonely hearts" magazine, and perhaps also committing murder—though defense attorney Perry Mason will have a thing or two to say about the latter before this novel is over.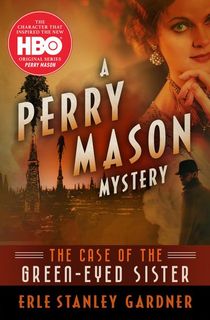 The Case of the Green-Eyed Sister
By the early 1950s, Gardner was over 40 books into his series, and still churning out instant classics. The popular The Case of the Green-Eyed Sister is Gardner at his best (and Perry Mason at his best, too). Blackmail and a questionable murder accusation are among the Perry Mason plot staples that appear in this volume. If you're totally new to Gardner's work, this novel could serve as an excellent jumping-off point. It encapsulates much of what makes the Perry Mason series so timeless.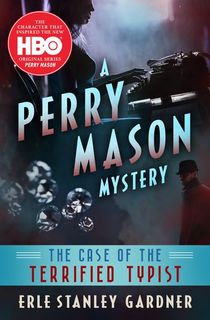 The Case of the Terrified Typist
Secretary Della Street isn't the only one helping out around the office. Perry Mason also has a temp as a typist—or, at least, he used to. In The Case of the Terrified Typist, Mason finds his temporary help has fled in fear. Bizarrely, the typist has left chewed gum (gross!) with diamonds in it (fancy!) under her desk. There's even more that makes this unique among Perry Mason books, but we won't give anything else away—that wouldn't be fair to Gardner or to his fans. Just know that this mid-50s masterpiece is one of Gardner's very best. Narrowing down such a huge catalog to form our little list wasn't easy, but The Case of the Terrified Typist has more than earned its spot.