The holidays are the most wonderful time of the year—for murder. Or, for cozy mystery murders anyway. There's something fun about settling in with characters who feel like people you know going through your worst nightmare and somehow coming through it all unscathed. It's cathartic.
Related: Holiday Gift Guide for Mystery Lovers

No matter how difficult real life can be, at least we don't have to solve a murder. We've gathered eight of our favorite cozy mysteries to help get you through this holiday season.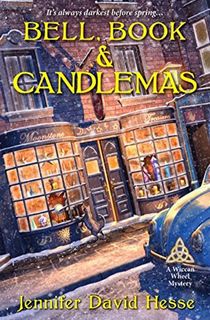 Bell, Book & Candlemas
It was bad enough when Moonstone Treasures—a New Age gift shop in Edindale, Illinois—was vandalized right before the Wiccan holiday of Candlemas. But when accusations of witchcraft escalate to murder, the community turns to family lawyer Keli Milanni. Except, she prefers to keep her beliefs private. Can she stop harassment and find the killer—all while keeping her religion from her clients, colleagues, and potential new boyfriend? Or will she have to risk it all and conjure a path to the truth?
A fun, down-to-earth story grounded in realism rather than magic, Bell, Book, & Candlemas highlights the heart of spiritualism, the essence of holiday spirit, and finding strength in community.
Related: We'll Help You Choose Witch Cozy Mystery to Read Next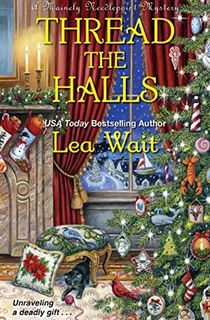 Thread the Halls
When movie star Skye West decides to come home for Christmas—with her entire entourage—Angie Curtis and Patrick West turn to the Mainely Needlepointers for help. But when a dead body, suspicious cookies, and accusations fly, Angie and the Needlepointers have to find out exactly who's on Santa's naughty list.
Thread the Halls is absolutely brimming with Christmas charm. The small-town traditions, holiday decorations, and winter wonderland backdrop all combine into a delightful setting for this intriguing murder mystery.
Related: Merry Mischief: The 13 Best Christmas Mystery Books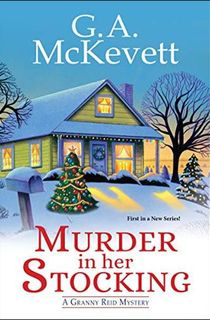 Murder in Her Stocking
This holiday season isn't going Stella Reid's way. First the nativity display is vandalized. Then Prissy Carr's body is discovered in an alley behind the bar. With her seven grandkids in tow, Stella decides to get to the bottom of the murder using her sure-fire investigative style: stirring up community gossip. But Stella has more problems piling up than presents under the tree. With time running out, she has to catch a killer, help a neighbor, and make sure her grandkids have a stable future without turning into a grinch.
Fans of the Savanah Reid series will fall in love with Granny Reid and the introduction to how Savanah got her investigative determination. There's plenty of Christmas cheer wrapped in murder, mischief, and small-town gossip. But the star on this tree is the no-nonsense grandma doing her best.
Related: The Most Famous Christmas Mystery You've Never Read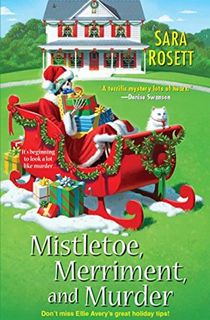 Mistletoe, Merriment, and Murder
Ellie Avery is trying to keep it together this holiday season. A rival organizer opened in her small town, there's an excessively overdecorated house down the street, and someone used her White Elephant gift exchange to frame her for murder. So much for a stress-free holiday season.
Complete with Christmas decorating tips at the end of each chapter and a realistic look at military life, Mistletoe, Merriment, and Murder is a fast-paced mystery with a ton of unique charm.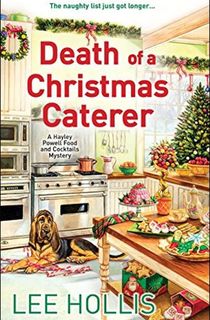 Death of a Christmas Caterer
Food and cocktail columnist Hayley Powell found the perfect caterer for the annual office Christmas party. Except Garth Rawlings is a bit of out of her budget. Always the go-getter, she makes the food herself and the rave reviews prompt Garth to offer her a holiday gig. But when she gets there, the caterer is dead—and his food is on fire. Determined to find out who killed him, Hayley's journalistic instincts pull her into the case.
With seven of Hayley's recipes included between various chapters, Death of a Christmas Caterer immerses readers in delicious intrigue with a satisfying conclusion.
Related: Murder Most Delicious: Where to Begin with Bestselling Cozy Mystery Author Joanne Fluke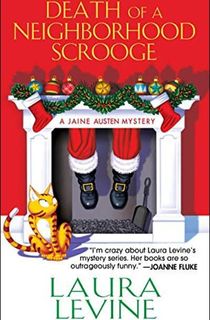 Death of a Neighborhood Scrooge
Scotty Parker may have once played Tiny Tim, but he's now an adult Scrooge who terrorizes the neighborhood with his "bah humbug" attitude. And he's planning a comeback. Jaine Austen isn't his biggest fan, but he's paying her to help him edit his screenplay. But when someone uses a frozen chocolate yule log to bash his head in, Jaine ends up on the suspect list. Using her knack for detective work, she's determined to clear her name.
Who doesn't relate to a woman who loves sweatpants, trash television, and junk food as part of her holiday routine? A fun mystery with plenty of laugh-out-loud moments, Death of a Neighborhood Scrooge is an entertaining holiday binge-read.
A Merry Murder
The Pennyfoot Hotel has decked its halls and is booked for Christmas. But when a guest is murdered in the laundry room with a note from a maid in his pocket, owner Cecily Sinclair Baxter knows the hotel's Christmas curse has struck again. Refusing to let the holiday season fizzle, Cecily sets out to find the killer.
Set in the early twentieth century, Cecily has to solve a murder using nothing but her wits, as telephones and motor cars are still brand-new. These details make A Merry Murder a fun mystery—with an old-fashioned twist.
Related: Merry Mischief: The 13 Best Christmas Mystery Books
Murder in the First Edition
All Addie Greyborne wants for Christmas is a successful bid on her rare 1843 edition of A Christmas Carol at the upcoming charity auction. Instead, her late-ex's father walks into her bookstore to dredge up the past before having lunch with auction director Teresa Lang. When Addie goes to Teresa's office to meet with her, she finds Teresa's body. But the valuable book she was donating is missing. With a Nor'easter looming, Addie has to appraise more than first editions to find her book—and the killer.
Murder in the First Edition is a tension-filled romp through a seaside New England town. There's enough romantic suspense to break out the mistletoe, and bookworms will love the bookstore setting.