When does doing something in the name of love become dark? When does love cross the line into obsession, control, and domination? Sometimes what appears to be a stable, loving relationship crosses over into a dangerous pattern that, like a car crash, you just can't look away from.
Here are eight excruciatingly thrilling books with love gone wrong.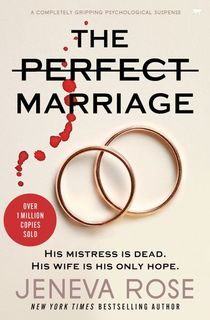 The Perfect Marriage
The Perfect Marriage is about Sarah and Adam, a couple with a lot more going on than meets the eye. Sarah is a powerful defense attorney with everything going right in her life. Adam is a struggling writer who feels neglected by how much Sarah works. Not only does Adam decide to have an affair, but Sarah is shocked when she hears her husband is arrested for the murder of his mistress.
When she makes the difficult decision to represent him, she discovers everything he has been doing behind her back while trying to help him escape the death penalty. She has to decide whose side she is really on—and what she wants to happen to her darling husband.
They Never Learn
They Never Learn is about Scarlett, an English professor who knows how to get away with murder. Every year she finds a man from her university who deserves to die, and carefully plans his murder. Everything is going according to plan until she loses control and puts herself in danger.
Meanwhile, student Carly is just trying to survive her freshman year. When her roommate is assaulted at a party, Carly decides to turn her fantasies for revenge into a reality.
Just the Nicest Couple
In Just The Nicest Couple, two couples are friends—and then one of the husbands goes missing.
Jake is a surgeon who is constantly under pressure, so when he disappears, his wife Nina thinks he is just blowing off steam—especially because they'd just had a fight. Nina's close friend Lily thinks that she must have been the last person to see Jake, and confesses to her husband Christian that she may have had something to do with Jake's disappearance. They decide that no one can find out about Lily and Jake's last interaction, but Nina won't stop looking—and there is a lot hidden just below the surface, waiting to come to light.
Bath Haus
In Bath Haus we meet Oliver, a recovering drug addict with a seemingly comfortable life. His partner, Nathan, is a successful—but controlling—surgeon. Maybe that's why when Nathan is out of town for a conference, Oliver decides to visit a steamy bath haus and see what else is out there.
His decision quickly turns dangerous when he meets a man who wants to do him harm. Now Oliver must figure out what to do about Nathan—and finds himself in more danger than he thought possible.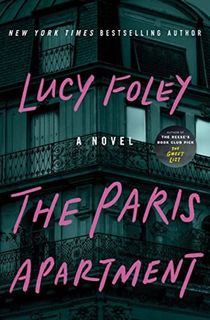 The Paris Apartment
Jess needs to get away quickly. The first and only place she can think of is her half-brother's apartment in Paris. He didn't sound thrilled when she asked to come stay, but Ben told her he would be waiting when she arrived. Only, he wasn't waiting… he wasn't anywhere. When Jess finally gets into Ben's apartment, she finds his keys and wallet, but Ben is nowhere to be found.
As time goes by and Ben still doesn't appear, Jess looks closer. The people that live in Ben's building are all strange and unusual—and they all have something to hide. Each one of them had their own experiences with Ben that makes them seem guilty.
What do an alcoholic, a socialite, the nice guy, the concierge, and the girl on the edge have in common? Jess wants to find out.
The Golden Cage
The Golden Cage is a sexy psychological thriller about the wife of a billionaire who wants revenge on her husband.
Faye has loved Jack for years, even though Faye has worked hard for everything and Jack had everything handed to him. Nevertheless, when Jack needs help launching a new company, Faye drops everything to support him. Now married with a baby, Faye finds herself alone at home, being treated horribly by her husband. When Faye discovers that Jack is having an affair, it's the last straw. After everything she's sacrificed, she is going to make sure Jack gets exactly what he deserves.
Behind Closed Doors
Is their marriage perfect? Or is it all a lie?
Jack and Grace appear to be a perfect couple. Jack is an attorney with a winning record and Grace is a beautiful and charming homemaker who takes care of her disabled sister. But these newlyweds are inseparable—and when anyone tries to get close to Grace, Jack won't let them. Grace never picks up the phone, goes to work, or meets for lunch.
Under closer scrutiny, their house is a fortress, complete with high-security metal shutters. Even though they look like the perfect couple, a horrible chain of events begins to happen when guests wonder what is really going on behind closed doors.
Look Closer
Look Closer follows Simon and Vicky, a lawyer and domestic violence advocate with a stable and boring marriage. But everything is not as it seems (it never is).
When the body of a woman is found murdered after Halloween, their marriage begins to unravel—and secrets come out. A twenty million dollar trust fund is at stake, and everyone wants to get their hands on it. Both Simon and Vicky are hiding things in their past, and those things come back to haunt them.