Winston Churchill is credited with coming up with the phrase "a puzzle wrapped in a mystery inside an enigma." He may have been talking about the Soviet Union, but the phrase could be fairly applied to the world of murder mysteries. Especially recursive murder mysteries—a murder mystery contained within a murder mystery. That can mean anything from books about murder mystery weekends that go horribly wrong, or murder mystery enthusiasts finding themselves the victims instead of the inspectors. It can even mean a murder mystery book within a murder mystery book. These 10 mystery novels contain multiple mysteries within their pages, making them the perfect read for mystery aficionados.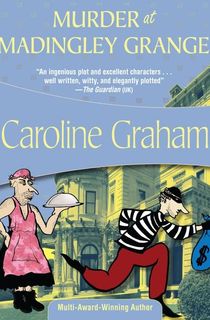 Murder at Madingley Grange
Siblings Simon and Laurie Hannaford are supposed to be house sitting for their Aunt Maude. Or castle sitting. But Simon decided that there's money to be had by creating a 1930s Murder Mystery Weekend. Despite Simon's assurances, things most definitely don't run smoothly. The guests are weird, the staff suspicious and then a body turns up dead. Can they find whodunnit for real and without their Aunt Maude learning about their shenanigans?
The Decagon House Murders
The island of Tsunojima was the scene of multiple murders, suicide, and arson. Naturally, the students of the Murder Mystery Club are drawn to it. Each goes by a pseudonym of a famous writer. They decide to make it a several day trip to the island and stay in the Decagon House, the other building on the island that wasn't burned down by its murderous architect.
What had previously been a morbid interest turns deadly as someone starts killing each student on their ghastly trip. It's a murder within a murder as well as a locked room murder. It was published in Japan in 1987 but recently translated into English. The Guardian writes that the book "is a thrilling homage to Christie's And Then There Were None."
The Magpie Murders
This is most definitely a murder mystery within a murder mystery. There's not a lot of love lost between crime Alan Conway and his editor Susan Ryeland, but she's got a job to do. While she's reading through his newest murder mystery The Magpie Murders, she thinks there's more to it than just fiction. And when Conway mysteriously dies, the clues within the book start to suggest that maybe it wasn't an accident or suicide. This is the first in the Susan Ryeland series; the second book, The Moonflower Murders, came out in 2020, which is also another murder mystery within a murder mystery.
Death in Castle Dark
Actor Nora Blake gets an offer she can't refuse. Derek Corby runs a murder mystery weekend at the castle outside of Chicago that he and his brother inherited. The pay is okay but she gets room and board in a magnificent building. Having no good acting prospects on the horizon, she decides to try it out. But at the second murder mystery party, own of her fellow actors turns up dead. Now what was once a magical opulent place seems beset by dark shadows and secrets. Can Nora find out who killed her colleague? Or will someone ensure she leaves Castle Dark forever? This is the first newly published book in the A Dinner and a Murder Mystery series.
Truly Devious
Stevie Bell is thrilled to get to go to the famous and elite Ellingham Academy. It's a school for gifted students; each with their own special project. She's a crime aficionado who has been reading and listening to podcasts about the sensational kidnapping and murder of a student that happened when the school first opened. The only clue was a sarcastic note signed by Truly Devious. Stevie's special mission is to solve the Truly Devious case.
But things go awry quickly. Stevie thinks she saw a letter from Truly Devious light up on her wall. And a fellow student dies mysteriously. Now in addition to the school's historic murder and kidnapping, Stevie has to solve the murder of her classmate.
The Plot is Murder
Murder mystery bookstore + murder mystery writer + real murder? Yes, please. Samantha Washington is on the verge of opening her murder mystery bookstore while working on her own cozy novel. But things get too real when a realtor's body is found in backyard and the police suspect Samantha because of her associations with all things murder mystery. So naturally, she has to clear her name and open her store. This is the first in the Mystery Bookshop cozy series with six published books and a seventh coming later this year.
The Eighth Detective
Grant McAllister, mathematics professor, wrote seven brilliant murder mysteries, using his love of mathematic principles to figure out the different permutations. Now he lives his retirement on an island in the Mediterranean, peacefully. Until editor Julia Hart shows up, wanting to bring his work back to print after 30 years. But she soon realizes there are seeming mistakes in the books... ones that are unlikely to be mistakes. She discovers there's more to these stories than meets the eye.
Elementary, She Read
This one's for fans of Sherlock Holmes and antiquarian bookshops. Gemma Doyle runs the Sherlock Holmes Bookshop and Emporium at 222 Baker Street, West London, New England, which sells everything Sherlock Holmes. She's helping her Great Uncle Arthur who owns the shop when his health is poor.
Things get dicey when she finds a magazine tucked away on the shelves, presumably left by a member of a big tour group earlier in the day. But when the magazine turns out to be very valuable, containing the first short story of Sherlock Holmes, Gemma tries to return it but finds a body instead. The police think she's involved since she seems to know a lot and she has to clear her name. This is the first of six books with book seven due out in 2022.
Murder in the Mystery Suite
In this series by cozy veteran Ellery Adams, Storyton Hall is a great retreat for the bookishly inclined. When resort manger Jane Steward decided that a Murder and Mayhem weekend was just the thing for fans of the popular medium. Detective cosplayers are running around all week, trying to solve crimes and a scavenger hunt. That proves a problem when a man is found murdered in the Mystery suite, his prize for winning the scavenger hunt missing. Now Jane has to find the culprit amidst the many would-be detectives. It's the first in the Book Retreat Mystery Series with seven books.
Loquela
While many books on this list are considered more cozy mysteries, this book is a bit genre defying, maybe even post-modern. A Chilean writer named Carlos is writing a book about a writer also named Carlos. When he receives a strange letter from a recently murdered woman named Violeta, he tries to figure out what happened. But things get weird when fictional characters in the book pop up in the writer's life. Told in three points of view —from the book, Carlos' diary and the letter— the book explores the limits of storytelling and writing, and detective fiction.