Editor's Note: This giveaway is now closed.
March is here! Which means two things: spring is on its way and it's time to celebrate Saint Patrick's Day. And while that's just one day of the month, we like to celebrate all month long. It is the season of luck, after all, and for one lucky winner, this month will also bring eight free cozy mysteries!
Related: 7 Mysteries Set in Ireland
Since we're in the Saint Paddy's spirit, all of these books are Irish themed. All eight are entries in Carlene O'Connor's Irish Village Mysteries, and this bundle includes its most recent installment, Murder on an Irish Farm.
Read more about the books included below and—Irish or not—we invite you to try your luck by entering your email for a chance to win!
By entering this giveaway, you agree to receive emails from Murder & Mayhem and Kensington Books.
Enter your email address below for a chance to win this ultimate bundle of cozy Irish mysteries—just in time for St. Patrick's Day!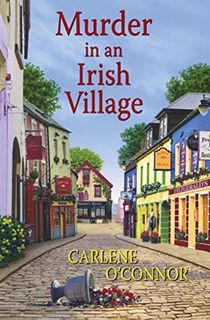 Murder in an Irish Village
A year after her parents died in a car crash, Siobhán O'Sullivan runs the family business, Naomi's Bistro, with the help of her five siblings. Not much happens in their small town of Kilbane in County Cork, Ireland, until one morning changes everything. As the O'Sullivans open the shop, they find a man seated at one of their tables. But he's not waiting to be served, he's been stabbed by a pair of barber scissors.
Suspicion quickly falls on the O'Sullivans themselves. Now, it's up to Siobhán to clear her family name and save their business.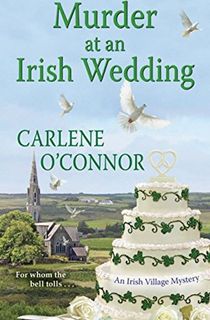 Murder at an Irish Wedding
It's a huge business opportunity for Naomi's Bistro when a famous fashion model asks the O'Sullivans to cater her wedding. Things are chaotic enough as it is trying to prepare three days' worth of mouth-watering food, and murder certainly complicates the whole affair. After the best man is found dead in the woods, suspicion turns to his replacement, local garda officer Macdara Flannery, who just so happens to be Siobhán's boyfriend.
In order to prove Macdara's innocence, Siobhán will have to track down the real killer. But someone is dead set on her not finding the truth.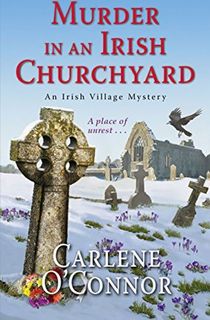 Murder in an Irish Churchyard
A newly appointed member of the Kilbane police, Siobhán is quickly called out to her first case. The local priest has discovered a body in the church graveyard, and it's not a buried one. No one recognizes the victim, but some say an American tourist had been visiting hoping to learn about his Irish ancestors. To solve this case, Siobhán will have to reach back into the past all while avoiding a killer in the present.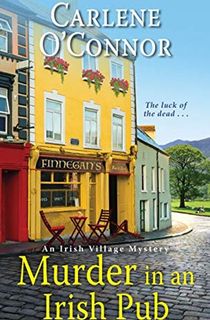 Murder in an Irish Pub
While the O'Sullivan siblings serve tea and baked goods to the residents of Kilbane by day, Rory Mack pours them pints at his pub each night. Everyone at the pub knows Eamon Foley, the tinker from Dublin whose poker skills are set to give him a distinct advantage at the upcoming tournament. But his winning streak comes to an end when he's found hanging from a rope in the pub.
Siobhán and Macdara have conflicting theories on what happened. He thinks it's suicide while she - and Eamon's pregnant widow - suspects something more sinister. With the possibility of a proposal ahead of them, can these two investigators sort out their differences and catch the killer before they're outplayed?
Murder in an Irish Cottage
When Macdara's cousin Jane calls for help, he and his fiancé Siobhán rush to her rural village. Once there, they find Jane sitting outside the cottage she shares with her mother, utterly inconsolable. Macdara's Aunt Ellen is lying dead in her bed. The teacup and pillow nearby suggest that she was poisoned and smothered.
The residents of Jane's village believe the cottage is cursed. They claim it was built on a fairy path, and now the creatures of Irish folklore have sworn revenge. Siobhán and Macdara think the real culprit might reside a bit closer to our world, but they'll have to track the killer down before they become the curse's next victims.
Murder at an Irish Christmas
This Christmas, the entire O'Sullivan family has traveled to West Cork to celebrate with brother James' fiancé Elise and her family. Siobhán's fiancé Macdara is not coming along for the first part of the trip, wanting to spend Christmas with his mother. Still, everyone is excited for the gathering, especially to meet Elsie's grandfather Enda Elliot, a renowned orchestra conductor.
The holiday celebration quickly sours when Enda is found crushed beneath a 90-pound harp. With the whole family gathered together, it seems like everyone is a suspect - including Enda's young new life and talented violinist Leah. Now Siobhán will have to use all her sleuthing skills to solve this Christmas caper.
Murder in an Irish Bookshop
Between wedding planning and training new recruits, Siobhán is in need of an escape. Luckily, there's a new bookshop in town and she's looking forward to immersing herself in a fun story. Much to her disappointment, the owner only stocks high-brow, intellectual literature, and won't even let in customers he deems unworthy. No romance, mysteries, or science fiction of any kind.
One night, the owner hosts a showcase for up-and-coming Irish writers who will be doing residencies in Kilbane for the next month. At the event, indie author Deirdre Walsh spends more time complaining about the publishing industry and bickering with other writers than talking about her own work. The next day, Deirdre's body is found in the store, murdered with pages from the works of her least favorite colleague stuffed in her mouth. It's up to Siobhán to find the killer before they write someone else's final chapter.
Murder on an Irish Farm
Siobhán and Macdara's wedding day is finally here! Everyone has gathered in St. Mary's Church, only waiting on James to start the ceremony. When he does arrive, he's covered in dirt and alerts everyone that he's found a human skeleton in the farmhouse on the dairy farm that Macdara was planning to give Siobhán as a wedding present. Never ones to shirk their duties, the two garda postpone the wedding to investigate.
Once they arrive at the farm, they find the skeleton covered in rags that used to be a tuxedo. When an elderly neighbor claims the skeleton belongs to her long-lost love who never showed up for their wedding day, it's clear they're dealing with a decades-old mystery. But things get even more complicated when a fresh body turns up in the same spot. Now, Siobhán and Macdara will have to track down the truth and keep themselves safe, or their happily ever after will be over before it even begins.
For full details, see official rules.
Note: The sweepstakes is open to all legal residents of the 50 United States and Washington, D.C. who are 18 years of age and older by March 28, 2022.