Fall is the season of cozy. The nights get longer and the weather gets cooler. We crave the warmth of a fire, the comfort of a hot drink, and the coziness of a fuzzy blanket. But it's also spooky season. The time when spooky hayrides and haunted houses and smiling pumpkins welcome little ghouls and witches on trick-or-treat night. And no matter what scale of scary you enjoy, there's a cozy mystery for you.
So here are nine Halloween cozy mysteries—a nice treat (and maybe a few tricks) for yourself as you hand out sweets on Halloween night. And if you're looking for even more Halloween delights, check out this list of twelve spooktacular cozy mysteries.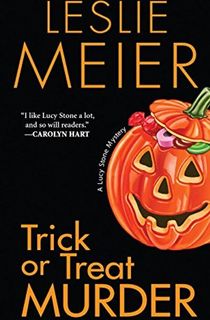 Trick or Treat Murder
October in Tinker's Cove means everyone is busy getting ready for the annual Halloween festival. For Lucy Stone that means baking Halloween treats, using recycled tutus to make new costumes for her daughter, dealing with her son's pre-teen angst, and breastfeeding her new baby. But dampening the spooky spirit is an arsonist on the loose. When another fire destroys one of the town's oldest houses with the owner inside, arson transforms into murder. While the rest of the town works on building a haunted house, Lucy is trying to light up clues on her own. But when she shines a light on a shocking clue, she risks getting burned to the ground.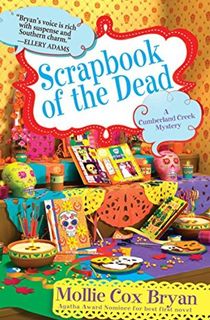 Scrapbook of the Dead
The Cumberland Creek Scrapbook Crop takes scrapbooking seriously. But when two women are found murdered, investigative reporter Annie Chamovitz knows there's more to the story. For one thing, the women are sisters. And why were they both holding scrapbook pages? As the Crop meets on Saturday night, they cut and paste their way through the clues. Maybe the deaths are related to the newly discovered gangs roving through Cumberland Creek. Or there are more than secret recipes hidden at Pamela's Pie Palace. But as Halloween Night draws near, the Crop has to find the killer before one of them is next.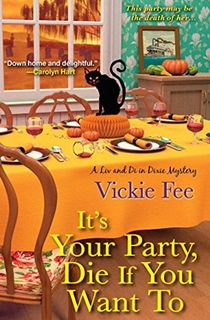 It's Your Party, Die If You Want To
Between a murder mystery charity dinner, a celebrity ghost-hunting diva, and everything in between, the only thing haunting party planner Liv McKay is her schedule. But when she stumbles on a dead body in the cemetery, things come to a crashing halt. The victim was a known party-girl fond of married men and a talent for drama, so there are no shortage of suspects. But if Liv wants her Halloween plans to go off without a hitch, she has to unmask a killer with a deadly vendetta.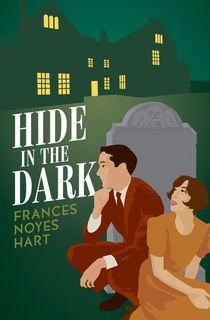 Hide in the Dark
On Halloween night in 1928, a group of well-dressed friends gather at Lady Court. It's been years since they've met up, not after one of their own died tragically at a young age. But despite the sadness that still lingers, they're all determined to have a good time. But when they turn the lights out to play a game, one of them gets murdered. A storm knocks out the telephone line and the weather makes it impossible to leave. A fun night catching up turns deadly as they realize that somewhere in the house they're trapped in, waits a killer.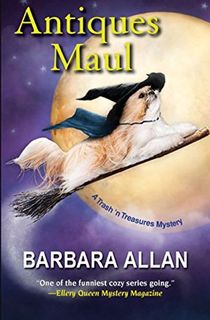 Antiques Maul
After her mother quits her theater group, Brandy Borne decides to keep her occupied by setting up their own booth at the new antique mall. But things take a deadly turn when a body turns up in a booth. It looks like an open-and-shut case of a dog mauling the owner. But Brandy knows Brad Pit Bull is too good-natured to have committed the crime. Brandy and her mother search all over, trying to find a clue. As Halloween night gets closer, Brandy's ten-year-old goes missing while at the mall. Is he just lost? Or is the mauled killer going to strike again?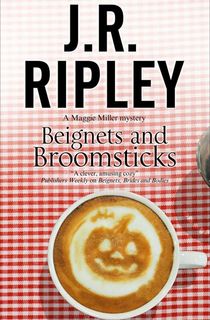 Beignets and Broomsticks
Café owner Maggie Miller has a special promotion selling pumpkin spice beignets on Halloween night. What starts as a success ends in disaster when they body of one of her regulars, strangled with an expensive cashmere scarf. The victim normally keeps to herself, which makes people wonder what she was hiding. Especially when they find books on witchcraft in her possession. But Maggie knows it wasn't a witch who committed murder. And she's determined to find out who did.
Haunted House Ghost
The town of Braxton is ready for Halloween. Jack-o'-lanterns, haunted hayrides, and the spooky corn maze are all popular attractions at the annual Fall Festival. Despite the former owner advising him to not renovate the decrepit old house, professor Kellan starts construction anyway, only to wake a vengeful ghost. Across town, progress on the new Memorial Library wing is delayed when they find a fifty-year-old skeleton buried at the site. But when a suspicious accident happens at the Fall Festival, Kellan begins to understand the dark history of the ghost and the connections between these events. Now all he has to do is find the killer and placate the ghost—and maybe keep the chemistry going with April at the same time.
The Diva Haunts the House
Sophie Winston is a domestic diva embracing the Halloween spirit. Her decorations are so real, they're guaranteed to scare at the community haunted house. Maybe too good. Her rival, Natasha, throws a spooktacular party at her house. But when of the guests is found dead in a decorative display, a pale-faced Dracula flees the scene of the crime. There have always been legends of vampires dating all the way back to a fanged creature living in Sophie's haunted house when it was a boardinghouse. A good domestic diva always has enough garlic on hand. And it looks like Sophie just might need it.
Pumpkins in Paradise
High school teacher TJ Jensen has a full plate this Halloween. She's coaching her girls soccer team to finals and is volunteering for the annual pumpkin festival. But all her activities come to a smashing halt when she finds her good friend Zachary Collins dead in his favorite chair. But when the handsome new deputy closes the case without answering any questions, TJ decides to investigate on her own. She's quickly drawn into prophetic riddles and puzzles but she might be destined to solve a secret that's decades old—and solve the mystery of why her friend died.