One of the best parts of the cozy mystery genre is the inclusion of crafts. Many of the protagonists are fans of knitting, quilting, scrapbooking, and puzzles—intricate and enjoyable hobbies that keep the mind and hands busy. If you've ever found yourself wishing that you could join these gumshoes in their crafting as much as in solving their crimes, now's your chance! We've rounded up 11 books that offer crafting tips and have knitting and quilt patterns, puzzles, and scrapbooking guides!

Try your hand at a new craft and a new mystery.

Related: 11 New Cozy Mysteries to Crack Open This Fall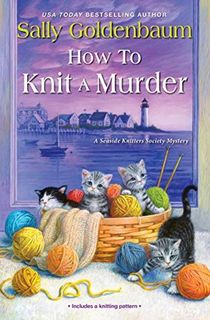 How to Knit a Murder
The Seaside Knitters of Sea Harbor, Massachusetts, find themselves in a conundrum: a fresh shipment of yarn has arrived just as a pipe in Izzy Perry's shop has sprung a leak. When Rose Chopra comes into the shop for the first time, she uses her knack for being handy to fix the leak, and saves the yarn.
Rose is quickly folded into the Seaside's close-knit group, and the Knitters take to this shy handywoman, helping her to settle into Sea Harbor. Unfortunately, shortly after her arrival, Rose is implicated in the murder of Spencer Paxton, an entrepreneur. Rose was the last person seen on his property, and the finger is pointed at her. The Knitters have their doubts about her involvement, however—she seems far too sweet to be guilty of such a crime!

Follow the Knitters as they try to clear Rose's name—and check out the knitting patterns included in the book!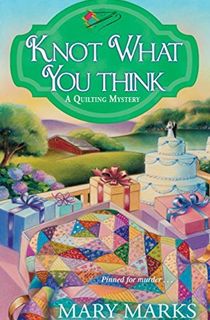 Knot What You Think
Jazz Fletcher has a slight bee in his bonnet when he comes to visit his friends in his quilting group. He's upset after he tries and fails to deliver a few doggie outfits and accessories to his client, Dolleen Doyle. Dolleen never arrived, but Fletcher could hear her precious pup, Patti, barking inside her home. This, of course, raises Martha Rose's hackles—Dolleen never goes anywhere without her dog!
When Jazz and the group return to Dolleen's the following morning, they peek through her kitchen window and find her laying on the floor of her kitchen in a pool of blood. In an attempt to remedy the situation, Martha calls the police—but after they speak to everyone, Jazz is considered the primary suspect! Martha is determined to clear Jazz's name.
This book has plenty of quilting information and tips woven into its story.

Related: 11 Funny Murder Mystery Books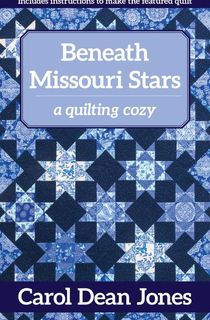 Beneath Missouri Stars
Sarah Miller needs to adjust to a new life. She's moving to a new retirement community, where she's making new friends and taking up fresh hobbies. Sarah uses quilting to fill some of her quieter hours. When she finally starts settling in, a country music scandal rocks her world. Austin Bailey, a popular singer, is at the center of a mystery. Just before his latest concert could kick off, a young woman is murdered.
It's up to Sarah and her clever quilting cohort to solve this stunning mystery.
This book includes a quilting pattern, so you can recreate one of the quilting cohort's creations!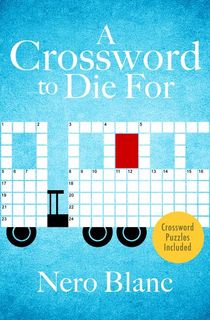 A Crossword to Die For
One of Nero Blanc's twelve Crossword Mysteries, this book finds two newlyweds facing a devastating loss. Crossword editor Belle Graham's estranged father has suddenly passed—under incredibly ordinary circumstances. The coroner says that he died of a heart attack.

However, when Belle arrives to sort her father's effects, she finds that this is just one in a number of concerning murders taking place in Sanibel Island. Belle uncovers a terrifying conspiracy theory with the help of her husband, Rosco. This deadly plot may just lead to the secrets Belle never really knew about her father's life, and the truth about his death.

This book includes crosswords for you to solve!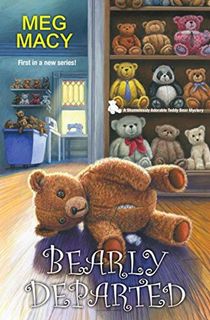 Bearly Departed
Sasha Silverman and her sister run the Silver Bear Shop and Factory after their parents retire. Will Taylor, a salesman for the shop, is constantly trying to make changes—changes that Sasha doesn't approve of. When Sasha and her sister see a car hurriedly driving away from their shop at the shop, their suspicions are raised. Their worries are confirmed when they find Will's dead body in the factory.

Sasha is hit with one shock after another. Not only is one of her employees dead, but the police are ready to pin the murder on her Uncle Ross. It's up to Sasha to work out who truly committed this heinous crime—before anyone else gets hurt.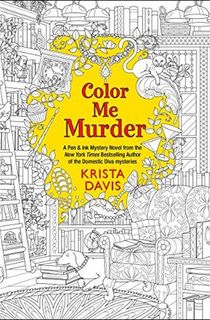 Color Me Murder
This first of the Pen and Ink Mysteries series finds Florrie Fox at the center of a missing person's case. Florrie is the manager of the Color Me Read bookstore, and she creates incredibly detailed adult coloring pages. She uses the world around her as inspiration for these intricate pages. Florrie is offered the chance to take ownership of her boss' carriage house—so long as she can keep it out of the hands of his scheming family. However, as Florrie attempts to move in on it, her boss' nephew rears his head, and then disappears just as suddenly.
When Florrie goes to the house, she finds her boss' nephew, Delbert, dead—inside of a trap door in the home. Florrie's boss, Professor Maxwell, is the key suspect, but Florrie is certain that there's more to this picture than can immediately be seen. It's up to her to fill in the details of this horrific crime.
This book has a customizable cover that you can color in any way you like!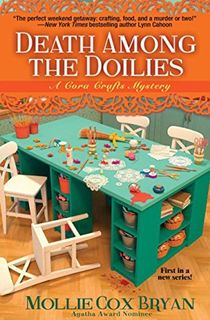 Death Among the Doilies
This preliminary Cora Craft mystery finds Cora Chevalier living in a small town in North Carolina. Cora, a former counselor at a women's shelter, frequently used crafts to connect to the women at the shelter, and helped them to bond with one another. Now, Cora's looking to move into a more tranquil position, and has put all of her focus into a craft retreat. She opens Kildare House with her good friend, Jane Starr. Cora seems to be settling into a more relaxing life…
But when Jane's fingerprints are matched to the murder of a local school librarian, Cora's life is thrown into disquiet again. It's up to Cora to prove Jane's innocence—before the murderer's designs become murky.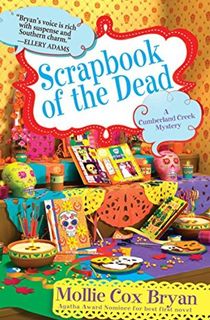 Scrapbook of the Dead
This spooky Scrapbook mystery is absolutely perfect for this Halloween! The Cumberland Creek Scrapbook Corp is ramping up for spooky season, but things around town are getting just a little too creepy for comfort. Annie is an investigative reporter by day, and an avid scrapbooker by night. She and the rest of her Scrapbook Corp are concerned to hear that a body was found in the freezer of Pamela's Pie Palace. Another is found in the river the following day.
When Annie and the Scrapbook Corp begin to delve into the murders, they learn that both women were found holding scrapbook pages. It's up to the Corp to unglue the facts holding these murders together.
This book has a ton of tips and terms for scrapbookers!

Related: 11 Halloween Cozy Mysteries for a Night of Delightful Thrills and Chills
A Clue for the Puzzle Lady
A murder can be a truly puzzling thing. This first book in the Puzzle Lady series centers around amateur sleuth and crossword-queen, Cora Felton. Crime is rare in Cora's tiny town of Bakerhaven. It's so rare, in fact, that the Police Chief is set to investigate his first murder when the body of a teenage girl is found. The Police Chief may be a touch lost, but Cora is ready to sift through the clues. She's ready to reconstruct the facts of the case with the same fascination and concentration that she constructs a crossword with.

This book contains crossword puzzles for you to complete!
Stuck on Murder
Breanna Miller has left Boston in favor of a quiet, rural town of Morse Point in Massachusetts. She finds solace in teaching crafts, keeping her hands and mind busy—to avoid thinking about the misfortunes of her past. Her decoupage class has grown popular since she moved to Morse Point, but Breanna is having a little trouble settling into small town life. Not everyone in Morse Point is particularly friendly, and when the Mayor presses her to speak to her landlord about selling her property, she finds herself at odds with one of the most popular figures in town.
It seems that the Mayor's changed his mind about pressing Breanna's landlord—until his body is found stuffed into a trunk at the lake—and witnesses report seeing Nate's truck by the night the night of the supposed murder. Breanna finds herself disrupting her quiet life in favor of proving Nate's innocence.
This book offers decoupage tips throughout!
Death by Sudoku
For the sudoku enthusiasts, this book allows you to work out a murder by the numbers. This book follows Liza, who writes a column and creates sudoku puzzles for her local newspaper, the Oregon Daily. Liza has excellent deductive skills, which help her to create incredibly challenging puzzles.
These skills will come in handy when a friend of hers ends up dead after he sends her a cryptic message, warning her that the clues of a conspiracy are embedded in a few sudoku puzzles. This friend was a sudoku enthusiast as well, and a fellow competitor in a sudoku tournament. Liza's going to have to puzzle this mystery out, or she may just have her number punched.
This book includes sudoku puzzles for you to solve!