When it comes to places that should be haunted, bookshops are near the top. Books already feel like you're reaching into the past to commune with the dead. It makes sense that ghosts would feel right at home inside those pages, too.
What better help could you ask for if you needed to solve a murder? Ghosts can go places you can't—plus, they have lifetimes of experience. And there's just something about a haunted bookshop that is just the right amount of spooky for a mystery lover.
If you want to curl up with a gripping mystery that chills your spine, you'll enjoy these seven mystery books about haunted bookshops.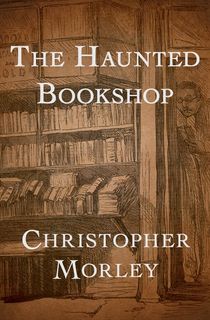 The Haunted Bookshop
The first time Aubrey Gilbert stops in the Haunted Bookshop, it's to try and get a job as a copywriter. That plan doesn't work. At least his effort wasn't wasted. Titania Chapman, the daughter of his biggest client works there. When he goes back to visit Titania, strange things start happening. At first, he thinks the shop owner is planning to kidnap Titania. But the truth he uncovers is far worse.
The Ghost and Mrs. McClure
Young widow Penelope Thorton-McClure doesn't believe in ghosts. So when she and her aunt Sadie buy a quaint Rhode Island landmark believed to be haunted, she sees one thing: marketing opportunity. She capitalizes on gaining even more publicity by booking bestselling thriller writer Timothy Brennan for a signing. The event starts off spectacularly as Brennan reveals a secret linking the store to a 1940s murder. But then he drops dead—in the middle of the store. Trying to understand how Brennan died, a ghost appears. The PI was murdered in the exact same spot fifty years ago. Or so he claims. And he thinks Brennan was murdered. Is Mrs. McClure a figment of her imagination? Or can he help her solve a murder?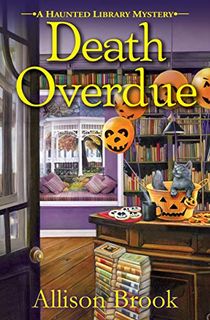 Death Overdue
Just when Carrie Singleton is ready to leave Clover Ridge, Connecticut, she's offered the perfect job at the local library. For her first event, she invites retired homicide detective Al Buckley who claims to know who murdered the beloved aide fifteen years ago. But when he asks people to share stories of the aide, he suddenly dies. The medical examiner discovers poison in his system and Carrie becomes convinced it was the same person who killed the aide. Lucky for Carrie, she has a librarian ghost to help guide her investigation. But when she starts digging up disturbing secrets, Carrie realizes that she might be the next victim.
The Haunted Bookstore: Gateway to a Parallel Universe
Kaori and her stepfather live in a bookstore. And while she's an ordinary human, the bookstore isn't. It's in a different realm. And their patrons are visitors from the spirit realm. But when she finds a wounded human boy on the streets and rescues him, she realizes not all humans are harmless. He's an exorcist and sees spirits in a much different light. If she wants to keep her life in the bookstore, she has to convince the boy that spirits aren't his enemy and that spirits aren't all that different from humans—before it's too late.
The Library of the Dead
Ropa can talk to the dead. She works for the ghosts, carrying messages to the living. But when the dead start telling her someone is targeting the children of Edinburgh, she knows she can't ignore their whispers. To find answers, Ropa has to go deep into Edinburgh's underworld, where the Library of the Dead hides secrets. Not all magic is out in the open. But if she wants to escape the underworld alive, she has to hunt down who is bewitching the kids. Even if that means facing the darkness—and maybe death.
A Discovery of Witches
Diana Bishop has no intention of setting off a magical war. But when she finds a bewitched alchemical manuscript in the stacks of Oxford's Bodleian Library, that's what she does. She banishes the book, but the damage is already done. Now daemons, witches, and vampires are all searching the library. And her only ally may be vampire geneticist Matthew Claremont. Together, they have to unravel the secrets buried in the manuscript and break its spell. Or the supernatural world could go to war.
Mary Anne and the Haunted Bookstore
Mary Ann Spier became the Secretary for the Baby-Sitter's Club thanks to her exceptional ability to keep things organized. Those skills helped her get a new job in a local bookstore. It doesn't take long for strange things to start happening. She can hear a throbbing heart. And then there's the sudden appearance of a giant, screeching raven. But a haunted bookstore is something you'd find in fiction—not real life. Is Edgar Allen Poe really haunting her? Or is there something else going on?