Marketing is a vicious industry. The advertising and copywriting world is the perfect breeding ground for animosity between coworkers who want to secure a coveted promotion. What about the executive who wants to eliminate the competition or a bitter employee who's been burned one too many times? It would be all too easy to "accidentally" trip a colleague down some stairs—and many would be willing to do so if it meant a leg up in their climb on the corporate ladder.
We've collected 10 mysteries set in the advertisement and copywriting business that will show you how a marketer's persuasive and resourceful nature can be utilized to manipulate others—and even cover up murder.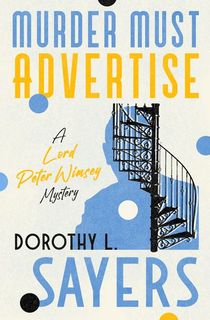 Murder Must Advertise
After copywriter Victor Dean takes a fatal tumble down the iron staircase at the advertising agency Pym's Publicity, undercover detective Lord Peter Wimsey disguises himself as a replacement copywriter named Death Bredon to investigate the case. Wimsey knows that Dean must have been pushed, but what he would have never anticipated were the dark secrets that the London advertising world can hide behind a façade of normalcy.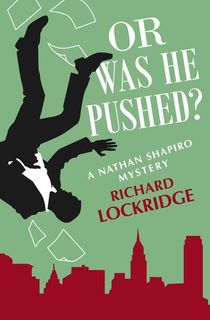 Or Was He Pushed?
Detective Lieutenant Nathan Shapiro and his partner Anthony "Tony" Cook are faced with a case involving wealthy ad executive Frank Bradley, who either fell, jumped, or was pushed from the 12th-story window of his office. Trying to make it in the cutthroat world of advertising is no joke. Was someone perhaps trying to get rid of their competition? The team must quickly figure out if this was an unfortunate accident or a case of callous murder.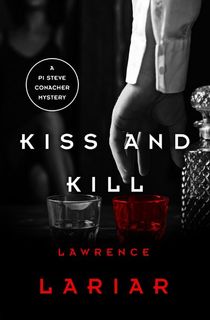 Kiss and Kill
Cumber's Department Store just got a new hire, Steve Conacher, who joins the company to avenge the murder of his detective partner. The unlucky detective was pushed to his death by a criminal responsible for an inside job that allowed them to steal a fortune in jewelry. The successful and highly alluring Lila Martin may have a part to play in this case, so Conacher aims to earn her trust and beat the temptress at her own game. But when another man and fan of Lila turns up dead, Conacher wonders whether his plan to catch Lila will end in his own ensnarement.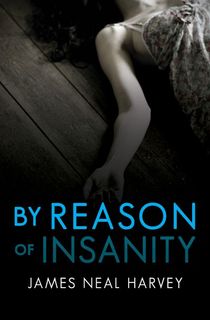 By Reason of Insanity
A marketing executive by day and a calculating killer by night, Peter Barrows enjoys spending his evenings searching Greenwich Village for women who dream of becoming successful models. He promises them opportunities that will get them noticed within the industry and makes them feel supported all while waiting for the perfect time to snap their necks. It is only then that he photographs their lifeless bodies, creating warped art. After the third girl is found murdered, Ben Tolliver, a cop intrigued by the investigation, vows to find the killer with a twisted creative outlet.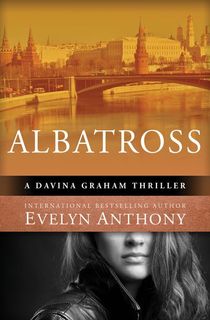 Albatross
There's a traitor in Britain's Secret Intelligence Service (SIS) stealing national secrets to give to the Soviets. SIS agent Davina Graham must go undercover at an ad agency to find the spy who nicknamed themselves the Albatross. There are a multitude of possible suspects: Davina's boss, who is months away from retirement; her boss' right-hand man, who has a secretive personal life; and the man married to Davina's sister.
Meanwhile, in Moscow, someone is scheming in order to ensure Russia's dominance over Britain by trying to distract Davina with dead ends. Trying to find the mole while in the middle of a love triangle with Scottish operative Colin Lomax and advertising executive Tony Walden is tiring work for this cunning agent, but she is determined to save Britain before it's too late.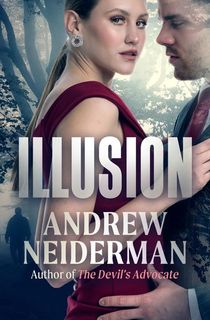 Illusion
There's no doubt that Jillian Caldwell is excelling at her job as an ad executive in New York, but she must admit that when it comes to love, she's failing—at least that's what her mother seems to suggest. But then she meets Ron Cutler, an interesting and confident man who owns a chain of department stores. They quickly fall for one another, and Jillian finds herself engaged at last! But maybe she doesn't know her fiancé as much as she thought she did after Ron suddenly disappears.
Upon further digging, she realizes that the department store that Ron supposedly owns has never heard of him before. Yet, the name John Cutler does ring a bell. To uncover the truth about the person she always believed to be completely transparent with her, she must sift through clues that will lead her to a dark family past.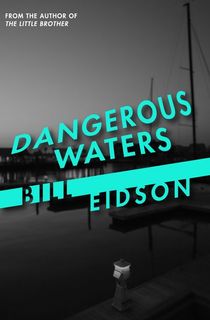 Dangerous Waters
Many would view Riley Burke as a lucky man; he has a stunning wife, a nice house, a prosperous advertising company, and even an impressive sailboat. Yet his perfect life is beginning to fall apart as his 10-year-long marriage is imploding, leading him to find comfort in the arms of a young employee. On one of their secret dates, to impress his new lover, Riley plays the part of hero by stopping the attack of a young man on the dock of Newport Harbor by a thug.
He believed this altercation with this threatening stranger would be the last time they would come into contact, but his decision to involve himself in this criminal's affairs entangles him in a world of murder, drugs, and deception after he is framed for the killing of the same young man he attempted to save that fateful day.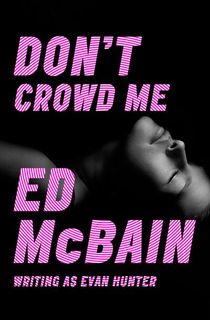 Don't Crowd Me
Needing some time away from work at his advertising firm, Steve Richmond takes a vacation to Lake George, where instead of finding the relaxation he had hoped for, he meets two sisters who charm their way into his heart and engage him in an unexpected love triangle. But more drama ensues when, one day after returning from the lake, Steve finds one of the locals murdered with an icepick in his back in his living quarters. He suspects that the two women are involved, but can he solve this mystery without alerting the sisters of his suspicions?
A Brand to Die For
Both a satire on the marketing world of London in the 1980s and a witty murder mystery, author Alex Pearl introduces us to an eccentric team of advertisers who must investigate the murder of the patriarch of the Cranberry Crunch breakfast cereal empire. As the mystery develops, readers will rack their brains trying to piece together clues along with the novel's entertaining band of characters while chuckling over their unexpected dilemmas and dark British humor.
Death in Advertising
Tobi Tobias never wanted to work in her best friend's pet shop, but she'll do what she has to do to pay the bills until her ad agency starts gaining traction. When Zander Closet Company asks her to come up with a clever campaign slogan, Tobi feels this will be the big break she's been waiting for. But she never imagined her climb to success would involve finding a dead body in a showcase closet—talk about bad publicity…
Now, she must adorn another hat and try her luck at solving this murder before word gets out and ruins her hopes of building her advertising business. The question is whether she can unmask the killer when a traumatized parrot is the sole witness to the murder. Let's hope so!