Bloomingdales in New York City turns 150 in October 2022. Now, a swanky department store may seem to most of us to be a perfectly safe place to spend a few hours, but when there are crime writers around don't be so sure…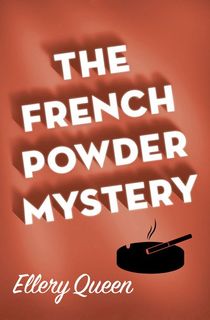 The French Powder Mystery
French's, a toney New York City department store, is the setting for this locked room mystery from 1930. The case kicks off when Ellery's father, Richard Queen, a tough homicide cop, is called in to investigate the murder of the store owner's wife. The bludgeoned corpse has been discovered in a fold-out bed in French's front window. Ellery soon joins his Dad and sets about unravelling a whodunit that hinges on cigarette butts, onyx book ends and a set of keys. In traditional Ellery Queen fashion the reader is challenged to identify the killer whose name is not revealed until the final line. A genuine classic. Ellery Queen would return to the world of department stores (in this case Nash's) in the entertaining Christmas mystery story The Adventure of the Dauphin's Doll, which was included in 1948's Calendar of Crime collection.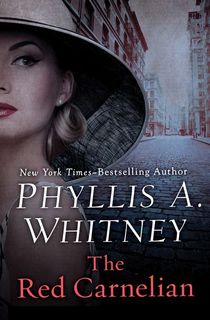 The Red Carnelian
Originally published as Red is for Murder, Phyllis A Whitney's 1943 mystery – her first book for adults - is set in Cunningham's, a gigantic Chicago department store. When store sign-writer Linell Wynn's ex-boyfriend Michael Montgomery is found dead is a display window, she's immediately a prime suspect. However, it soon emerges that there are plenty of people working alongside her who also have reason to want Montgomery stiffed. Whitney was a terrific writer who published over 100 titles during her lifetime despite not starting until she turned forty. Her flair for creating tension is shown to good effect in The Red Carnelian. The scenes that take place in the empty, echoing and shadowy out-of-hours department store are genuinely chilling.
The Shop Window Murders
Vernon Loder (one of several pen names of prolific Anglo-Irish writer John Vahey) is a master of the tightly plotted whodunit, as demonstrated in this 1930s mystery set in Mander's, London's newest and smartest department store. Christmas is coming and the festive window displays at Mander's are attracting excited shoppers from across the British capital. Consumers get a little more than they bargained for, however, when it turns out that two of the mannequins in the display are actually the corpses of the store owner and a young fashion buyer. Called in to investigate, Inspector Devenish of Scotland Yard discovers that behind the store's glittering façade lies a murky world of blackmail, deceit and embezzlement. A perfect holiday season read from one of the unfairly forgotten writers of The Golden Age of Detective Fiction.
Death Wears a White Gardenia
In the thirties and forties splendidly named New Yorker, Zelda Popkin, wrote a short series of influential mysteries featuring female store detective Mary Carner. The books are filled with wonderful descriptions of the fashions and styles of the era. A trained investigator, the witty and intelligent Carner works as number two house detective at Blankfort's of Fifth Avenue. In this, the series opener from 1938, Blankfort's is preparing for its 50th anniversary with a gala celebration and the biggest sale in the store's history, Things are derailed when the credit manager is found murdered. Since he's been blackmailing clients who buy items for their girlfriends on account, has an unhappy wife, a pregnant mistress and an angry brother-in-law there are plenty of suspects for Mary to track. Her investigation is hindered by Mr Blankfort who is determined the big sale must not be interrupted. A sprightly mystery that opens up a window on the glamorous forgotten world of the grand stores.
The Case of the Shoplifter's Shoe
The thirteenth Perry Mason novel, published in 1938, sees Gardener's brilliant legal eagle ducking into a department store with secretary Della Street to avoid the rain. After lunch in the tea-room, Mason witnesses a well-dressed, elderly lady being accosted by store detectives and accused of shop-lifting. Convinced it must be a mistake, the young lawyer intervenes. Soon he's embroiled in a case of missing diamonds, illegal gambling and murder with a cast of characters that includes a kleptomaniac aunt, an hysterical niece, a bumbling cop and a wise-cracking PI. Gardener wrote 86 Mason books and this is one of his best.
Murder on Delivery
1957 mystery novel by Spencer Dean (pen name of Floridian author Prentice Winchell who also wrote as Stewart Sterling) sees store detective Don Cadee (who appears in a series of books including Marked Down for Murder) hot on the trail of a missing $100,000 sable coat and the two store employees who were supposed to deliver it to a Hollywood actress. Over the next 48-hours he'll encounter a shifty agent, corrupt cops, a teenage hoodlum, while all the while dealing with the store owner whose main concern is keeping the story out of the newspapers to avoid a scandal. Filled with crackling dialogue, desperate characters and dangerous women, this is a classic slice of pulp noir.