The rattle of carriage wheels on cobbles, the yellow light of gas lamps in the swirling fog and somewhere in the distance a scream, followed shortly afterward by the shrill blast of a policeman's whistle…Nothing quite says "mystery story" like Victorian England. While not the birthplace of detective fiction, it certainly feels like one of its spiritual homes.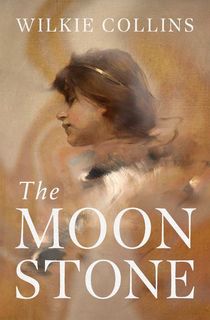 The Moonstone
Grandfather of the detective story, Wilkie Collins' 1868 work has a plot involving the disappearance of a large—and corruptly obtained by a British Army officer—Indian diamond during a country house party. The Moonstone features a cast of likely suspects, an amateur sleuth (Franklin Blake) and a dogged professional cop (Sergeant Cuff—based on real-life Scotland Yard detective, Jonathan Whicher, protagonist in Kate Summerscale's true crime classic The Suspicions of Mr. Whicher). The plot has more twists and turns than a bowl of spaghetti and features—amongst other ingredients—suicide, drugs, embezzlement, a crime reconstruction, and a surprise resolution on the banks of the river Thames.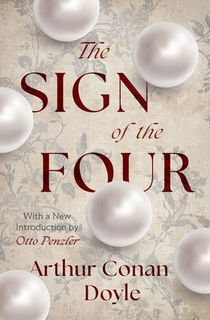 The Sign of the Four
Sherlock Holmes and John Watson find themselves on the trail of a group of former soldiers who—a bit like those in The Moonstone—have looted treasure from an Indian palace and turned to murder to protect their ill-gotten gains. Written in 1890, The Sign of the Four has all the classic Conan Doyle ingredients: the Baker Street Irregulars, the foggy streets of London, fiendish killers, brilliant detection, and a glimpse into the seedy underbelly of the great city. There's also the traditional plucky heroine (Watson develops a crush on her, of course). The novel climaxes brilliantly with a heart-stopping chase down the river Thames on a steam launch.
Wobble to Death
Crime Writers Association Diamond Dagger winner, Peter Lovesey is an expert on the Victorian Age, particularly its sporting scene which features heavily in his excellent 8-book Sergeant Cribb series. The doughty Cribb makes his debut in this 1970 mystery set in 1879. The intriguing mystery revolves around a six-day walking race, or "wobble" involving "world champion" Captain Chadwick and 13 other competitors. There are performance-enhancing drugs, gambling, race-fixing, and inevitably, murder—which Cribb and his rugged assistant Constable Thackery must solve.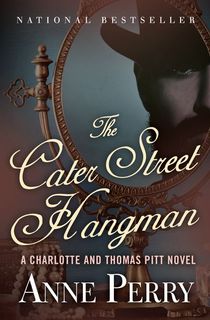 The Cater Street Hangman
New Zealander, Anne Perry's brilliant series of Victorian mystery novels featuring husband and wife detective team Thomas and Charlotte Pitt runs to 32 volumes (plus six more featuring their son). The couple meet in this, the first book in the series from 1979. Working-class Special Branch Inspector Pitt is called into the upper-class world of Cater Street after a series of murders. The last of the killings has taken place in the home of Viscount Ellison, whose unconventional and well–educated daughter Charlotte is quickly drawn to the handsome young detective. Set in 1881, It's an ingenious exploration of the Victorian class system and the position of women within it and a fine introduction to Perry's wonderful series.
The Railway Detective
Published in 2004, this is the first of Marston's popular and long-running (there are 22 in total) Inspector Colbeck Mysteries. It's set in 1851 and features one of the highlights of the Victorian Age—The Great Exhibition in the Crystal Palace. Marston's well-researched and atmospheric book introduces us to the dandified Robert Colbeck and his working-class sidekick, Sergeant Victor Leeming (who like a lot of his contemporaries is terrified of traveling by train) as they track down a group of train robbers—led by a rogue Tory MP—who have made off with £3000 in gold guineas. There's plenty of detail for railway buffs, but Marston's light hand ensures it never interferes with the plotting.
The Fleet Street Murders
New York-based writer Charles Finch introduced his Victorian gentleman sleuth, Charles Lenox to the world in his 2007 mystery, A Beautiful Blue Death. The Fleet Street Murders is the third Lenox mystery but takes us back to 1867 when the young Lenox's celebration of his engagement to Lady Jane Grey is interrupted by a couple of murders in Fleet Street—the center of London's newspaper industry. The charming, honorable Lenox—who has echoes of Dorothy L. Sayers' Lord Peter Wimsey—is also running for Parliament in a rough northern city. Meanwhile, the fact his fiancée seems oddly unenthusiastic about her coming marriage only adds to his problems. A cunningly worked plot features espionage, corruption and a coded letter of the sort that would have delighted Sherlock Holmes.
Some Danger Involved
Like Charles Finch, Will Thomas is a modern American with a keen grasp of what life was like in Victorian England. His terrific series of mysteries set in the 1880s and featuring Scots private detective Cyrus Barker (an Oxford graduate with a checkered past) and his young Welsh assistant Thomas Llewelyn begins with this gritty tale. Some Danger Involved features the gruesome murder of a scholar in one of London's Jewish ghettoes and sees our two heroes tangling with an early incarnation of the Italian mafia as well as unpicking some of the nasty racial theorizing of the era. Some Danger Involved is rich in atmosphere and historical detail.