While horses are magnificent creatures, their image has been tied up with wealth and power for centuries. Battles have been fought and won because of horseback riders. Horses have been given as tribute to kings and queens. Some horse breeds can cost hundreds of thousands of dollars—even millions. Needless to say—there's so much room for murder and mayhem in the world of horses.
Here is a list of 8 mystery books with horses in them.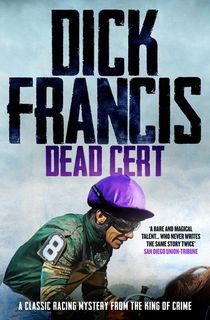 Dead Cert
Of course, we have to start with the grandmaster of horseracing mysteries: Dick Francis. This is his first book that launched his career. He was a steeplechase jockey who decided to take his knowledge of the horse competition world into mystery books. In this work, Alan York, a young man from Rhodesia (now Zimbabwe) is racing with his friend Bill Davidson; they are the two favorites or "dead certs." But something goes wrong in the race when horse and Davidson go down. York thinks that someone caused the accident to kill his friend. Now he must investigate to find justice for his friend. He wrote over 40 books and his son Felix Francis is also continuing his father's legacy.
No Strangers Here
The first in a new County Kerry mystery series, Detective Inspector Cormac O'Brien is called to a murder scene on the beach. The man is a wealthy racehorse owner who may have overdosed on medicine that only veterinarians have access to. Plus, 69 stones are arranged next to the body, spelling out Last Dance. Odd because the victim was known as the Dancing Man. At the same time Dimpna Wilde, a veterinarian in Dublin, has returned to the village to deal with her family's troubles. Unfortunately, it appears that her family may have been involved in the man's untimely death.
Reining in Murder
Annie Carson gets to live the dream: she's a horse trainer and rescuer. When she's called to a traffic accident involving a horse, Annie does not know that there's going to be many untimely deaths in her near future. The thoroughbred horse survives but the driver of the vehicle does not. Then Annie finds the owner of the horse dead. Why are people dying around this horse? It's the first in the four book Carson Stables Mystery series.
Girls and Their Horses
When Heather and Jeff Parker move to southern California, Heather is figuring out how to be a newly wealthy woman in high society. One way she decides is to give her daughters the opportunity to learn horseback riding. Only one daughter takes to the sport and now Heather becomes a Barn Mom amongst the other wealthy mothers overseeing their daughter's training. Healthy competition benefits everyone, but someone takes it too far and someone ends up dead. Dark secrets and hard choices begin to bubble up from beneath the world of horse shows.
Canter With a Killer
Mallory Martin is looking for a new start. After a failed marriage and a challenging job as a forensic nurse, what better way to do that than by saving horses. She's left her old life behind to open a horse rescue and reconnected with her old friends. But not everyone is happy about her new business, namely her neighbor, Albert Cunningham who runs Cunningham Performance Horses. Things get worse when he's discovered dead in his barn the day after an argument with Mallory. And for some reason, the Sheriff thinks that Mallory was his judge, jury and executioner. Now Mallory has to rescue herself with her forensic skills if she wants to enjoy her new life. It's the first in the two-book Horse Rescue Mystery with book 2 Trotting into Trouble out in November.
Flamingo Road
Police officer Fia McKee grew up around horses; her dad trained them. But when he is murdered, she decides to become a cop. But that dream may be at risk when she's suspended for shooting a man beating a woman up. So she decides to take up an undercover role with the Thoroughbred Racing Protective Bureau. She's placed at the Gulfstream Park in Florida to investigate illegal activities at the racetrack. Fia reconnects with her brother, Patrick, who lives nearby. But when her niece Jilly's horse is taken and Jilly disappears herself, Fia has more at stake than her career. There are two books in the Fia McKee series.
Murder at Morrington Hall
Stella Kendrick has grown up in wealth and comfort as the heiress daughter of a thoroughbred breeder in early 20th century Kentucky. Her biggest joy in life is riding horses through the countryside. When Stella's father invites her to join him for business and a wedding in England, she decides to go to see the thoroughbreds off. But when she arrives at Morrington Hall, she learns that it's her wedding to the Earl of Atherly's son, Viscount "Lyndy" Lyndhurst. Furious at her father's betrayal, Stella plans that she will not be married without her consent.
Before she can do anything, she and Lyndy discover the vicar dead in the library. Now Stella and Lyndy must team up to figure out who put the vicar out to pasture permanently. It's the first in A Stella and Lyndy Mystery series with book 5 Murder on Mistletoe Lane due out later in October.
The Clincher
After tracking down her childhood horse, Red, in Central Oregon, Rainy Dale decides to set up shop as a horseshoer or clincher. She just wants to make her own life, away from Hollywood and Texas. She may be living in a garage but she's getting to live her dream of being around horses. But when one of her clients is found dead, the local police think that Rainy was behind the death. Now she'll have to find the killer while keeping her busy. It's the first of three book Horseshoer Mystery series.
Featured photo: Lindsey Bidwell / Unsplash