For centuries, people have been fascinated by the lives of royal families around the world. From gossip magazines to historians, there's something inherently interesting about the idea of royals having scandals and secrets of their own. So it shouldn't come as much of a surprise that there are lots of great mysteries set in the glittering world of the royals.
From historical court intrigue to princesses on the run, here are 11 mystery books about royalty.
A Royal Affair
In the wake of World War II, Iris Sparks and Gwendolyn Bridge hope to bring some normalcy and joy back to London with their Right Sort of Marriage Bureau. In need of funds to handle the growing demand for their services, they're eager to take on a unique—and financially rewarding—case from Gwen's cousin Lady Matheson. Their real employer here is the Queen, who wants them to quietly investigate Princess Elizabeth's latest suitor, a handsome prince from Greece. The princess is head over heels, and their engagement seems inevitable, so when a blackmail letter hinting at a scandal in the prince's past, the Queen is understandably concerned.
Now it's up to Gwen and Iris to discover the truth, all without letting a word slip to the notorious gossips in the palace. The future of the monarchy - and their business - hang in the balance.
Murder at the Castle
When Iris Grey arrives at Pitfeldy Castle in the Scottish Highlands, she expects it to be a normal portrait painting commission. Her subject this time is Kathy Miller, an American socialite and future wife of Baron Jock MacKinnon. As Iris works, she learns that Kathy has received several mysterious notes telling her to end the engagement before her New Year's wedding. The threats turn out to be real when a body is discovered on the castle grounds.
Now, Iris must put down her brush and put on her thinking cap to solve this mystery before Kathy meets a similar fate.
To Shield the Queen
Rumors are running rampant in the court of Queen Elizabeth I that she has her eyes set on her Master of the Horse, Robin Dudley, despite the fact that he is married. To quiet the rumors, Elizabeth sends Ursula Blanchard, her lady-in-waiting, to the home of Dudley's wife Amy, who is concerningly ill. But when Amy is found dead, the victim of a supposed accident, Ursula worries that she might be a pawn in a larger scheme.
As she tries to find the truth behind Amy's mysterious fall, Ursula doesn't know who she can trust, from the handsome but suspicious Frenchman to her own queen.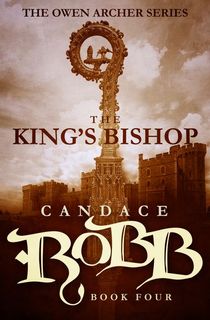 The King's Bishop
In 1367, when the page of Sir William of Wyndesore is found dead in Windsor Castle's moat, all eyes turn to Ned Townley. Everyone knows he's prone to jealous bouts of violence, and perhaps this time he took it too far, but soldier-turned-sleuth Owen Archer isn't so sure. He sends his fellow soldier away on a mission while he attempts to clear his name. But when Ned's love Mary is found dead and Ned himself disappears, things get more complicated.
Owen follows Ned's trail out to Rievaulx Abbey, still unsure of what he will find. Is Ned really guilty? Or are these killings connected to something much larger? Owen might have to go up against the most powerful forces in England to find out.
The Royal Runaway
After four months away from the spotlight recovering from being left by her fiancé on their wedding day, Princess Theodora Isabella Victoria of Drieden of the Royal House Laurent is back to her royal duties. Sick of pretending to be the picture-perfect Driedish princess, Thea sneaks out one night and hits it off with the dashingly handsome Nick at a bar. But Nick has secrets of his own. He's a British spy, he knows who Thea is, and to make matters even worse, he's her ex-fiancé's brother.
It turns out, there was more to that failed wedding day than Thea knew. Now, she and Nick must team up to find the truth, but what they uncover threatens everything Thea holds dear.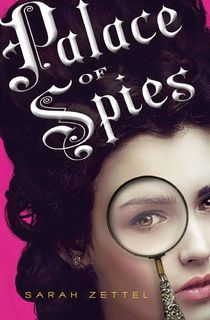 Palace of Spies
Orphan Peggy Fitzroy is living a lie. In the court of King George I, she has assumed the identity of Lady Francesca Wallingham, a lady-in-waiting, in order to spy on the goings on at the palace. At first, she enjoys her life of luxury among England's nobility, but she soon discovers there might be a much darker world beneath the surface. Peggy is beginning to think that the cause of Lady Francesca's death wasn't as natural as everyone says, and she'll have to be careful if she doesn't want the same thing to happen to her.
Her Royal Spyness
It's 1932 and Lady Victoria Georgiana Charlotte Eugenie has just arrived in London to start her new life. She has no money, but she had to get out of Scotland and away from her brother and pesky fiancé. When a French man is found dead in Georgie's bathtub, her whole family comes under suspicion. Even though she and her brother have had their differences, she takes up the case to clear his name and track down the real killer.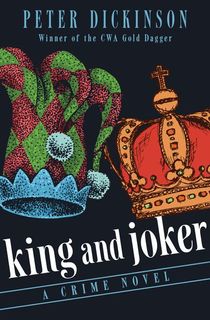 King and Joker
Princess Louise of England finds her royal life incredibly boring these days. She knows her father, King Victor II, agrees with her too. Instead of focusing on his passion for practicing medicine, he's forced to spend his time balancing Buckingham Palace's budget and squabbling with Parliament. When a mysterious joker starts pulling pranks around the palace, both King and Princess are delighted by the distraction.
But it's no laughing matter when a body is found in the palace. It seems that whoever is responsible wants to leak royal secrets to the public, and is willing to kill for it. Now, it's up to Princess Louise and King Victor to catch a killer and save their family's reputation before this deadly prankster can have the last laugh.
A Royal Murder
In 1923, the royal regatta promises to be the event of the season, so naturally Lady Eleanor Swift has to be there. Dressed to the nines, she loves mixing with other members of the British aristocracy. Things take a turn at the prize ceremony when dashing host and cousin to the king, Lord Xander Taylor-Howard takes a sip of champagne and drops dead. The rumor mill says he was in debt to a notorious gambling ring—could that be connected to his untimely end?
In order to keep this potential scandal quiet, head of the royal police Sir Percival asks Eleanor to take up the investigation. Assisted by the handsome Detective Seldon and her bulldog Gladstone, Eleanor seeks out the truth. But when more of Lord Taylor-Howard's secrets come to light, she realizes this case is much more complicated than it seems, and if she's not careful, she'll get caught in the crossfire.
Murder at the Royal Albert Hall
Mrs. Ginger Reed and her husband Chief Inspector Basil Reed are dressed in their best and ready for a lovely outing at London's Royal Albert Hall. But their night at the opera comes to a grinding halt when the Duchess of Worthington falls to her death from the balcony. Luckily, Ginger and Basil both have sleuthing skills up their sleeves. But what Ginger could have never imagined was that this case connects to her own family.
As she investigates, she uncovers a strange connection between the Duchess' deadly fall at Ginger's own grandmother-in-law, the Dowager Lady Gold. The clues point back 60 years to when a group of friends had a terrible falling out, and now, the final pieces are falling into place.
The Royal Secret
During the reign of King Charles II, when multiple mysteries combine with intrigues at court, the entire country is put at risk. With talk of witchcraft in the air, crown agent James Marwood investigates the bizarre death of his friend, a government clerk. At the same time, Cat Hakesby receives a commission from the King himself, using her architectural skills to design a Poultry House for his mistress. James and Cat's assignments seem totally unrelated, but they're about to discover a secret that will threaten the stability of not just England, but all of Europe.