Diamond Dagger Award winner and Edgar Award finalist Val McDermid is a leading voice in what's known as "Tartan noir"—dark, hard-edged crime writing with a uniquely Scottish bent. This twist on the hard-boiled genre is also practiced by the likes of Ian Rankin, William McIlvanney, Alex Gray, and others.
Born in Scotland's county Fife, McDermid often draws on her working-class upbringing and Scottish roots to craft her stories, especially her DCI Karen Pirie series, which is set in and around the region where McDermid grew up. Reviewers and fans alike have praised the realism that McDermid brings to her novels, especially A Darker Domain, which was inspired by McDermid's memories of the UK miners' strike. The "superior" (New York Times) Karen Pirie books are the most recent of McDermid's many series, having kicked off with The Distant Echo in 2003.
Still Life, McDermid's latest, sees the resolute detective chief inspector snared in a complicated web of art forgeries and long-ago disappearances after a lobster fisher pulls a dead body from the waters of the Firth of Forth. It's the sixth Karen Pirie book, and McDermid's fans have wholeheartedly embraced the steely inspector, whom the Associated Press calls "a formidable character worthy of her own series," while the Irish Times raved, "I would like to see a great deal more of DCI Pirie."
Related: Splinter the Silence: 11 Gripping Val McDermid Books
While McDermid may be best known for her popular Jordan and Hill mysteries—which have been adapted to television as Wire in the Blood, starring Robson Green and Hermione Norris—her other series are just as pulse pounding and unputdownable, with The New York Times calling The Distant Echo, the first Karen Pirie book, "cunningly plotted."
Longtime fans of McDermid's work and newcomers alike will find much to love in the exploits of the clever and implacable DCI from Fife, and there's no better place to jump on board than with Still Life. DCI Karen Pirie has rapidly become one of Val McDermid's most beloved and memorable characters. So pick up one of these six books and see what all the fuss is about. Just be warned: you may not be able to put them down until you've finished them all!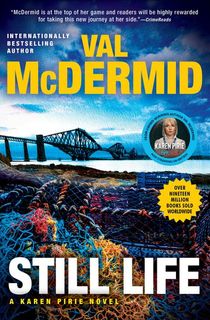 Still Life
In the sixth and latest Karen Pirie novel, Val McDermid crafts the detective chief inspector's most challenging case yet. A lobster fisher has pulled a corpse from the waters of Scotland's Firth of Forth. The discovery of the body is only the beginning, however, and it doesn't take long before Pirie is up to her neck in long-ago disappearances, art forgeries, secret identities, and more.
When a traffic accident also unearths a skeleton in a suburban garage, Karen Pirie has her hands full. But fate isn't done dealing her difficult cards, as the man responsible for the death of her colleague and lover is about to be released from prison in this page-turning book that's impossible to put down.
The Distant Echo
Even as the Fife police begin a cold case review covering unsolved crimes going back 30 years, a killer has begun targeting the only suspects in the rape and murder of Rosie Duff more than two decades earlier. The four boys found her body in an old Pictish cemetery—and now they've begun to turn up dead themselves. If any of them are going to survive, they're going to need the help of Karen Pirie, who has begun investigating the case and may be the only one standing between innocent lives and a killer with a demented sense of justice. This bestselling 2003 novel introduced readers to DCI Karen Pirie—and most have never looked back.
Related: Scotland's Finest: Explore the Thrilling World of Tartan Noir
A Darker Domain
The Independent called the second Karen Pirie novel "an outstanding return to form for Val McDermid." Jumping back and forth between 2007 and the events of the infamous UK miners' strike of 1984 and '85, reviewers and fans alike have praised the book's dual chronologies and firsthand accuracy. As the families of striking miners wait in long lines for food and neighbor turns against neighbor, McDermid threads in a shocking mystery that spans decades—and will keep readers turning the pages until the startling conclusion!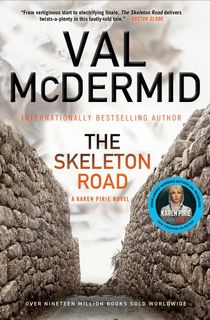 The Skeleton Road
"McDermid melds the political thriller with the police procedural" (Associated Press) in this "tightly paced mystery" (Los Angeles Times) that sees Karen Pirie confronting the ghosts of the past, wrestling with the genocide and ethnic cleansing that accompanied war in the Balkans in the 1990s. The third Karen Pirie novel also sees the steely detective inspector facing one of her toughest challenges yet as she attempts to identify bones found in an old Gothic building in Edinburgh…and possibly bring a killer to long-overdue justice. Fans of the detective inspector or McDermid's writing won't want to miss this searing story, with implications both global and intensely personal for Karen Pirie.
Related: Broadchurch Meets Big Little Lies in This Compelling New Scottish Mystery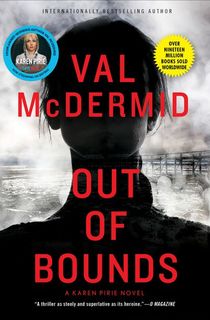 Out of Bounds
"In Out of Bounds, multi-award winner McDermid is at the height of her game," according to The Press and Journal, which calls the novel "gripping and totally authentic." Attempting to cope with the death of her colleague and lover, Karen Pirie spends sleepless nights wandering the streets of Leith, even while she tries to solve a complex mystery that begins when a teenage joyride reveals unexpected DNA connections to an unsolved cold case.
But that's not the only bit of the past that's coming back to haunt the determined detective. The seemingly open-and-shut case of a terrorist bombing from two decades earlier is beginning to show signs that it may have been part of something much more complex, and DCI Pirie will have her hands full if she's going to sort it all out.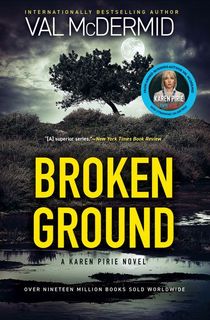 Broken Ground
When Alice Somerville goes looking for buried treasure beneath the peat bogs of the Scottish Highlands in the fifth Karen Pirie novel, she doesn't expect to find a body with a bullet hole right between the eyes. Fortunately, DCI Karen Pirie is on the case, while also trying to bring a domestic abuser to justice. "As always, McDermid's story lines are as richly layered as her protagonist," according to Publishers Weekly, while Kirkus Reviews praises "the details of Karen's working life, the obstacles as well as the satisfactions, and the small pleasures of her off hours."
Related: 9 Must-Read Mysteries and Detective Books from Across the Pond