It's spooky season, and what's spookier than murder? Well, paranormal murder, perhaps. With Halloween just around the corner, we're turning our attention to witch-themed cozy mysteries. These stories follow enchantresses and their feline familiars as they work diligently to clear their names, or the names of friends and family that have been wrongly accused! They'll solve these crimes using their own wits, their powers—and in some cases, the help of ghosts or spirits.
If you're in the mood for a supernatural sleuth, we've rounded up nine witch cozy mysteries for you to curl up with.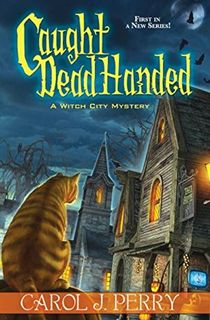 Caught Dead Handed
In the wake of her husband's death, Lee Barrett returns to Salem, Massachusetts. It's her hometown; she has a support system there in her Aunt Ibby. She's ready to start a new chapter. Things seem to be looking up when she gets an interview at WICH-TV as an investigative reporter. When she arrives, however, she realizes that the only open position is for a call-in psychic.

Lee takes the job, and takes on the persona of Crystal Moon for the show. She soon comes to realize, however, that the previous holder of the post may have been a real witch—and the cat that Lee inherited from her holds its own powers. With Halloween closing in, Lee must chase down the murderer before she's taken off of the air.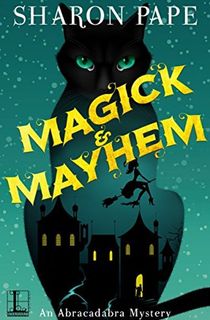 Magick & Mayhem
A bona fide witch cozy mystery, this first book in the Abracadabra mystery series follows Kailyn Wilde, the last in a long line of powerful sorcerers. She's recently inherited a Magick shop called Abracadabra in a small town. When Kailyn and her aunt go to their attorney's office to finalize the estate, they find their lawyer, the husband of Kailyn's best friend, dead.

The finger is pointed at Kailyn's best friend, but Kailyn is certain that Elise could never be capable of murder. With the help of her ancient powers, her Aunt Tilly, and her familiar black cat, Sashkatu, Kailyn has to hurry to clear Elise's name!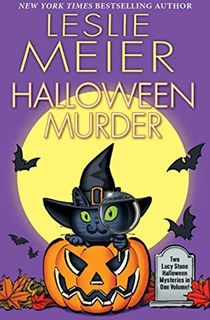 Halloween Murder
This book contains two spooky mysteries: Trick or Treat Murder and Wicked Witch Murder. Both follow Lucy Stone and two ghastly mysteries in Tinker's Cove, Maine. Trick or Treat Murder finds the town in fear of a serial arsonist. The most recent fire resulted in a death. It's up to Lucy to find the murderer, make twelve dozen cupcakes in time for the Halloween party, and keep her newborn on the correct nap schedule.

In Wicked Witch Murder, Diana Ravenscroft has recently arrived in Tinker's Cove. The town is wary of this newcomer, certain she's a witch. Diana doesn't dispute the claims, instead insisting she's a good witch! But when a body is found in the woods behind Lucy's house, it's up to Lucy to find the real culprit—and to steer the town away from a fatal witch hunt.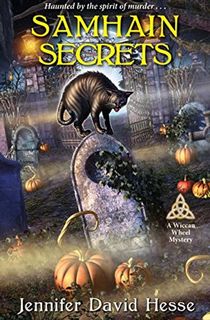 Samhain Secrets
Wiccan attorney Keli Milanni is engaged in discussion with otherworldly spirits as Samhain rolls around. This time of the year makes it easier to contact those that have passed on. But when she learns her Aunt Josephine's body is found, and her soul has joined the other side, Kelly is stunned. She must face this sudden loss, catch a killer, and use her Wiccan powers to unravel the mysteries surrounding her.
Witch Hunt
With the help of her immortal tabby kitten, Pistol, and a Victorian ghost named Cyrus, Reva Brennan owns and operates the haunted Dimindio Inn. This hotel serves ghosts more often than it serves human beings—though there are, of course, a few rooms that have been set aside for living, breathing guests.

Reva's life is turned upside down when a dead body is found in the cemetery—above ground, and not at all where it's meant to be. When her Aunt Alva is considered the prime suspect, Reva is determined to find the killer and clear her aunt's name.
Witches and Murder
This mystery book trilogy follows Ariel Black, a witch living in Hallow's Blend. Hallow's Bend is a tiny town in the Northwest with a long history of witchcraft—and murder. Ariel first finds herself traveling to Hallow's Bend when a lawyer contacts her to attend her Grandma Norma's will reading. Ariel was unfamiliar with her grandmother, but at the reading, she learns her Grandma Norma has left her the Whipping Willow Bakery.
Things are beginning to look up for Ariel—until the body of Hallow Bend's most hated man is found in Grandma Norma's coffin. It's up to Ariel to dig into her family's witchy history as she settles into her new life. This trilogy includes Half-Baked Witch, A Dash of Disaster, and Witch is Where the Heart Is.
Bait and Witch
Josie Way has arrived in Wilfred, Oregon, to lay low and work as a librarian while in the witness protection program. She'd previously worked at the Library of Congress and is awaiting the chance to give testimony at trial. The small-town Victorian house that doubles as Wilfred's library allows her to hide out while still doing what she loves.

However, this little slice of solace may not last long for Josie. Wilfred holds many secrets for her—including a connection to a magical bloodline. Josie finds herself in the middle of a new crime in Wilfred, and it's up to her and her new familiar to solve a murder.
Hexy Beast
Tipsy Bissell is a former acrobat, a witch, and the owner of an animal rescue in Black Widow Bay, Michigan. Tipsy's current job is made easier by the fact that she's able to shapeshift and communicate with animals, like her familiar, Calliope the Maine Coon. Things begin to seem suspicious when Tipsy awakens one night to find someone trying to steal her animals! Tipsy manages to chase them away, but it sets the whole shelter on edge. When murder begins to lurk around the corners of Black Widow Bay, Tipsy will need to pull every trick out of her bag to solve this mystery.
Midnight Magic
With the Midnight Magic Festival closing in on Coventry, Kinley Skeenbauer finds herself busier than ever at her shop, Summoned Goods & Sundries. Kinley and her cat familiar, Meri, are busy making swag bags for the festival. But Kinley's distracted when a new witch in town, Astra Argent, opens a shop just like hers, and sells the same products—for lower prices.

When Kinley's swag bags are stolen, her store damaged—and Astra's wallet among the wreckage—Kinley is incensed. The two feud publicly, putting the town on tenterhooks. When Astra's body is found on Kinsley's front porch, Kinley is stunned. Whoever killed Astra clearly wanted the attention pointed at Kinsley—and it worked. It's up to Kinsley and Meri to learn who really killed Astra.
Feature photo: Christina Hernández / Unsplash