Halloween is right around the corner, and with the days getting darker and chillier, there's never been a better time to curl up with a good cozy mystery. If you're looking to add a spooky twist to your reading this October, this is the list for you! Each of these mysteries features witches and witchcraft in a major way—and are sure to deliver some chills along with thrills. From old folklore come to life to a paranormal investigator duo, here are nine wickedly cozy mysteries that feature witchcraft.
Midsummer Night's Mischief by Jennifer David Hesse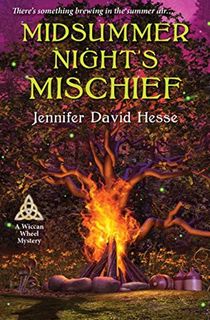 Midsummer Night's Mischief
Usually Keli Milanni, a family law attorney and practicing Wiccan, looks forward to the celebrations on Midsummer Eve, but trouble at work is threatening to spoil all the fun. A late client's valuable Shakespeare relic has gone missing, and the family seems to think Keli is to blame! In order to find the real thief, Keli will have to sift through the many colorful characters that have descended upon Edindale, Illinois, for a Renaissance Faire and a literary festival.
As her investigation continues, Keli will have to contend with a deepening mystery and her growing feelings for local rugged bartender Wes Callahan. Who just so happens to be the grandson of her client. This year could prove to be her most exciting Summer Solstice yet!
Witch Way to Murder by Shirley Damsgaard
Witch Way to Murder
Every day, Ophelia Jensen works in her small-town library, and then comes home to her eccentric grandmother Abby. But that's just about where her normal life stops. Abby is a kind-hearted witch, and Ophelia has been burdened by psychic powers her whole life. She stopped seeing it as a gift when she was unable to prevent the death of her best friend.
Things take a turn for the strange when a mysterious—and handsome—man keeps showing up at the library. He says he's tracking rumors of a drug ring, but Ophelia's not so sure. But when a dead body is discovered in Abby's yard, Ophelia knows she'll have to turn to her powers if she wants to solve the case and protect the people she loves.
Flight of A Witch by Ellis Peters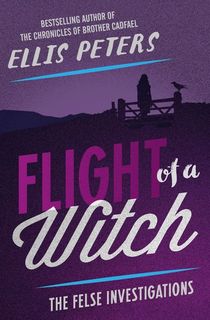 Flight of a Witch
One day in October, the beautiful Annet Beck disappeared while walking near Hallowmount, a hill in the Welsh countryside that legend says is home to witches. When she reappears five days later, her overprotective parents are overjoyed. But their relief turns to confusion when she claims that she was only gone for two hours. The Beck's lodger, Tom Kenyon, takes it upon himself to figure out just what happened to Annet, especially if it means getting closer to her in the process.
When his amateur sleuthing yields few results, Tom turns to Detective Inspector George Felse to find the answers. Did Annet experience amnesia, or is witchcraft to blame? And how does her disappearance connect to Inspector Felse's own murder case?
A Mind for Murder Omnibus by Rochelle Staab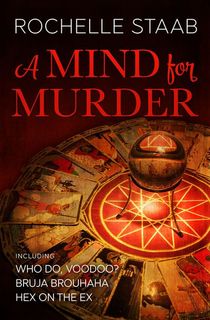 A Mind for Murder Omnibus
In Rochelle Staab's A Mind for Murder Omnibus, you get three cozies for the price of one! The bestselling series follows Liz Cooper, a recently divorced psychologist living in LA that keeps getting sucked into paranormal murder investigations. Liz is always on the lookout for a more rational explanation, but occult professor Nick Garfield is much more willing to believe. Together, this unlikely pair take on some of Hollywood's strangest characters as they work to solve some truly puzzling mysteries.
Spell Booked by Joyce Lavene and Jim Lavene
Spell Booked
After many happy years running Smuggler's Arcane, a curio shop in Wilmington, North Carolina, witches and best friends Molly, Elsie, and Olivia are ready for retirement. There's just one thing left to do, recruit a new generation of witches to train. As witches age, their magic fades, so there's no time to waste. But when Olivia is mysteriously murdered and their spellbook is stolen, Molly and Elise realize they can't step away just yet.
In order to get their spells back and give Olivia justice, Molly and Elise set out to find the truth. They'll have to face off against powerful forces that will require all the magic they have left, and perhaps some extra help along the way.
Bell, Book, and Candlemas by Jennifer David Hesse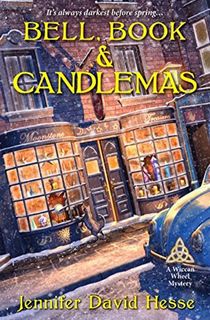 Bell, Book & Candlemas
When Edindale, Illinois' local New Age gift shop, Moonstone Treasures, is bombarded with threats and vandalism, Keli Milanni's fellow Wiccans are ready to call it a hate crime. Initially, Keli is hesitant to get involved. She knows her religious beliefs could ostracize her from her friends, coworkers, and new boyfriend. But when a murder occurs, she knows she has no choice but to use her skills as an attorney to do some investigating of her own.
With the Wiccan holiday of Candlemas fast approaching, Keli will have to decide if she's willing to put her private life on display in order to catch a killer.
Secondhand Spirits by Juliet Blackwell
Secondhand Spirits
When Lily Ivory arrives in San Francisco, she sees it as a fresh start. She's excited to open her vintage clothing shop and hopefully keep her identity as a witch private. Just as she begins to settle into her new life, one of her store's frequent patrons is murdered. And when local children start disappearing, Lily has a hunch the culprit is something paranormal.
It's up to Lily to find the killer and kidnapper, but stopping the criminal might mean revealing her identity to the world.
Tails, You Lose by Carol J. Perry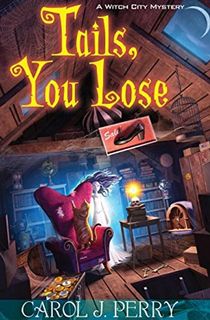 Tails, You Lose
The Tabitha Trumbull Academy of the Arts, or The Tabby as the residents of Salem, Massachusetts call it, is home to many talented students and to new faculty member and former TV psychic Lee Barrett. As she and her students begin research for a documentary on the old department store that now houses the school, they uncover a host of long-forgotten history. As the Trumbull's family secrets come to light, the group also discovers an old maze of tunnels that run throughout the city. And when the Tabby's handyman is found dead, things take a turn for the spooky.
With the whole town on edge, Lee starts having psychic visions of her own. Why does she keep seeing a black patent leather pump in her classroom? And what does it have to do with the murder?
Wicked Witch Murder by Leslie Meier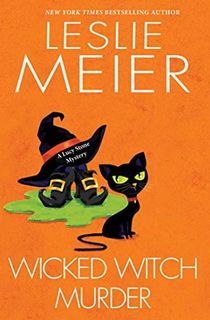 Wicked Witch Murder
Lucy Stone can't help but be intrigued by Tinker's Cove's newest resident, the eccentric Diana Ravenscroft. Especially after she gives her a shockingly accurate psychic reading at her shop, Solstice. But as multiple deaths rock the town, people begin to whisper that Diana might be an evil witch.
As Halloween draws closer, Lucy is determined to find the truth. She's keen to clear Diana's name...until it turns out a recent murder victim was an old friend of the shopowner.