Somewhere in between the comic book and the novel lies a marvelous gem: the graphic novel. These unique books weave together both text and visual elements to craft a complex, cohesive story that is only made better by the mixing of two mediums. Though graphic novels have been written for many genres, including science fiction, fantasy, and horror, some of the most enticing stories have been in the mystery and thriller realm. The breathtaking illustrations and snappy dialogue truly make noir settings and heart-pounding suspense come to life.
From a timely tale of tartan noir like Val McDermid's Resistance to the classic source material of the hit movie V for Vendetta, the following mystery and thriller graphic novels are sure to blow you away.
Sherman (1. The Promise: New York)
This is the first volume in an eight-part series created by Belgian comic writer Stephen Desberg. The story revolves around Jay Sherman, a man who witnesses his own son's assassination—a hopeful presidential candidate. Jay has a few skeletons in his closet, and he appears to be the next target. He relies on the help of an old friend, an FBI director, to help him unravel the mystery of who is after his family...before it's too late. Roaring 20s New York comes to life in this compelling story packed with political intrigue.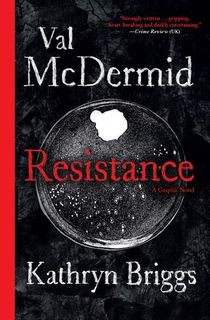 Resistance
Britain's "Queen of Crime" has paired with illustrator Kathryn Briggs for her first graphic novel, and the duo deliver a story that is not only haunting, but deeply affecting.
Zoe Meadows is a journalist who has stepped away from her normal high-stakes stories to reconnect with her family. Making the most of her break, Zoe heads north with her food truck owner friends and joins 150,000 people at a music festival. But her job of handling a celebrity Q&A gets a lot more complicated when some of the food truck customers become dangerously sick.
Related: Splinter the Silence: 11 Gripping Val McDermid Books
At first it just seems like food poisoning. But when the festival attendees scatter across England after the event winds down to a close, more and more people get sick—and die. Doctors are overwhelmed, and with no way to halt or cure the pandemic, the illness spreads alarmingly fast. Even as Zoe is hit with unimaginable loss, she's determined to find the answer at the center of it all.
The Night I Died
In the 1940s, Mickey Spillane wrote mystery novels centered around the hard-boiled, womanizing private detective Mike Hammer. Inspired by a story by Spillane, Max Allan Collins has adapted a gripping noir comic series with illustrator Marcelo Salazar.
In this complete collection of the series' issues, Hammer's chance meeting with the obligatory femme fatale results in a brutal response from the mob. Stuck between shootouts and suspicious vixens, the moody private eye will do whatever it takes to crack the case, even if it costs him his life.
X-Men: Noir
If classic noir novels are being turned into comics, why can't classic comics be turned into noir? The heavy-hitting Marvel franchise X-Men does exactly that, shifting all the super-characters we know and love into a gritty world of crime and corruption.
Jean "Phoenix" Gray is dead (as she tends to be), but which of the motley suspects is at the heart of it? Her sharpshooting beau Scott "Cyclops" Summers, or her hot-tempered, bootlegging lover on the side, Logan?
Meanwhile, Charles Xavier—the "Professor of Crime"—is stuck in lock up. But what are the delinquents of the Xavier School for Exceptionally Wayward Youth, a home which trains criminals rather than mutants, getting up to in his absence? And what will Erik Magnus and his brutal Brotherhood of cops do to stand in their way?
Jérôme K. Jérôme Bloche (Volume 25 - Aina)
This is the story of a young African girl named Aina. Fleeing a sinister man in the streets of Paris, Aina seeks refuge with Father Arthur—a feisty and protective priest who uses his unexpected boxing skills to ward off her pursuer. The girl's predicament remains a mystery, as she only speaks Swahili. Father Arthur calls on private investigator Jerome Bloche to solve the mystery of Aina's background and the frightening cast of characters who are after her in a gripping story with plenty of twists and turns to satisfy.
Related: Ministry of Fear: 10 Graham Greene Mysteries and Thrillers You Need to Read
Kill or Be Killed
Only the strong will survive in this darkly thrilling collection. After a failed suicide attempt, grad student Dylan has a new lease on life. He owes his second chance to his savior: A shadowy demon who now demands that Dylan provide him with the lives of others. Dylan embarks on a dangerous journey of vigilante justice, taking the lives of people whose lives he deems worthless. The pages of this terrifying visual experience are positively saturated with tension and dread.
Blacksad
The acclaimed mystery series now offers the first three stories in one beautiful volume. Private investigator John Blacksad, an anthropomorphic black cat with a taste for danger, must solve the mystery of his former lover's death, conspiracy theories surrounding a young girl's disappearance, and more in this fast-paced collection. With animal characters peppering the scenery of 1950s America, illustrator Juanjo Guarnido injects a dose of surrealism into a gritty crime thriller concerned with the very real events of racial tension and the Communist Red Scare.
Related: 8 Crime Noir Books That Will Have You Reaching for Your Trench Coat
V for Vendetta
Did you know that the hit movie V for Vendetta, starring Natalie Portman, was based on this graphic novel? Dive into its pages to discover the gripping story that inspired the film. In dystopian England, a masked man known only as V pulls off daring plots to challenge the ruling totalitarian government. He enlists the help of Evey, a confident and rebellious woman whom he intends to train as his protégée. A morally ambiguous anti hero, V's acts of terrorism in the name of freedom will leave you questioning where good ends and evil begins.
Related: 10 Romantic Thriller Movies That Will Have Your Heart Racing
100 Bullets: Book One
Explore the gritty collection that The New York Times Book Review calls "beautiful and uncompromising." Eduardo Risso's illustrations perfectly capture the noir atmosphere in which an elusive hitman named Graves offers his services to people. Ordinary citizens are given the opportunity to exact deadly revenge on an enemy, no strings attached. A heady meditation on money, power, and corruption, 100 Bullets is a thrilling descent into the underbelly of society that will have you hooked from the very first page.
Deadly Class (Vol. 1: Reagan Youth)
Welcome to 1980s San Francisco—a world of sex, drugs, and teenage assassins. Though Marcus Lopez seems like an ordinary teenager—he hates school, where he's flunking his classes and being bullied—he couldn't be further from one. Orphaned Marcus was rescued from the streets and brought to a school where teens are trained for futures as the most deadly assassins in the world. Snag this graphic novel to find out if Marcus passes Dismemberment 101, and evades danger long enough to graduate.
This post is sponsored by Europe Comics. Thank you for supporting our partners, who make it possible for Murder & Mayhem to continue publishing the mystery stories you love.