With the mild weather rolling in, this is the perfect time of year to go camping. Unfortunately, not all of us have time to escape the hustle of our busy lives. Wishing you were snuggled up in a tent? Missing the crackle of the campfire? Eager to get to the bottom of a shocking mystery? We have the perfect reads for you. Here are six of the best camping cozy mysteries to herald in the season!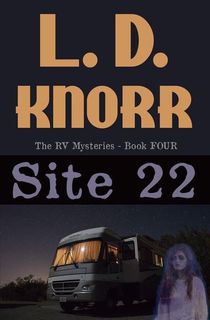 Site 22
Hank and Helen Moran are a retiree couple that now dedicate their time to private investigation. Business has been booming, and it's high time they take a break. The pair pack up their motorhome and set out for Charleston, South Carolina. However, during an overnight stay in Thomasville, Georgia, mystery finds them against all odds when they pick up an uninvited—and unearthly—guest.
Cozy Camping
Lexie Starr surprises her husband, Stone with a family RV trip for their one-year anniversary. The couple and Lexie's daughter, Wendy, are headed to Cheyenne, Wyoming for the annual Frontier Days celebration, but not everyone is in high spirits. At the RV park, Lexie and Wendy overhear an argument between the owner and Fanny Finch, an acclaimed author working on a controversial tell-all book. After Fanny is found dead, Lexie sets out to find whodunnit—but there were plenty of campers who had a motive.
Murder in Michigan
There's nothing Tulia Blake loves more than traveling, so a trip seems like the obvious next step when, in a single day, her relationship ends and she happens to win the lottery. Her first purchase is a decked-out RV, and with her African Grey parrot Cicero in tow, she starts off toward Wisconsin with a nostalgic detour through Michigan, where she was born and raised.
When Tulia reaches Marquette, she makes a pitstop for pastries. Here her luck goes south—someone has stolen her RV, complete with everything she owns. As she tries to track down the thief, a waitress stumbles across a dead local in the dumpster. Tulia must figure out if the two crimes are related to get justice and her life back on track.
S'more Murder
Ivy Thurman has only good memories of visiting her grandmother's campground as a child. When she inherits the Happy Camper Resort, however, it's nothing more than a dilapidated money pit. Along with all of the things that need to be fixed, the grounds also come with her grandmother's tenants, a bunch of retirees who live there full-time.
After just two days of owning the place, Ivy falls off the dock and discovers a dead body. Now she's the main suspect in a murder investigation. After all, the deceased Ethel Murlay had just added Ivy to her will... But with the residents eager to help clear her name, all Ivy has to worry about is the attractive detective hot on her trail.
Camping Caper
After Peggy Hughes, the leader of the Bonfire Girls, gets injured, Martha volunteers to lead the group on their next camping trip. Agnes and Eleanor are looking forward to some relaxation, but when Peggy Hughes is found dead, they have their doubts that it was truly an accident. Will the detective duo find evidence of foul play? Or will their case smolder out with the campfire?
Forests, Fishing, & Forgery
Labor Day weekend has arrived in Normal, Kentucky, and the camping and RVing scene is busier than ever. Unfortunately, this business boom may not be enjoyed by Daniel Boone National Park, as it's in danger of being shut down amidst a drought. As local businesses frantically search for a way to stay open, Happy Trails Campground becomes the scene of a murder. Since the victim was the one person in control of the shutdown, it seems like a local is behind the dastardly plot. Now it's up to Mae West to find the truth!