Praised by Elmore Leonard and Lawrence Block, cited as an inspiration by James Lee Burke, Carl Hiaasen and Quentin Tarantino, the late Charles Willeford was a late-bloomer who became one of the greats of hardboiled crime.
The resume of Charles Willeford, who passed away following a heart attack in 1988 at the age of 69, reads like something from a novel by Jack London.
An orphan child, Willeford left the California home of the grandmother who raised him when he turned thirteen, hopped on a freight train, and rode the rails across Depression-era America.
A tank commander in the 10th Armoured Division in World War Two, Willeford was awarded a silver star, bronze star, and purple heart for bravery during the Battle of the Bulge.
The author's post-war career saw him working as a radio announcer, boxer, and actor, studying painting in Paris, getting expelled from university in Peru for lying on his application, and working as an editor on Alfred Hitchcock's Mystery Magazine.
Early life and career beginnings for Charles Willeford
Willeford lived in Japan, France, New York, and South America, re-enlisted in the Army and, when that finished, joined the Air Force.
Somehow, along the way, he found time to marry (twice), write a book of poetry, and bang out half a dozen novels commencing with the arty Nathaniel West-influenced High Priest of California (1955). This early run included a solid slice of straight-ahead hardboiled noir The Pick Up and culminated with Willeford's first stone-cold classic, The Cockfighter (1962).
The Cockfighter is a superb evocation of a seamy, brutal world that draws inspiration from Homer's Odyssey. It features a central character, Frank Mansfield, who has taken a vow of silence, making him easily the most laconic hero in all of crime fiction. Tightly written and filled with bloody set pieces, The Cockfighter would be filmed by Monte Hellman in 1974. Warren Oates and Harry Dean Stanton—a pair of gritty B-Movie stars—were perfectly cast.
Charles Willeford writes The Burnt Orange Heresy
By the time The Cockfighter hit the bookstands, Willeford's life had settled down. He was living in Miami, had completed his education and was working as a teacher of humanities. His writing had never made money and now it took a backseat for close on a decade.
Willeford would burst back on the scene in 1971 with a distinctive Western, The Difference and one his finest novels, The Burnt Orange Heresy, a blackly humorous, taught and twisty tale of a reclusive contemporary artist, a big name critic and a murder. In 2019 it was made into a decent movie starring Donald Sutherland and Mick Jagger.
More fiction followed, most satiric in nature (including the brilliantly titled Shark-Infested Custard), but it wasn't until the mid-1980s that Willeford finally hit pay-dirt with his detective novel Miami Blues.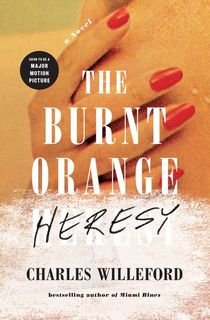 Late literary success
By the time this late literary success came his way, Willeford was in his sixties, a big, thick-set man with a balding head and a walrus mustache, a cigarette dangling from lips that seemed to be permanently creasing into a smile.
Readers of the Hoke Moseley novels will find it hard not to imagine the tough, shrewd—if frequently bewildered—murder cop looking pretty similar.
Even if you don't empathize with Hoke's politics (he's a tub-thumping supporter of Ronald Reagan), the man is great company. Ex-Military, mid-forties, divorced, going through a midlife crisis, and living in a grungy suite at the flea-ridden Eldorado Hotel, Moseley is struggling with alimony, the demands of two teenage daughters, the ins-and-outs of the dating game and the fact that he keeps losing his false teeth. Stir in an over-ambitious boss who likes the limelight, a pregnant police partner, and an ex-wife who's just married a millionaire baseball player—and you get a picture of a guy whose life isn't exactly going to plan.
The rumpled Moseley slots perfectly into the Florida underworld Willeford creates so vividly. As in the work of Leonard and Hiaasen, this is a Florida far removed from the tourist advertising. It's a lurid, sweaty, garish, wild, and dangerous place populated by bizarre characters—who else would come up with a Hare Krishna pimp?—in eye-wateringly colorful clothing.
Charles Willeford's vivid criminals
Willeford's criminals really leap off the page. There's a gun-toting retiree armed robber and a wealthy and beautiful widow who just might provide Hoke with a ticket out of his messy life but might be a killer. Most memorable of all is the brutal sociopath nicknamed Junior, an ex-con so filled with violence he can't walk across an airport without killing someone. That at least two of these crazies also have a vendetta against Hoke adds to the genuine sense of jeopardy.
Typically, the success of Miami Blues filled Willeford not with feelings of triumph and vindication, but with a sense of dread, His reaction was to write a second Hoke Moseley novel (Grimhaven) in which he killed the likeable cop off.
Luckily, on the advice of Donald Westlake and others, Willeford put that book away in a drawer and wrote New Hope for the Dead instead, keeping Moseley alive and working. It's arguably the best of all Willeford's books. Nicely plotted, weird, wild, funny and with a real emotional punch. Sideswipe followed shortly afterwards
Charles Willeford died just as his greatest character might have done: suddenly and after eating an extra-large pepperoni pizza. The final book on the Hoke Moseley series The Way We Die Now was published a few days later.