When we think of hard-boiled detectives, we think of Humphrey Bogart's Sam Spade in the 1941 classic The Maltese Falcon. However, there are a few different flavors of hard-boiled detectives. Often, they are a private investigator or a police detective and their world takes them into the gritty underworld of their city or town. They are often cynical and have their own problems that may interfere with their work. The world tends to be more realistic and harsher than the rosier worlds of cozies and classic detective fiction.
In honor of the Sam Spades of the world, here is a list of the best hard-boiled detective books. Some will be classics while others are newer entries into the genre.
Red Harvest
This has to be one of the best-known entries in the hard-boiled detective genre. When Continental Op takes a job, he never quite knows what he is going to get. When a publisher Donald Willsson hires him from San Francisco, the Op turns up in Personville, a mining town controlled by his client's father, Elihu Willsson, to find his client dead. Instead of going back to San Francisco, the Op dives right in to find out who killed the man and why. With every turn, he finds himself amidst gangs, police corruption, and an alluring woman.
If you love the book, I highly recommend the Coen Brothers' film Miller's Crossing (1990) based on Dashiell Hammett's book. There are two books and several collections of short stories featuring the Continental Op.
The Big Sleep
Philip Marlowe is the quintessential hardboiled detective. He's a private detective with a drinking problem and a hero complex. What should have been an easy missing person's case for a wealthy man named General Sherwood ends up becoming three murders—with the mob and police watching every move. On top of it all, the General's enticing daughters are not making Marlowe's work any easier. It's beautifully written and evocative of post-war Los Angeles. The Big Sleep is the first in the eight-book series (plus a short story).
Related: The Raymond Chandler Papers: Examining the Life of the Iconic Crime Fiction Writer
Devil in a Blue Dress
The first in the Easy Rawlins series is another classic. Down on his luck, Black WWII veteran Rawlins finds himself in Johnny's Bar, drinking his woes away. But things might be turning up when a white man shows up and offers Rawlins cash to find Daphne Monet. But of course, finding a dame is never as easy as it sounds. Rawlins finds himself immersed in murder and other crimes trying to find this missing woman. There are fifteen books so far in the series.
Related: 11 Best Walter Mosley Books
Indemnity Only
Why did an imposter hire Chicago PI V.I. Warshawski to find his girlfriend? And what do you do when the banker he was claiming to be also turns up dead? This isn't Warshawski's first mystery to solve but she doesn't like the implications. Can she figure out who this imposter was, who his alleged girlfriend actually is, and who murdered the banker's son? Fans of this series have at least 21 books to devour.
A Drink Before the War
Taking place in South Boston, Patrick Kenzie and Angie Gennaro take on a missing woman's case for Jenna Angeline. She's taken off with some important documents and a politician wants them back. However, it appears her family is involved in Boston's dark underbelly and they find themselves in the thick of it. Can they find her, retrieve the documents, and live to take another case? There are six books in this series by Dennis Lehane.
The Likeness
Tana French brings the literary and hardboiled detective novel together in her first book of the Dublin Murder Squad series. The past and present collide with a bang when a young girl is found murdered in the same forest twenty years earlier children had disappeared. Rob Ryan, a detective, and his partner Cassie Maddox, are on the case but Ryan has a personal connection to the crime. He was the only child found alive when the others went missing; the only clue was his shoes filled with blood and a letter. Finding the killer will be hard without revealing this painful episode.
Related: 13 Must-Read Mystery and Thriller Authors Like Tana French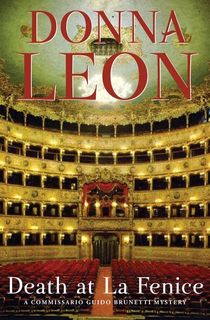 Death at La Fenice
Most people see Venice as a wonderful city of the past, filled with canals and glass souvenirs. But people are born, work, and die in the city. And sometimes not so nicely. Vice-Commissario Guido Brunetti is tasked with finding the culprit in the poisoning of conductor Maestro Helmut Wellauer, in the green room at the opera house. With this case, and all his other cases, he dives into the other sides of Venice that the tourists don't get to see. While Brunetti isn't quite as jaded as other detectives on this list, Donna Leon's books qualify in the genre for their unflinching look at corruption, sex trafficking, and environmental degradation.