The beauty of youth is that everything in the world around you is a mystery. Children's and young adult detective fiction captures all of the excitement, suspense, and danger of growing up right on the page. In the 1920s, authors like Robert F. Schulkers kicked off a trend of cunning kid detectives that only picked up steam as time went on. With bravery, genius, and moxie, these kids and teens captured our hearts—and their suspects. So whether you're looking to rediscover old favorites or find a beloved classic for the young ones in your life, here are eight of the best classic mystery novels featuring kid sleuths.
Related: Pseudonyms and Secrets: The True Identities Behind 7 Mystery Writers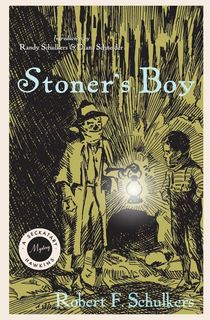 Stoner's Boy
If you're familiar with this series, it may be in part to To Kill a Mockingbird. This was a favorite of author Harper Lee, so much so that she references it prominently in her famous novel.
Related: 10 Forgotten Mystery Masterpieces
It seems that Mr. Stoner's son is following in his footsteps, growing into someone bad. Stoner's Boy causes all sorts of mischief up and down the river, masking up and dressing in gray like a ghost. It's not bad enough that young Seckatary Hawkins and his club have gotten on this wily thief's bad side, across the river Briggen and the Pelham gang doggedly pursue the treasure this ruthless thug took and hid away in a cave. But while no one has any luck taking down this impossible foe, newcomer and sharpshooter Robby Hood seems to make Stoner's Boy nervous.
Password to Larkspur Lane
There's no girl detective more famous than Nancy Drew. In fact, she may be the most enduring child detective in fiction.
When a wounded homing pigeon bears the strange message, "Blue bells will be singing horses," Nancy finds herself in the center of a dangerous case. There's an elderly woman being held prisoner in a mansion somewhere, and Nancy must figure out where so she can free her. But Nancy is forced to multitask when her friend, Helen, asks her to look into the mystery of an eerie blue wheel of fire that appears outside her grandparents home each night.
The Tower Treasure
Brought back into the common cultural sphere with the 2020 Hulu series adaptation, the Hardy boys were one of the first child sleuths to make their mark on detective fiction. In this novel, a criminal on his deathbed confesses that he's hidden away all of his loot in a tower. But as the two towers of a mansion are thoroughly searched, there's no sign of the treasure. With the Hardy boys on the case, a shocking discovery comes to light—a discovery which clears the name of a friend's father.
The Happy Hollisters on a River Trip
The crime-solving Hollister family is having a big fish contest at their sporting goods store, and all of Shoreham is bustling with excitement. When Pete reels in a large fish with a tag on its tail, the curious young detectives are thrown into another adventure. And when the kids' friend, Bobby Reed vanishes on a leaky old boat, the whole family dives into the search.
Seven Strange Clues
Judy Bolton is unique among kid sleuths for the fact that she actually ages over the course of her series. Of course, before she goes off and embraces the excitement of adulthood, she solves mysteries while attending high school.
As Girls' Farringdon High burns to ashes, Kay Vincent bops around singing the school song. But Kay's bizarre behavior is just one of the mysteries that pops up in the wake of the fire. Several people pin Honey as the prime suspect, but while Judy doesn't know her that well, she finds the theory hard to believe. Eager to find the truth, Judy swears to clear Honey's name.
Related: The 30 Best Female Detectives and Amateur Sleuths in Mystery Fiction
When Judy finds out she's the winner of the school poster contest, she's baffled. Her poster submission was one of many that went up in flames. But when she sets sights on the winner, it's not the one she submitted. Who is the real artist? And is it the same person who submitted it under her name?
Encyclopedia Brown, Boy Detective
While most of the other great reads on this list got their start in the first half of the 20th century, this classic series launched a little bit later in 1963. It's late start certainly didn't hurt the series, however, as young detective Leroy Brown is a staple for every young mystery reader's shelf.
In this collection of ten puzzling short stories, Encyclopedia Brown must unravel 10 exciting cases. A Civil War sword, a watermelon stabbing, missing roller skates, a trapeze artist's inheritance, and a blind eyewitness—is Brown's genius a match for these wild clues? To sleuth alongside him, all the answers can be found in the back of the book.
The Secret of Terror Castle
Originally published under the series title Alfred Hitchcock and the Three Investigators, junior detectives Jupiter Jones, Peter Crenshaw, and Bob Andrews solved cases skewed toward the paranormal with occasional support from the famous director himself.
In the first book of the series, the three young investigators stumble across a real haunted house—the residence of a deceased horror movie actor. They decide this would be a prime opportunity to generate some publicity for their new detective agency. However, when the boys arrive to spend the night at "Terror Castle," and eerie string of events informs them just how the house got its name.
By the Light of the Study Lamp
Why read about one girl sleuth when you can have two? Sisters Jean and Louise Dana receive an expensive study lamps from their Uncle Ned—a perfect addition for their room at Starhurst when they return for their sophomore year. However, before the girls leave for boarding school, the lamp is stolen... only to be found at a secondhand shop near Starhurst. When the girls buy the lamp back, they make an accidental enemy out of classmate Lettie Briggs, who had her own eye on the fixture.
But there are positives to their return to Starhurst—their friend Evelyn Starr has returned as well. Though Evelyn's family used to own the school, Evelyn and her brother now struggle with finances, making the tuition difficult. But the solution to easing Evelyn's worry about being able to stay may rest within the Dana's study lamp...