Have you ever finished a compelling cozy mystery, only to find that you're hungry for more? Perhaps a culinary cozy is just what you need to satiate your appetite for crime fiction. These breezy novels feature professional chefs and amateur foodies in the sleuthing role, and even have real recipes tucked within their pages.
With most readers spending extra time indoors due to the spread of COVID-19, culinary cozies are an especially germane reading option. We could all use a lighthearted distraction from the outside world—plus, it couldn't hurt to add some variety to your diet, especially if you're tired of recycling the same old recipes. If you're looking for a fun diversion, check out the following books. These culinary cozy mysteries are sure to intrigue—and the recipes within are sure to delight!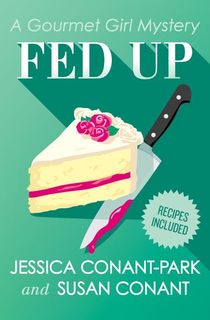 Fed Up
Mother-daughter writing duo Susan Conant and Jessica Conant-Park have whipped up yet another delicious read about Boston foodie Chloe Carter. Chloe's new chef boyfriend hits a milestone in his career when he's chosen to appear on a reality TV cooking competition. There, he'll surprise an unsuspecting grocery shopper with a free gourmet meal.
But when the lucky winner meets a most unsavory fate after chowing down on Josh's signature lamb chops and pesto gnocchi, it's up to Chloe to figure out who poisoned the dish. Was it a mean-spirited fellow competitor, a prankster gone too far, or worse—her own boyfriend? Bonus recipes include pumpkin stew, red snapper, and lamb chops—without the lethal main ingredient this time around.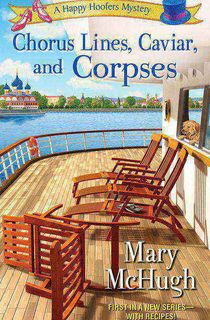 Chorus Lines, Caviar, and Corpses
A killer stalks the decks of a cruise ship in this delectable mystery that will keep you guessing. After a video of their tap-dancing routine goes viral, five lifelong friends in their fifties are invited to be the onboard entertainment for a Russian river cruise. But when the chef is murdered, the Happy Hoofers put their latest routine on pause to solve the mystery. The chef's food may have been sub-par, but he didn't deserve the chopping block! In addition to mouthwatering recipes, this book has travel tips and educational information for readers interested in Russian history and culture.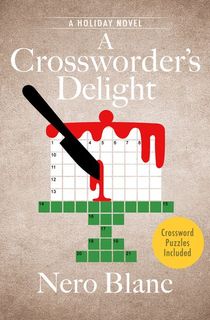 A Crossworder's Delight
Why wait until the Christmas season to bust out your nutmeg and cloves? Not only does this winter holiday tale share real dessert recipes, but key ingredients serve as clues to the interactive crossword puzzles that are included for download on your e-reader. Of course, the recipes and puzzles are all woven into a delightful mystery: when a priceless framed Longfellow poem disappears from the Paul Revere Inn, crossword editor Belle Graham and her husband, private investigator Rosco Polycrates, are on the case. A precocious 12-year-old guest joins their ranks to help them track down the poem's whereabouts before the thief can ruin the inn's annual Holiday Decoration Competition.
Hannah Swensen Mystery #21
Banana Cream Pie Murder
After a romantic honeymoon with her new husband, Hannah Swensen's bubble of marital bliss bursts upon her return to her hometown of Lake Eden, Minnesota. The baker-turned-sleuth at the center of this long-running culinary mystery series learns that her mother's neighbor has been murdered. Victoria Bascomb was active in the local theater community, but her diva antics earned her a troupe of enemies. Which of Victoria's rivals decided to off the competition? Hannah Swensen will crack the case—and she'll also share a dozen dessert recipes with readers, including the eponymous banana cream pie.
Related: Murder Most Delicious: Where to Begin with Bestselling Cozy Mystery Author Joanne Fluke
The Widows of Malabar Hill
This intriguing historical mystery is set in 1920s India, where Perveen Mistry, the daughter of a respected Zoroastrian family, is one of the nation's first female lawyers. Perveen is in charge of executing the will of Omar Farid, a wealthy Muslim mill owner. But she can't help but wonder why his three widows have elected to donate their entire inheritance to charity. They're forbidden from working, so how will they live?
Perveen's worst suspicions are confirmed when a murderer strikes, and she takes it upon herself to solve a lighthearted locked-room mystery anchored by compelling descriptions of twentieth-century Bombay. This deluxe edition includes recipes for dishes described in the story, an interview with the author, and more.
The Whole Enchilada
Diane Mott Davidson is "today's foremost practitioner of the culinary whodunit," and her latest entry in the New York Times bestselling series is to die for (Entertainment Weekly). It's business as usual for Goldy Schulz when she's hired to cater a birthday party—until one of the attendants keels over. At first, Goldy thinks her food is to blame. But when she investigates further and becomes the target of another attack, Goldy realizes that someone has murdered Holly—and they're willing to kill again to keep their secrets buried. Make sure to copy down the included recipes for enchilada suizas, grilled steaks, and more.
Related: 11 Hallmark Mystery Movies for a Night of Cozy Thrills
Culinary Mysteries Book #5
Blackberry Crumble
Most cozy mysteries gloss over the protagonist's improbable involvement in a number of murder mysteries. But in Blackberry Crumble, the main character's magnetism for danger is woven into the storyline. Cooking aficionado Sadie Hoffmiller has managed to keep her side gig as an amateur detective under wraps until now, but her cover has finally been blown—and the townspeople of Garrison, Colorado are none too happy. In fact, some of them believe her entanglement with homicides is more than coincidental, and suspect her of being a killer herself! Sadie heads out to Portland to clear her head and take on her first paid assignment: unraveling the mysterious and untimely death of a businessman who may have been hiding something from his family.
White House Chef Mystery #1
State of the Onion
This irresistible read includes recipes that are "fit for the leader of the free world" (Publishers Weekly). They say if you can't stand the heat, get out of the kitchen—but for White House Assistant Chef Olivia Paras, failure isn't an option. Not even when she's being threatened by a rival chef who's vying for the same coveted position, and certainly not when she stumbles into the path of a mysterious assassin with his sights set on the president. Olivia may not be as well equipped to protect herself as the Secret Service, but a frying pan still counts as a weapon, right?
Roast Mortem
The ninth installment in the "superb" New York Times bestselling series sees coffeehouse owner Clare Cosi investigating a serial arsonist (Library Journal). Cafes around New York City are being targeted, and firemen have been dying in the dangerous blazes. Sensing significance in the pattern of attacks, Clare stakes out the five boroughs with the help of her detective boyfriend. That is, until he's falsely accused of a crime himself and pulled into an internal investigation. Will Clare be able to catch the arsonist and clear her boyfriend's name? Or is there simply too much on her plate?
Key West Food Critic Mystery #9
A Deadly Feast
This scrumptious read will suit every cozy connoisseur's palate. Just a few days before Thanksgiving, Key West food critic Hayley Snow receives a frantic phone call from a friend. Analise Smith runs a seafood tour, and one of her clients has dropped dead. Between the police and the bad press, the incident is threatening to ruin Analise's dream career and livelihood. Confident her friend had nothing to do with the death, Hayley volunteers to step up and find the true killer, all while making it home in time for the holiday.
Related: Killer Feast: 13 Deadly and Delicious Thanksgiving Mysteries
Cupcake Bakery Mystery #9
Caramel Crush
Sweet revenge prevails in Jenn McKinlay's Caramel Crush, the ninth Cupcake Bakery Mystery. When Diane Earnest learns that her upcoming wedding is a sham, she hires Fairy Tale Cupcakes co-owner Mel to personally deliver a batch of breakup cupcakes to her soon-to-be-ex. Mel knew the confrontation would be dramatic, but she didn't expect the recipient to be dead upon arrival. Diane soon become the prime suspect in the man's murder, and it's up to Mel and her colleague Angie to prove her innocence.