An Englishwoman, Dame Agatha Christie, created the Low Countries' most celebrated detective, Hercule Poirot. The greatest crime writer from the region, Belgian, Georges Simenon, wrote about a policeman in Paris, while the internationally renowned Dutch writer, Robert van Gulik set his detective tales in Ancient China. But that doesn't mean there aren't great mysteries from both Belgium and the Netherlands to explore.
Crime Novels from Belgium and the Netherlands
Double-Barrell
Half English and half Dutch, Nicolas Freeling was a star chef in France who used the money he earned from his hugely successful crime series—it has twice been made into TV series in the UK—featuring eccentric Amsterdam policeman Piet Van de Valk to finance his restaurant business. This offering from 1964 sees the amiable Van der Valk traveling to the north of the Netherlands to try and discover who is behind a series of poison-pen letters. His investigation leads him to discover a man who may be a Nazi war criminal living in the nation's "dreariest town". Well-plotted, elegantly written, and filled with good jokes and observations, Double-Barrel is a small masterpiece.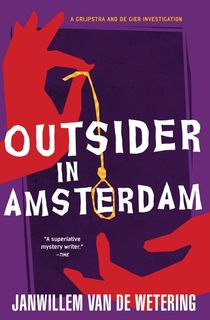 Outsider in Amsterdam
In the 1970s Amsterdam was generally regarded as the San Francisco of Europe—a magnate for hippies, flower children, and the counter-culture. The mood of the city at that time fills the work of Janwillem van de Wetering, a Zen Buddhist who spent a chunk of his life living in a commune in Maine.
Born in Rotterdam, van de Wetering wrote in English about two mismatched cops Detective Henk Gijpstra (middle-aged, happily married with a passion for gin and jazz) and Sergeant Rinus de Gier (younger, better looking with a passion for denim suits and women) who work for the Amsterdam Murder Brigade. They make their debut in this quirky, off-kilter escapade from 1975 which sees the pair investigating a death amongst the long-haired followers of an Eastern cult.
DeKok and the Geese of Death
Albert Cornelis Baanjter was working as a police sergeant in Amsterdam when he got his first crime novel featuring the kindly Amsterdam detective, Inspector Jurjen Dekok – whose precinct borders on Amsterdam's infamous Red Light District - published in the mid-60s. He'd soon be able to retire from the force and focus on writing full-time.
Though it does feature homicidal birds, DeKok and the Geese of Death (published in English in 2004) follows the tried and true Baantjer format—it's written in short, simple, laconic prose and fills around 140 pages—short enough to read at a sitting. There's nothing fancy about Baantjer's style, but DeKok is good company, and reading this tightly plotted page-turner will give you an idea of how the former cop sold over 6 million books during his lifetime.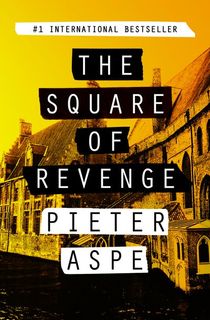 The Square of Revenge
Born in West Flanders, Pieter Aspe is sometimes called "The Flemish Simenon" (Georges Simenon came from the French-speaking part of Belgium). This 1995 mystery introduces readers to Detective Peter Van In of the Bruges police department. The crime he's called in to investigate is the robbery of a smart jewelry shop. The twist is that while nothing was stolen, many of the most precious pieces were dissolved in acid.
Soon Van and glamourous DA, Hannelore Martens are buried deep in a world of old wealth, family secrets and priceless artworks. Set against the backdrop of Bruges, one of Europe's most perfectly preserved medieval cities, The Square of Revenge is as rich and more-ish as Belgian chocolate.
Out of Print Classics—Keep An Eye Out!
The Mystery of the Moon
Willy Corsari (pseudonym of actor, composer and writer Wilhemina Angela Schmidt) is often called the Dutch Agatha Christie. Her classic whodunnits—beginning in 1927 with The Faultless Crime—were hugely popular in the Netherlands—where she sold around 200,000 books a year—and were translated into a dozen languages including English. The Mystery of the Moon appeared in 1934. It introduces Corsari's most celebrated character, Inspector Robert Lund, a Dutch homicide detective who is "even younger than he looks" and gets the job done not by brilliant ideas, but by following procedure.
The Man from France
Ivans (pen name of Jacob van Schevichaven) is the grandfather of Low Countries' detective fiction. The Man from France was his first novel. Published in 1917, it created an instant sensation on the Netherlands. The book is clearly modeled on Sherlock Holmes with a masterful English private eye, Geoffrey Gill paired up with a Dutch lawyer, Willy Hendriks, who fills the Dr. Watson role as narrator and bumbling sidekick. Ivans went on to write 48 more crime novels, many of them featuring the imperious Gill.
Six Men
Born in Liege, the home city of Georges Simeon, Steeman created Belgium's first great home-grown detective, Monsieur Wens—the nickname of the possibly Czech—Wenceslas Vorobeitchic. A former detective turned private eye, with bundles of charm, and an anti-authoritarian streak, Wens is tall slim and so fastidious about his clothes he makes Poirot look like Colombo.
In this, his first full-length mystery, Wens investigates the case of six men who make a pact to meet up in five years and share whatever money they have made. All well and good, but as the date for the meeting approaches the men start being murdered. Tightly plotted in the style of an English Golden Age Mystery, Steeman's novel is a first-class whodunit. Wens would appear in around ten more titles, investigating crimes in his homeland and across the border in France and featuring in half-a-dozen movies and several TV adaptations.