What's cozier than a fluffy bunny hopping around at Easter? These mysteries! There's more hidden this April than just some brightly colored eggs. Clues, secrets, bodies—take your pick! With these amateur sleuths on the case, we'll be back to relaxing and munching on Peeps in no time. Here are eight Easter cozy mysteries for your holiday reading pleasure.
Hippity Hoppity Homicide
Easter is just a week away, and Zoe Donovan's husband Zak has been kidnapped. The kidnapper challenges Zoe to The Sleuthing Game, where she must complete a series of challenges within an allotted time. If she wins, she gets her husband back. If she fails? Zak dies.
She'd hoped to leave her sleuthing behind now that she has a baby to take care of, but there's too much on the line to throw the towel in now.
Easter Buried Eggs
When Annie arrives at the Black Cat Cafe, the smell of burnt cake is just the first of many problems she's set for this Easter. On top of having to juggle a variety of holiday pastries, Annie stumbles across a body and what seems to be a robbery. As money vanishes from bank accounts, seniors have been snooping around out of the blue. With her therapy dog at her side, Annie sets out to help her new friends, one of which seems to be the prime suspect for the murder.
Easter Bonnet Murder
The Heritage House senior center is well known for its upbeat staff and yearly Easter Bonnet Contest. But when Miss Julia Tilley, the town's retired librarian, checks into the center to recover from pneumonia, her friend, local journalist and amateur sleuth Lucy Stone, gets pulled into something rotten. Last year's Bonnet winner, Agnes Neal, has gone missing. Will Lucy be able to solve this unexplained disappearance?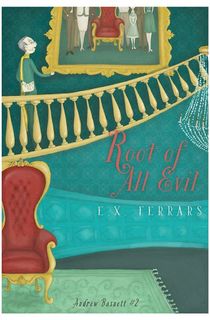 Root of All Evil
Andrew Basnett's cousin Felicity is the elderly and wealthy owner of a posh Berkshire estate. When he's invited to the estate for the Easter weekend, the botany professor soon becomes entangled in murder, diamond theft, and endless intrigue. He'll have to use his sharp mind to wade through his family's increasingly dark secrets.
Easter Hair Hunt
Hairstylist Marla Vail arrives at the historic Tremayne Manner to fix Bonnie "Blinky" Morris's hair for the Easter egg hunt. After, she's asked to do a quick look for any treats that have been left behind on the grounds. What she finds is a corpse in a bunny costume. Now with Blinky seemingly vanishing into thin air, Marla turns to her husband, homicide detective Dalton Vail, for help. Dalton is always happy to team up with his wife, but now that she's seven months pregnant, their investigative stakes seem higher.
Eggsecutive Orders
Chef Olivia Paras and her staff have prepared a lovely dinner for the White House. When Carl Minkis, a big shot at the NSA, drops dead after eating, the cooks are the top suspects. The Secret Service launches an intense investigation in the midst of preparations for the White House Lawn Easter Egg Roll, and Olivia scrambles to clear her name.
Death by Flamenco: An Easter Murder in Seville
Lana Hansen is tour guide who has finally gotten a group together for a trip to Spain. Setting off during Easter week, Lana also has a stop as a speaker at an acclaimed travel and tourism expo in Seville. As the clients in her group are all well-known travel bloggers and writers, she couldn't be more excited about the opportunity. But when travel writer and expo honoree Chet Rogers publicly humiliates her, the excitement fizzles out. Things only get worse when Chet is murdered during a workshop, and Lana becomes suspect number one.
Toxic Toffee
In New York finishing up her six-week shoot for her new TV show, Bailey's Amish Sweets, Bailey King receives a phone call from back home in Ohio. Easter is close at hand, and Bailey needs to hightail it back home to create a giant toffee bunny for the weeklong springtime festival featuring a horde of very real white rabbits. Back in Harvest, Bailey watches rabbit farmer Stephen Raber die of an apparent heart attack. When it turns out the cause of death was really a lethal dose of lily of the valley mixed into some toffee, she teams up with her sheriff boyfriend to solve the murder—and a decades-old secret.