If you're a cozy mystery lover who's looking for some new capers to get into, this may just be the list for you! These mysteries set in Amish communities are the perfect combination of small-town intrigue and wholesome, likable characters. From crime-solving chocolatiers to B&B-owning sleuths, here are 14 charmingly cozy Amish mystery books.
Related: Amish Romance Novels Are the Clean Romances You Need
Amish Candy Shop Mysteries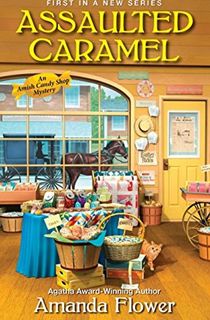 Assaulted Caramel
Bailey King first discovered her love for chocolate and other sweet treats at Swissmen Sweets, the Amish candy shop run by her grandparents back home in Harvest, Ohio. Now she's working as the assistant chocolatier at one of the most famous chocolate companies in New York and she's up for a promotion. But when she hears that her grandfather Jebidiah's heart condition has taken a turn for the worst, she rushes home.
When she arrives in Harvest, the family's troubles get much worse. The Englisch land developer who had been trying to take over Swissmen Sweets is found dead in the shop's kitchen—seemingly stabbed with Jebidiah's chocolate knife. The sheriff quickly focuses his suspicions on Bailey, and she sets out to clear her name and track down the real killer. Luckily, she has a handsome deputy to help her along the way.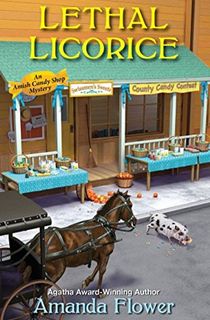 Lethal Licorice
Bailey is doing her best to settle into her new life running Swissmen Sweets, but she might be just a bit in over her head when she enters the annual Amish Confectionery Competition. Not only does she have to balance running the shop with perfecting her competition creations, but she also has to deal with a brewing rivalry. Josephine Weaver is another candy maker and feels very strongly that Bailey should not be allowed to compete since she left her Amish roots behind.
Everything gets more complicated when Bailey stumbles upon Josephine's dead body, the killer using her licorice allergy against her. Once again, Bailey finds herself on the suspect list, but this time she is also joined by Josephine's niece who is currently going through her rumspringa. Deputy Aiden Brody is on the case, but with suspicions growing and a killer on the loose, Bailey steps in to help solve the mystery.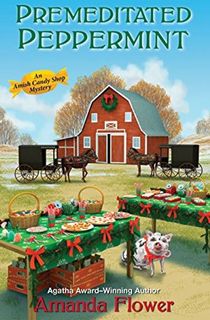 Premeditated Peppermint
It's Christmas in Harvest, Ohio, and Bailey is looking forward to making one of her favorite holiday treats which consists of a delicious blend of peppermint and molten white chocolate. She's also excited to enjoy some holiday romance with her new boyfriend, Aiden. But her Christmas spirit sours when her ex-boyfriend, celebrity chef Eric Sharp, walks into Swissmen Sweets. Eric has a TV crew in tow and wants to film an authentic Amish Christmas special.
Bailey doesn't want her home to become a TV spectacle, but that quickly becomes the least of her problems when Eric's producer is found strangled to death. Aiden is quick to suspect that Eric is the culprit and sets out to prove his guilt. But Eric insists that he's innocent, and enlists Bailey to help him find the real killer, though he may have some ulterior motives...
Toxic Toffee
Bailey has had an exhausting six weeks shooting her new TV show Bailey's Amish Sweets in New York, and she's excited to get back home to Harvest. She's been commissioned to create a giant toffee bunny for the upcoming springtime festival. But things take a dark turn when Stephen Raber, the local rabbit farmer, suddenly dies of an apparent heart attack right in front of Bailey. Though it turns out it wasn't a heart attack at all.
The toffee Stephen had been enjoying just before he died was laced with a lethal dose of lily of the valley. Why anyone would want to kill Stephen is a mystery. Bailey teams up with her boyfriend Aiden to track down a killer who seems determined to poison everyone's spring spirit.
Marshmallow Malice
It's been a busy summer for Bailey as she juggles her baking duties with being a bridesmaid. Her good friend Juliet Brody is set to marry Reverend Brook, and Bailey is making their cake. On one of the hottest days of the year, the ceremony comes to a grinding halt when a guest drops dead. Things get even worse when it turns out this mysterious visitor came prepared to share seedy details about Brook's past.
Now with her friend's fiancé at the top of the suspect list, Bailey sets out to clear his name. She and Aiden will need to piece together the clues before the killer strikes again.
Lemon Drop Dead
All of Harvest has turned out for Emily Keim's baby shower, meticulously planned by her boss Bailey. Emily has long been estranged from her family, but it's a pleasant surprise when her sister Esther Esh accepts her last-minute invitation. But Esther isn't the only surprise guest. During the shower, a mysterious woman confronts Emily about her other baby—the one she gave up for adoption when she was a teenager.
How did this woman know Emily's secret? Before Bailey can get any answers, she disappears, only to be found dead hours later on the floor of Esh Family Pretzels. The only evidence is a threatening note from Esther on the victim's body. Emily enlists Bailey to prove her sister's innocence by finding the real killer, and hopefully to find out what this mysterious woman knew about her long-lost baby.
Related: 9 "New Beginnings" Murder Mysteries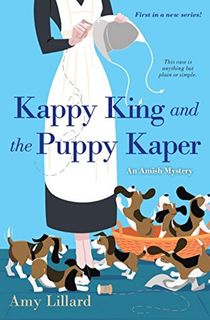 Kappy King and the Puppy Kaper
The Amish community of Blue Sky, Pennsylvania is rocked when kindhearted dog breeder Ruth Peachey is found dead in her yard. Most think it's a tragic accident until the Englisch police arrest her intellectually disabled son Jimmy for murder. Jimmy's sister Edie returns to town to clear her brother's name but finds that her former community has shunned her for leaving. Only Kathryn "Kappy" King, the unmarried but friendly kapp maker, is willing to help.
As Kappy searches for clues among her neighbors, a series of "accidents" start occurring around the Peachey's farm. It seems that someone doesn't want Edie searching for the truth. Now it's up to Kappy to catch a killer while Edie struggles to decide if she can have a home in the community she left behind.
Related: Nail Biting Mystery And Thriller Movies Where Animals Help Save The Day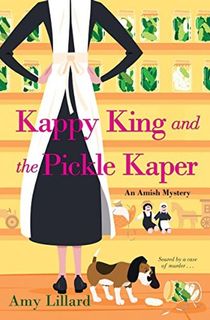 Kappy King and the Pickle Kaper
The Esh family is known for their delicious pickles which they deliver for miles around Blue Sky. They are struck by tragedy when young Sally June Esh is killed in an accident between her buggy and a car. Or was it an accident? It's a question Kappy has to consider when she notices signs that the buggy was deliberately run off the road.
To make matters more suspicious, Edie has started receiving mysterious texts that say the crash wasn't an accident. No one else in Blue Sky is willing to consider foul play, so Kappy and Edie take it upon themselves to investigate. It quickly becomes apparent that there are secrets everywhere, from the Eshe's long-time neighbors who have begun a pickle business of their own to Sally's brother who it turns out has been quietly courting an Englisch girl.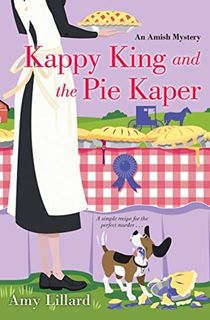 Kappy King and the Pie Kaper
Everyone in Blue Sky knows about the baking rivalry between bishop's wife Alma Miller and widow Frannie Lehman. But people worry that their friendly competition has taken a dark turn when an "accident" puts Alma in a coma and eventually kills her. Did Frannie kill Alma just so her boysenberry pie could finally win first prize? According to most, the answer is yes, and the community turns on Frannie and her children.
But Kappy and Edie aren't so quick to judge and go in search of the truth. Questions begin to pile up about the mysterious burglary of Alma's house and the piemaker who came to Blue Sky for the baking competition and stayed despite losing. As more and more secrets come to light, Kappy and Edie will have to race against time before the real killer can cook up more murder.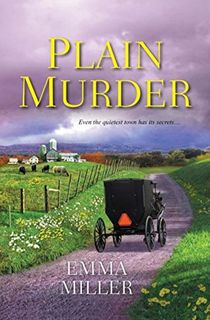 Plain Murder
When Rachel Mast returns to her hometown of Stone Mill, Pennsylvania, she has no intention of embracing the Amish lifestyle again, she just can't. However, she wants to help her old community in other ways, so she sets up a small B&B just outside of town. But this new chapter of her life takes a disturbing turn when a body is found buried in a shallow grave on her Uncle Aaron's farm. The body belongs to Willy O'Day, an Englischer businessman, and Aaron's well-known foe.
Related: 9 Fun and Quirky Whodunits by Female Mystery Authors
When Aaron refuses to hire a lawyer and her relatives refuse to speak to the police, Rachel takes the investigation into her own hands. She dons a skirt and bonnet for the first time in 15 years in order to find the truth and clear her uncle's name. But secrets run deep in Stone Mill, and discovering some of them may put Rachel's own life in danger.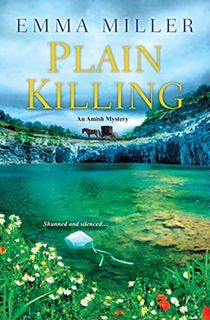 Plain Killing
Murder returns to Stone Mill when Rachel and her cousin Mary Aaron discover the fully clothed body of Beth Glick floating in the local quarry. Questions arise immediately. Beth was found dressed in traditional Amish attire, but she left Stone Mill and the Amish lifestyle a year ago. To make matters more troubling, three other girls who left Stone Mill have also suffered unknown fates.
Rachel's boyfriend, detective Evan Park, can't get anyone in the community to talk to him, so she steps in to use her connections to Stone Mill to find answers. Her sleuthing takes her far beyond Stone Mill to the French Quarter in New Orleans, Louisiana, where she discovers a dark secret that may mark her as a killer's next target.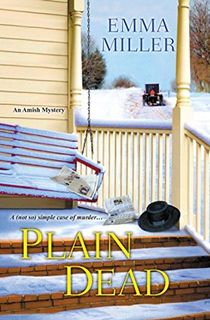 Plain Dead
The residents of Stone Mill make a grizzly discovery one morning when local reporter Bill Billingsly is found frozen to death, gagged, and tied to his front porch. In the early stages of his police investigation, Evan finds a collection of scandalous information about nearly everyone in Stone Mill that he intended to publish. Even Rachel wasn't safe from Bill's sleuthing, since the file contained a record of her pleading no contest to corporate misconduct charges.
Evan knows his girlfriend is innocent, but everyone in that file is a suspect now. Rachel takes it upon herself to track down the real culprit. As she digs deeper into Bill's file, she realizes everyone in town has their dark secrets, some they might be willing to kill to protect.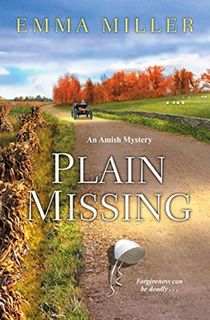 Plain Missing
After a night of the youth of Stone Mill singing, things take a dark turn. Elsie Hostetler and her boyfriend Dathan Bender seem to have disappeared into the night. Their horse and wagon are gone too, which leads many to believe that they have eloped to join the secular world. But Rachel fears something worse.
With Evan out of town, Rachel launches an investigation of her own. It seems that Elsie and Dathan's relationship was not as picture-perfect as it seemed, and on the night of their disappearance, they got into a confrontation with a standoffish ex-Marine. Rachel will have to uncover the sins of Stone Mill and track down the young couple before it's too late...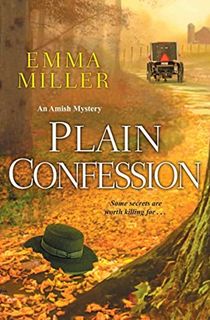 Plain Confession
Rachel had heard about Daniel Fisher's tragic death in a hunting accident, so when Evan tells her it may have been murder, she's shocked. The Fisher family, however, seems remarkably unfazed when they hear the news. Things get even more complicated and confusing when Daniel's brother-in-law Moses confesses to killing him. His mother immediately goes to Rachel claiming her son is innocent and begging her to clear his name.
But why would Moses give a false confession? As Rachel investigates, it becomes clear that Daniel had a long list of secrets and an even longer list of enemies. Meanwhile, she's supposed to be preparing for her upcoming wedding to Evan, but local gossips won't stop saying that Rachel's latest search for the truth is really just an excuse to avoid the marriage altogether.