British author G. K. Chesterton was a larger-than-life character whose fiction would inspire readers from Franz Kafka to Mahatma Ghandi. We take a look at the life and times of the creator of evergreen clerical sleuth Father Brown.
GK Chesterton's early life
Gilbert Keith Chesterton was a towering figure on the Edwardian Literary scene, quite literally. Six feet four inches tall and weighing in at a mighty 280 pounds, the author was so huge that when he died in 1932 his coffin was too big to fit down the staircase and had to be hoisted out of the window instead.
Chesterton's hunger for food and ale was matched by his appetite for work. During a career that spanned forty years, he produced 80 books, hundreds of poems, over 4,000 newspaper columns, and 200 short stories. Of the latter, 53 were devoted to his most treasured creation, one of the greatest detectives of any era, the mild-mannered yet hawk-eyed priest, Father Brown.
Born in the London borough of Kensington in 1874, Chesterton never intended to become a writer. Aspiring to be an artist and illustrator he attended the British capital's prestigious Slade College of Art. Throughout his career, he'd maintain a painterly eye for detail, for the precise composition of a scene. It is a characteristic shared by Father Brown—the ability to look at something and instantly see what is out of place, the clues that everything is not as it appears.
GK Chesterton's early career
Chesterton fell into writing through art criticism. Thanks to changes in the English education laws that made it compulsory for children to be schooled until they were fourteen, Edwardian England was filled with a new generation of avid readers. Hundreds of magazines and newspapers sprung up to service the thirst for material. The quest for what we'd now call "content" created golden opportunities for writers and Chesterton soon found his work with the pen far more in demand than his output with a paintbrush.
A witty phrasemaker with an ability to communicate complex ideas in terms that the man or woman in the street could understand, Chesterton was soon one of the most in-demand columnists in London. He became a famous figure on the city's literary scene, easily recognizable by his vast bulk, his eccentric dress sense (he always wore a cape and carried a swordstick), and the mass of unruly hair spilling out from beneath a battered hat. He was friends with Rudyard Kipling, H.G Wells, and George Bernard Shaw (though he didn't agree with either of the latter two politically), hung out with the philosopher Bertrand Russell, and shared a debating platform with celebrated US trial lawyer Clarence Darrow.
With the coming of radio, Chesterton became a popular broadcaster appearing weekly on the BBC delivering lectures on everything from the novels of Charles Dickens to architecture via perhaps his favorite topic, cheese, a foodstuff he felt unjustly neglected by writers ("Poets have been mysteriously silent on the subject of cheese").
Chesterton wrote two fantastical political novels, The Napoleon of Notting Hill and The Man Who Was Thursday, which would have a profound influence not only on the writing of Franz Kafka and JRR Tolkien but also on the political views of Irish freedom-fighter Michael Collins and Indian independence campaigner and civil rites advocate Mahatma Gandhi. Yet it was his attempt to mimic the success of Sir Arthur Conan Doyle's Sherlock Holmes stories that would create the giant author's most lasting legacy.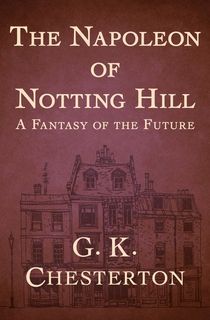 The Napoleon of Notting Hill
Creating Father Brown
Chesterton was a devout Christian who became a Roman Catholic in 1922 and his beliefs shaped his own detective, Father Brown (his first name is very rarely used and, on the rare occasions it is, lurches between Paul and Jonas). The priestly sleuth made his debut in 1910 in the short story "The Blue Cros"s. A tale of international thievery that features a character who would become a staple of the series, the French "Colossus of Crime" and master of disguise, Flambeau.
Related: 14 Charming British Mystery Shows for Your Binge-Watching Pleasure
Father Brown - based on an Irish priest John O'Connor who served at St. Cuthbert's Church in Bradford, Yorkshire - is the polar opposite of Conan Doyle's master investigator. While Holmes is a theatrical show-off, Brown is so meek and unassuming he blends into the background. Short and lumpy, with a face that is "as round and dull as a Norfolk dumpling", thick spectacles, and a large umbrella (carried even on the sunniest day), Brown is as clumsy as Holmes is bouncingly athletic.
But Brown's mind is as bright as his appearance is drab. He has a deep understanding of human nature and of the criminal mind. The latter comes from the hours spent listening to confession in his church in the fictional Essex village of Cubhole. As Father Brown explains, "A man who does next to nothing but hear men's real sins is not likely to unaware of human evil".
While other great detectives use logic, Brown is more intuitive, using his empathy for the sinner to place himself inside the head of the villain. He is aided, when it comes to the factual aspect of cases, by his parish secretary, the fierce and righteous Irishwoman, Mrs. McCarthy.
The priest's attitude to punishment is unique in crime fiction. Those criminals brave enough to confess their crimes are as likely to find Father Brown giving them penance and the promise of forgiveness as being turned over to the police. The criminal Flambeau ends up as a private detective after Father Brown has convinced him of the evils of villainy and offered him the chance of a fresh start.
Fifty of the Father Brown stories would be published in magazines and periodicals during Chesterton's lifetime and another two after his death. They would be published in book form in five collections: The Innocence of Father Brown (1911), The Incredulity of Father Brown (1926), The Secret of Father Brown (1927), and The Scandal of Father Brown (1935).
Related: 13 Detective Series Books to Jumpstart Your Next Obsession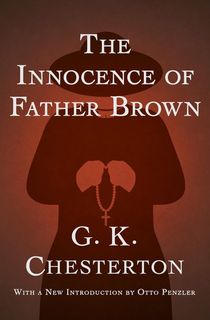 The Innocence of Father Brown
The Incredulity of Father Brown
The Secret of Father Brown
The Scandal of Father Brown
GK Chesterton's later years
As he grew older, Chesterton would become rather sniffy about his detective, blustering that the stories were written simply to make money and were littered with silly mistakes. While the quality of the plots certainly falls away later in the series as the author runs short of inspiration, the writing and characterization is always amusing and sharp as a pin.
Related: 10 Must-Watch Crime Shows to Binge This Mystery Month on BritBox
The mystery-loving public has never shared Chesterton's negative view of his amiable, bumbling priest. Father Brown remains, justifiably, one of the world's most popular fictional detectives—a staple of bookshelves and TV screens across the globe.