English mystery writer Dorothy L. Sayers was an only child and, like most only children, learned quickly how to amuse herself with her own imagination. The availability of free time was sparse in the Sayers household though as her father, a reverend, made it his mission to give Dorothy an excellent education. At the young age of six, when other children were catching frogs and nursing skinned knees, Dorothy was learning Latin. Once her father felt as though she'd learned all she could from him, she was sent off to continue her education in boarding school, and then, later, received her degree from Somerville College in Oxford, alma mater to other whip smart women such as Margaret Thatcher and Indira Gandhi.
Related: Thrilling New Releases by Female Mystery Authors That You Need to Read
While at Oxford, Dorothy studied language and literature and it's said that her experience there inspired her 1935 novel, Gaudy Night. In the novel the main character, Harriet Vane, grapples with a vintage form of imposter syndrome and questions whether her work as a mystery writer will ever qualify as true literature. It's clear to see what Dorothy herself was struggling with here. It's also clear to see, based on her lasting success, that she proved herself wrong.
One of Dorothy's most gripping mystery books, Strong Poison, which was published in 1930, years before she publicly questioned her validity as a writer in Gaudy Night, was reviewed by Barzun and Taylor for their Catalogue of Crime. In their review they called Strong Poison the "highest among the masterpieces," and "sheer genius."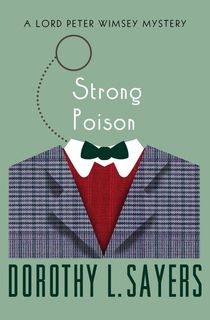 Strong Poison
Harriet Vane may face the hangman for the murder of her fiancé—and only Lord Peter Wimsey can save her—in this "model detective story" (The New York Times).
Lord Peter Wimsey comes to the trial of Harriet Vane for a glimpse at one of the most engaging murder cases London has seen in years. Unfortunately for the detective, the crime's details are distractingly salacious, and there is little doubt that the woman will be found guilty. A slightly popular mystery novelist, she stands accused of poisoning her fiancé, a literary author and well-known advocate of free love. Over the course of a few weeks, she bought strychnine, prussic acid, and arsenic, and when her lover died the police found enough poison in his veins to kill a horse. But as Lord Peter watches Harriet in the dock, he begins to doubt her guilt—and to fall in love.
As Harriet awaits the hangman, Lord Peter races to prove her innocence, hoping that for the first time in his life, love will triumph over death.
As much as Dorothy went back and forth on her true feelings towards the genre she made such an indelible name for herself in, her dozens of novels, short stories, and plays have cemented her as a mystery matriarch. When the writer passed away on December 17, 1957 Sayers, who was a dear friend of C. S. Lewis and J. R. R. Tolkien, was commemorated with a heartfelt, but simple, plaque near the home she lived in between 1921 and 1929.
In a eulogy written for his friend after her passing, C.S. Lewis said "The variety of Dorothy Sayers's work makes it almost impossible to find anyone who can deal properly with it all ... I certainly can't."
Keep Reading: Talking Poisons with Dr. Neil Bradbury