You would never guess that Donna Leon was a Jersey girl. Born in Montclair, the award-winning author went on to live 30-years of her extremely successful life in Venice, Italy, and that experience had an indelible effect on her work. A prolific crime writer who now resides in Switzerland, Venice remains in her heart, and is the setting for a good number of her books. Through a Glass, Darkly, which we're highlighting here as our first Hidden Gems selection, follows Commissario Brunetti as he investigates a case in Murano, a scenic watery wonderland located in Northern Italy.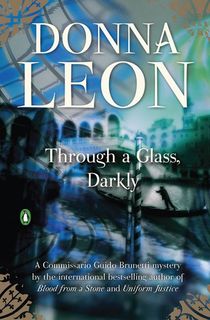 Through a Glass, Darkly
A New York Times–bestselling series: A murder mystery set on Italy's secretive island of Murano, renowned for its world-famous glass.
On a luminous spring day in Venice, Commissario Brunetti and his assistant play hooky from work to help a friend, Marco Ribetti, arrested during an environmental protest. They secure his release, only to be faced by the fury of the man's father-in-law, Giovanni De Cal, a cantankerous glass factory owner who has been heard in the bars of Murano making violent threats about Ribetti.
Brunetti's curiosity is piqued, and he finds himself drawn to Murano to investigate. Is De Cal the type of man to carry out his threats? Then one morning the body of De Cal's night watchman is found. Over long lunches, on secret boat rides, in quiet bars, and down narrow streets, Brunetti searches for the killer . . .
In a 2006 review of Through a Glass, Darkly for Independent, writer Barry Forshaw says "What's her secret? While other writers of detective series show signs of exhaustion (usually manifested by the detectives falling prey to a series of tics and character flaws, endlessly repeated), Donna Leon appears to have the knack of keeping her Venice-set Commissario Brunetti books as fresh as paint." Publishers Weekly piggybacked the praise in their own review saying "Every character, every line of dialogue, every descriptive passage rings true in a whodunit that's also travel essay, political commentary and existential monologue."
If you're looking for a sharp as a tack crime book that will leave you winded, as though you'd just chased down a criminal in the streets of Italy yourself, Leon's Through a Glass, Darkly is it.