Donna Leon's gripping Commissario Brunetti mystery series transports readers to Venice, Italy where intrigue courses through the narrow streets of the medieval City of Water. Now 32 installments in, Leon's bestselling and award-winning mystery series shows no signs of letting up.
Leon was born and raised in New Jersey but lived in Venice for over 30 years. She now resides in Switzerland. Each Commissario Brunetti mystery masterfully captures a facet of Venetian life–from the daily bustle along the city's canals to the hushed grandeur of the historic La Fenice opera house. Interestingly, Leon's books have been translated into a number of languages, but she made sure that Italian wasn't one of them. While living in Italy, Leon didn't want to be stopped on the street by local fans so she refused to print in their native language.
With the recent release of So You Shall Reap, Leon's latest Brunetti mystery, we rounded up the best Donna Leon books for your thrilling reading pleasure. Whether you're new to Leon's enigmatic world or well-acquainted with its many twists and turns, the following Donna Leon books are sure to leave you breathless.
So You Shall Reap
Late on a cold November night, Guido Brunetti and Paola receive a call from Ispettore Vianello to inform them that a hand has been found in one of the Venetian canals. Not long after, the rest of the body turns up, and is identified as an undocumented Sri Lankan immigrant. Brunetti is assigned to investigate the murder, but because there are no official records of the Sri Lankan man's presence in Venice, Brunetti is forced to rely on gossip and memories from people who knew the victim.
Brunetti discovers the man had been living on the grounds of a palazzo owned by a university professor, and that he had taken up a special interest in Buddhism, the revolutionary Tamil Tigers, and the talian political terrorists of the 1980s. As more seemingly random clues come together, Brunetti is reminded of his own student days, and the accidents along the way that lead to larger revelations.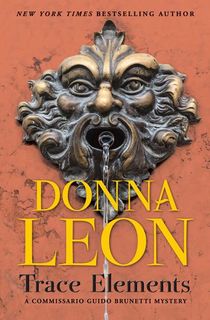 Trace Elements
"Few detective writers create so vivid, inclusive, and convincing a narrative" as the bestselling and multiple award-winning author Donna Leon (Washington Post). Trace Elements is the 29th installment in Leon's atmospheric Venetian mystery series featuring Commissario Guido Brunetti and is the latest and greatest from a writer at the top of her form.
A woman has been brought to a hospice to die in relative comfort, but she won't rest until she tells Commissario Brunetti about what really happened to her husband. The man was believed to have died in a freak accident, but his wife claims he was murdered over "bad money." It turns out the man collected contamination samples for a company in charge of testing the region's water supply. Brunetti must get to the bottom of the mystery, and quickly—the health of all of Venice is at stake.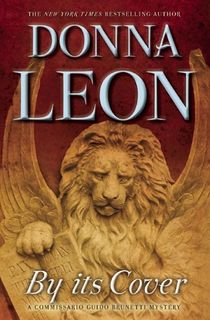 By its Cover
This celebrated Commissario Brunetti mystery, the 23rd in Leon's series, was a Seattle Times Best Mystery and Crime Novel of the Year. A literary mystery is afoot at an esteemed Venetian library. It seems someone has stolen pages out of several valuable books. At first, the suspect is clear: an American professor recently requested the volumes and then fled. After looking into his credentials, it seems his identity was all a lie. But the case takes a bloody turn when a well-known patron of the library turns up murdered, and Brunetti must question what makes a man innocent or guilty.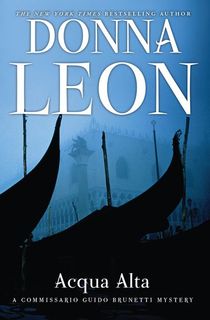 Acqua Alta
Acqua Alta heightens the stakes of a traditional Brunetti investigation–while he looks into the brutal beating of an art historian, Venetian waters are reaching threatening heights, leading to intense floods. As the investigation develops, Brunetti is thrown into the world of stolen art, copycats, and the dark side of Venice. This fifth entry in the series is often praised as Brunetti's best outing.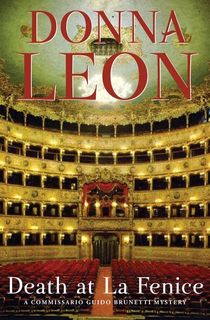 Death at La Fenice
The first novel in the Commissario Brunetti series, Death at La Fenice takes center stage at the Italian opera. During the intermission of a performance, the show's German conductor is poisoned. As the conductor had a bit of a reputation, Brunetti has a multitude of suspects with an array of motives to investigate.
In order to understand all the politics that go along with selecting a conductor for the opera, Brunetti must dive deep into Venetian history. Leon takes her readers on a journey in each of her books; her debut makes her proclivity for history and atmosphere clear.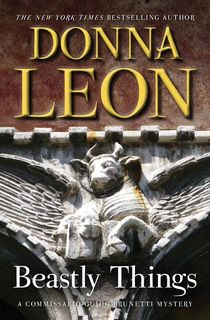 Beastly Things
Commissario Brunetti searches for the truth behind a beloved veterinarian's death in this "swiftly paced" mystery (Seattle Times). A body surfaces in the canals of Venice. Severely damaged by the tides, the body carries no wallet and wears only one shoe. An autopsy reveals that the victim suffered from a rare disease, eventually pointing investigators to the victim's identity: a Venetian veterinarian. Now Brunetti if forced to travel far beyond his beat to uncover the connection between the dead man and a local slaughterhouse.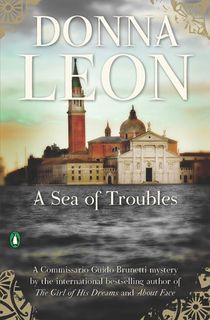 A Sea of Troubles
When a docked boat explodes on an island just off of Venice and kills two people, Brunetti is called to investigate. Brunetti's forbidden flirtation with a co-worker whose family lives in the area of the investigation causes him to question his marriage, making this edition in the Brunetti series the most scandalous yet. Brunetti's image as a hardworking family man is shattered in this novel, and you'll keep turning the pages to find out if he acts on his desires or if he can rebuild his reputation.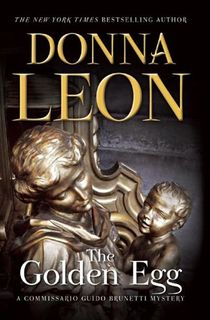 The Golden Egg
Brunetti opens up an investigation per the request of his wife, Paola. This time, the victim is a mentally disabled man without any form of official identification. An influential and well-known aristocratic family might be involved, but trying to punish the rich comes with its own challenges. Leon explores the unchecked power of the wealthy class in many of her novels, but the victim's disabilities heighten this tension.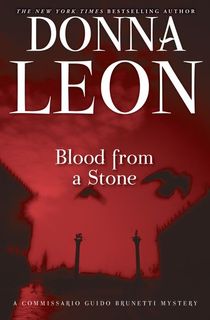 Blood from a Stone
This "stunning" Brunetti mystery with an "engrossing, complex plot" centers on the murder of an immigrant on the streets of Venice (Publishers Weekly, starred review). A scuffle turns deadly when a vendor selling knockoff handbags is killed outside a holiday market. The victim was a member of Venice's African immigrant community. As Brunetti enters into this tight-knit world, he uncovers a secretive society where matters of great value are at stake.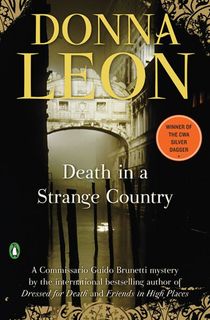 Death in a Strange Country
In the second novel in the Brunetti series, the commissario is looking into the death of an American military veteran who is found in one of the canals. The investigation involves a possible toxic waste disposal plan that crosses national lines and implicates the United States. The novel is Leon's entrance into the world of eco-detective themes that continues throughout the rest of the series.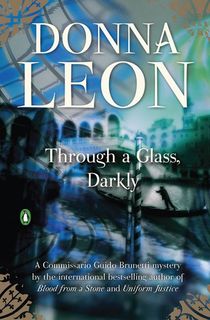 Through a Glass, Darkly
Family loyalties are tested in the 15th novel in Leon's series. Readers are transported to the famed island of Murano, known for glass-blowing and one of the most popular tourist destinations around Venice. A body is discovered on the isolated island which is only accessible by small boat: The killer clearly premeditated their attack.
The beauty of the blown glass is juxtaposed with the gruesome murder scene–a factory worker has been burned to death next to an annotated copy of Dante's Inferno. Readers will discover how dominating families have controlled the Venetian glass industry for centuries, leading to egos big enough to justify murder.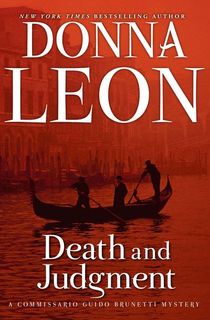 Death and Judgment
Brunetti dives into his "most difficult and politically sensitive case to date" in this early entry to Leon's series (Booklist). A truck crashes in the Italian Dolomites and spills its dangerous cargo onto the road. Meanwhile, in the seaside village of Santa Lucia, a prominent lawyer turns up dead. Brunetti senses a connection and soon finds himself inside a squalid Venetian bar that may hold the key to the growing mystery.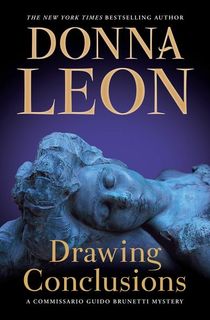 Drawing Conclusions
Booklist hailed Drawing Conclusions as "one of [Leon's] best" Brunetti mysteries in its starred review of the book. A widow turns up dead in her modest Venice apartment. The medical examiner rules that the victim died naturally of a heart attack—this despite the fact that the apartment shows signs of struggle. Did someone threaten the victim and trigger the heart attack? With the help of Inspector Vianello and Signorina Elettra, Brunetti is determined to get to the truth.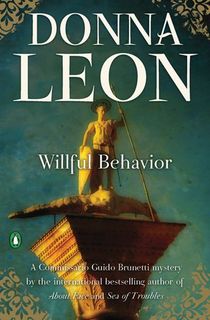 Willful Behavior
Willful Behavior is rather distinct from other books in the Brunetti series, as the woman who seeks his help soon becomes a victim herself. Brunetti is initially hired to exonerate a man from a crime committed decades before, but it soon turns into a new homicide investigation.
The novel also leaves the confines of the Venetian canals and enters the art scene in Austria, a true rarity for a Commissario Brunetti book. When the art there is linked to an old Nazi plot, Brunetti must find the killer before more people turn up dead. This fast-paced read builds up suspense at every chapter–the closer Brunetti gets to the truth, the more brutal the killer becomes.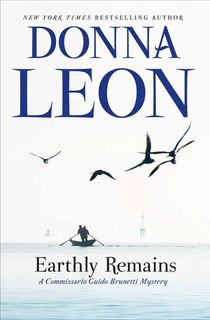 Earthly Remains
The 26th Brunetti mystery finds the good Commissario burned out and in need of a vacation. So he and his wife set out to Sant'Erasmo, an island due east of Venice in the Venetian Lagoon. At first, all is placid. But when an unexpected storm sweeps across the area and a local beekeeper disappears, Brunetti must let go of his vacation plans and track down the missing man.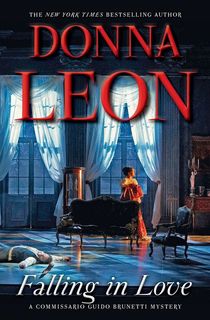 Falling in Love
An obsessive fan torments a famed opera singer in this "stunning" Brunetti mystery (Library Journal, starred review). Flavia Petrelli is back in Venice; the soprano is set to sing the lead in Tosca at the La Fenice opera house. Brunetti and his wife, Paola, attend a performance; years ago, Brunetti cleared Petrelli's name in the murder of a well-known conductor. Flavia's performance is rapturously received. Yet it seems one obsessive fan is far too enthusiastic, blanketing Flavia's dressing room in yellow roses. When another singer is brutally assaulted, Brunetti realizes the obsessed fan has taken a turn for the dangerous.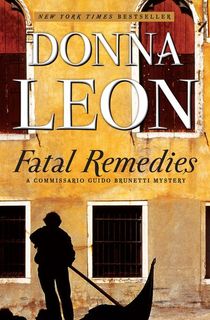 Fatal Remedies
This novel opens up with Brunetti bailing his wife out from jail for vandalism. Understanding her motives ends up being key to a robbery and murder that initially seemed completely unrelated. Fatal Remedies incorporates a group that American readers know all too well: the Mafia. The lines between personal and professional lives are blurred in this story, and Brunetti's marital difficulties are once again at the forefront.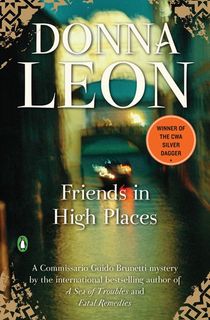 Friends in High Places
Leon's ninth Brunetti novel received the Crime Writers' Association Silver Dagger in 2000. Just as Brunetti is about to be evicted by an influential bureaucrat, the man's body is found hanging from a tall scaffold. Once again, Leon takes on corruption and classism, as Brunetti must discover what's behind both the man's murder and his threatened eviction.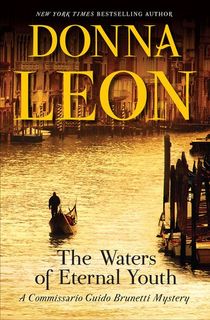 The Waters of Eternal Youth
"Leon brilliantly exposes the corrupt world of Venice" in her 25th Brunetti mystery (Bay Area Reporter). An aristocratic woman approaches Brunetti with an emotionally charged request: investigate the fifteen-year-old attempted drowning of her granddaughter, an act that left the girl permanently brain damaged. Reluctantly, Brunetti agrees—after all, the patrician is his mother-in-law's best friend. As Brunetti investigates, however, he uncovers a deeply troubling case that taps into the violence and danger flowing through modern Venice.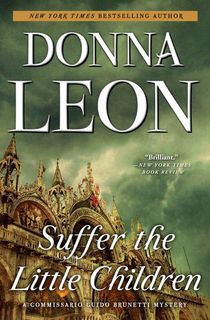 Suffer the Little Children
When a child is kidnapped, Brunetti finds himself in a situation with higher stakes than ever in this installment of the Commissario Brunetti series. Brunetti investigates an attack on a well-known pediatrician whose son was taken after the violence ended. Leon explores the world of infertility and secret adoptions. Despite its terrifying subject matter, Suffer the Little Children begins with a hilarious conversation between Brunetti and a witness who cannot focus on telling a story without breaking off into 10 unrelated tales. We all know those people, and it's a thankfully light way to begin such a dark book.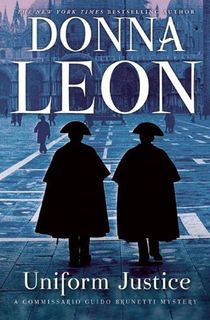 Uniform Justice
Brunetti is brought in to Venice's elite military academy after it has closed its ranks due to a suicide. A young student is found hanging from the ceiling of one of the school's bathrooms, and Brunetti finds himself more affected than usual since the student was the same age as his own son. As Brunetti investigates, he's met with silence and hostility—the academy is too concerned on keeping up appearances and maintaining its prestigious reputation to offer any aid. With the help of Signorina Elettra and his dependable wife Paola, Brunetti tackles the Italian justice system and is determined to prove that the young man was actually murdered.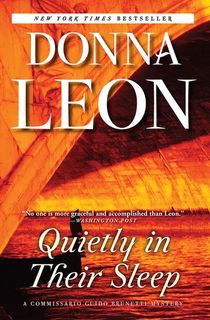 Quietly in Their Sleep
When the young Maria Testa arrives at Brunetti's office, he can't seem to recognize her...but knows she's familiar. It is revealed that the young woman was once a Catholic nun who has left her convent and the nursing home it ran after some patients began to turn up dead. She believes the deaths may have been related to the patients' fortunes being left to the church instead of their heirs, and implores Brunetti to investigate. Maria leads him into an investigation involving the secretive church organization known as Opus Dei and a very public scandal involving a local priest. As Brunetti is left without any proof of a crime being committed, he begins to question whether this was all a scheme to justify her abandonment or if there is something really sinister happening. And when Maria suffers an accident, Brunetti decides to look closer into her allegations and get to the bottom of it.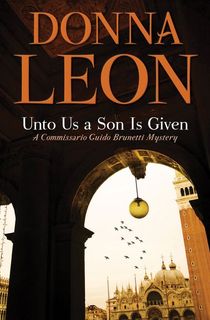 Unto Us a Son Is Given
Released in 2019, Leon's 28th Brunetti mystery was a Los Angeles Times bestseller and a Booklist Best Crime Novel of the Year. The wealthy Gonzalo Rodriguez de Tejeda intends to adopt a younger man as his son, thus making the young man the sole heir to Gonzalo's vast fortune. Count Falier, Brunetti's father-in-law and a close friend of Gonzalo's, is appalled by the decision. He begs Brunetti to intercede. Brunetti is baffled but agrees to look into it. Soon after meeting Gonzalo, however, the elderly man drops dead. Then one of Gonzalo's closest confidantes is strangled in her hotel room. Clearly, murder is afoot in Venice, and Brunetti must untangle the intricate mysteries of Gonzalo's life if he hopes to find the murderer.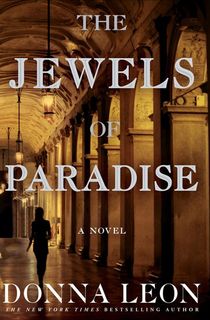 The Jewels of Paradise
We all love Brunetti—but sometimes the good Commissario needs a break. Jewels of Paradise, Leon's first standalone mystery novel, introduces us to Caterina Pellegrini. The Venetian native had left behind her hometown in pursuit of a doctorate in baroque opera. Now, she's back, and given a perplexing job. Two ancient locked trunks are discovered, believed to contain the papers of a revered baroque composer. Two Venetians, descendants of the composer, each claim ownership over the trunks. Pellegrini, tasked with getting to the bottom of the trunks, must sort through the past if she hopes to make sense of the present. Yet when her research takes her in an unexpected direction, she begins to wonder just what secrets lie within. Richly detailed and masterfully told, Leon "weaves present-day Venice into a 300-year-old puzzle in this engaging stand-alone," condensing the many "charms of Venice into a smart whodunit" (Kirkus Reviews).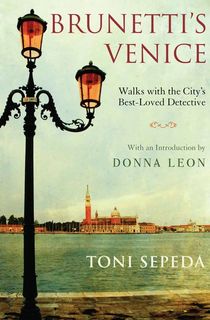 Brunetti's Venice
For sure, this is not a Donna Leon mystery. It is, however, the perfect companion for Brunetti aficionados and "a splendid present for mystery-fiction fans [or] travel-lit buffs" (The Wall Street Journal). Toni Sepeda invites you on over a dozen different Brunetti-themed walking tours of Venice in this charming guide, retracing the Commissario's footsteps and highlighting the many churches, markets, bars, cafes, and palazzos that appear in Leon's beloved mysteries.
Hungry for more? Check out Brunetti's Cookbook by Roberta Pianaro, a cookbook that serves up many of the delicious Venetian meals enjoyed by Brunetti!
This post is sponsored by Open Road Media. Thank you for supporting our partners, who make it possible for Murder & Mayhem to continue publishing the mystery stories you love.