Few places capture the heart of a mystery like Ireland. With lush but rugged landscapes and complicated history, it immediately evokes a haunting, ethereal, and sometimes melancholic aura. And the fierce pride of Irish people gives a natural vibrance to the characters on the page. It's no wonder that Irish mystery writers would create evocative mysteries that capture the essence of the Irish experience from gritty and raw to whimsical and funny.
As everyone leans into their Irish roots this St. Patrick's Day, we wanted to highlight nine Irish mystery writers that every mystery fan should read.
Declan Hughes
The Wrong Kind of Blood
A clever play on words in an homage to Sam Spade of The Maltese Falcon, the loy in Ed Loy—Hughes' longest mystery series—refers to the traditional Irish spade. Hughes began as a playwright, co-founding the Rough Magic Theater Company in 1984. Over the years, he has been the Writer-in-Residence at the Abbey Theater and an Irish Writer Fellow at Trinity College. Through the lens of a private investigator returning to Dublin after years in America Hughes transports readers into the darker underbelly of the city with deft storytelling and a steady hand. His novels are raw, intimate, and extremely satisfying.
Zara Keane
Dial P for Posion
Zara Keane grew up in Dublin, but she spent her childhood summers in a small town similar to her fictional Whisper Island. She channeled that experience into the Movie Mystery Club cozy mystery series. Set in a renovated movie theater, the series is a delightful romp through the Wild West of Ireland. The cozy mystery vibes work well in the small town, offering the reader a light view into modern Irish life.
Jess Kidd
Himself
Though she was raised in a large family in London, Jess Kidd's County Mayo Irish roots were never entirely cut off. Her many visits and family ties helped create her debut novel, Himself, in 2017. Kidd blends the line between fantasy and mystery, with touches of the supernatural blending the enchanted and the real. With a unique writing voice, her mysteries are steeped in magic, humor, and a dash of Ireland in various forms.
Stuart Neville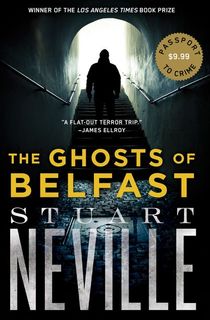 The Ghosts of Belfast
Born and raised in Northern Ireland, Neville smashed onto the mystery scene in 2009 with his debut, The Ghosts of Belfast. Since then, he's written ten novels, two under the pen name Haylen Beck, along with a litany of short stories in various magazines and anthologies. His narratives capture the politics, turmoil, struggles, and history between Ireland and Northern Ireland through the lens of gripping crime mysteries.
Tana French
In the Woods
Though she was born in Vermont, Irish American Tana French has worked and lived in Dublin since 1990. Her Dublin Murder Squad series follows Irish detectives Rob Ryan and Cassie Maddox as they investigate various crimes around Dublin after the Celtic Tiger collapse. It offers insight into the everyday turmoil the collapse caused and her use of different detectives throughout the series creates an added element of mystery as the reader has to discover who the detective is alongside the murderer. They're addictive, garnering a cult following. Her novels have won multiple awards and she was crowned the First Lady of Irish Crime by The Independent in 2012.
John Connolly
Every Dead Thing
John Connolly began his writing career as a freelance journalist for The Irish Times, drafting his first novel, Every Dead Thing, in his spare time. Since his debut, Connolly has been a prolific writer publishing over twenty novels in that initial Charlie Parker series, two additional trilogies, several standalone novels, and myriad short stories. His books vary between embracing supernatural elements and displaying harsh, gritty reality, giving the reader the chance to experience different types of stories and storytelling depending on which book or series they pick up.
Gemma O'Connor
Walking on Water
Before writing, Gemma O'Connor worked as a bookbinder, stewardess, and restauranteur. Born in Dublin in 1940, her first short story wasn't published until 1995. Since then she's written six novels and various short stories. When set in Ireland, O'Connor captures the beauty of the island through lush prose that wraps you in the heart of the mystery at hand. Her novel Walking on Water is proof of that. Regardless of the time or place, O'Connor writes stories that keep readers turning the pages to find out what happens next.
Lisa Mclnerney
The Glorious Heresies
Catholicism has a long, complicated, and tangled history with the Irish. And Lisa McInerney dove into the heart of these religious ties in her stunning debut, The Glorious Heresies. Her books dance across genres but retain fascinating mysteries at the heart of each. They're mired in the human condition, where shame, desire, and salvation fight for dominance in a world that demands attitudes towards sex and family modernize—whether they want to or not. With cracking prose that transports and characters that feel as real as your neighbors, McInerney's novels are an unforgettable experience
The Guards
After spending twenty-five years around the globe, Ken Bruen became a prolific and award-winning writer. He's published dozens of novels with multiple adaptions brought to the big screen. He writes flawed but relatable characters that you can't help but like. His longest series, starting with The Guards, is set in Galway, where he was born and currently lives. Focusing on social change and political struggles, including the decline of the Catholic Church's control, his books highlight the social inequality that still runs deep through Ireland.