Italy is known far and wide for its incredible scenery, unmatched art, and delicious food. But there's a darker side to this celebrated country. From mafia dealings to sick kidnappings, the crime world of Italy is like no other. Good thing the detectives in these novels are the sharpest around. Here are seven Italian mystery and thriller novels that'll have you clutching your wine glass.
The Shape of Water
The first book in the Inspector Montalbano series, this tale centers on the titular character, Salvo Montalbano. In the fictional town of Vigàta, hotshot Silvio Lupanello is found dead in his car. To make matters worse, he's found with his pants around his knees—in a neighborhood known for sex workers and drug dealers. Rumors run rampant as Montalbano takes on the case. With a healthy mix of compassion and humor, this respectable detective pushes back against the corrupt individuals standing in the way of the truth.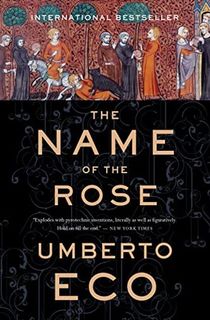 The Name of the Rose
In 1327, Benedictines in a well-off Italian abbey are accused of heresy. Brother Willian of Baskerville takes on the delicate investigation, but seven strange deaths soon take precedence. As a detective, Brother William's best tools are the logic of Aristotle, the theology of Aquinas, and the empirical insights of Roger Bacon. Armed with his insatiable curiosity, Brother William sets out to gather evidence and untangle dangerous secrets.
Kill the Father
A woman is beheaded in a park outside Rome. Her six-year-old son is missing. To the police, it seems clear: they arrest the husband and bide their time until his confession. However, the chief of Rome's major crimes unit isn't entirely sold.
Two brilliant minds are brought onto the case. Deputy Captain Colomba Caselli is still struggling to get back to normal after a bloody catastrophe. Dante Torre spent his childhood locked away in a concrete silo, cared for by a masked man called "the Father." The evidence suggests that the Father is back after decades of hiding, but as Colomba and Dante look closer, they uncover something far darker.
River of Shadows
As heavy rainfall overwhelms the Po Valley, the river swells over. A barge breaks loose to drift haphazardly downstream, and when it finally meets land, its experienced pilot is nowhere to be found. The next day, an old man with the same surname falls out of a hospital window. Commissario Soneri can't help but think the instances are linked.
A Florentine Death
Chief Superintendent Michele Ferrara is called upon to investigate a series of brutal and seemingly random murders in Florence. Distrusted by his superiors and ridiculed by the press, Ferrara's investigation doesn't run smoothly. Are the threatening letters he's received somehow connected to the killings? Is the Calabrian Mafia involved? And will he be able to answer all these haunting questions before time runs out?
Involuntary Witness
When a nine-year-old boy is found dead at the bottom of a well near a thriving beach resort, a Senegalese peddler is accused of his murder. For Guido Guerrieri, counsel for the defense, the case seems hopeless. Though racism is tightly woven into the case, Guido sets out to use the complicated nature of Italian courts to his advantage.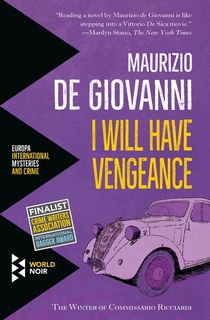 I Will Have Vengeance
This Italian mystery brings in exciting elements of the paranormal. Commissario Ricciardi has visions of the final moments of victims of violent deaths. As a homicide detective on the Naples police front, this power has been a gift. But as the horror of what he sees drives him to drink and isolate himself, this ability is also a curse.
In March of 1931, Maestro Arnaldo Vezzi—the world's most gifted tenor—is murdered in his dressing room. Unfortunately, Vezzi was as despised as he was beloved, and Commissario Ricciardi's special talent may be the only thing capable of solving this case.